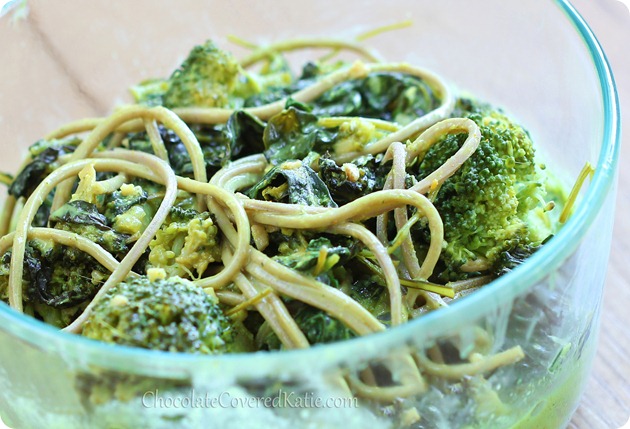 Making dinner for myself often goes something like this:
Scout out the produce section of the grocery store, throw at least three impulse buys into my cart, and arrive home with absolutely no clue how to use it all. So I randomly add things together and hope for the best! Even on the rare occasion I actually do have a recipe to follow, I pretty much ignore the recipe anyway. With today's green noodles, I'd initially planned to follow a recipe from Vegetarian Times. However, by the time I'd finished substituting and adding ingredients, the results were something completely new… and really delicious!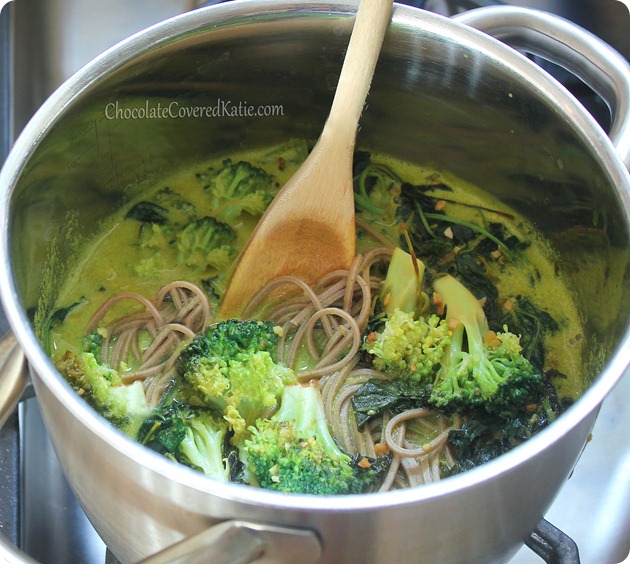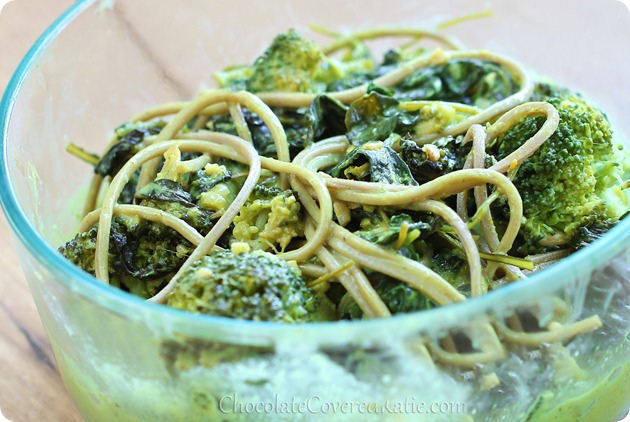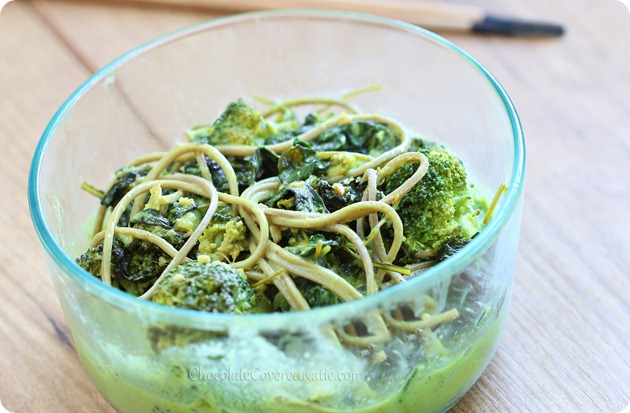 Green Noodles
1/4 cup minced garlic
1 1/2 tbsp fresh ginger, grated
1 cup fresh cilantro, loosely packed
1 tsp turmeric
1/2 tsp salt
1 tsp vegetable or coconut oil
15oz canned coconut milk, lite or regular (If allergic, you can use cashew cream)
1/4 cup water
2 tbsp sweetener of choice, or 20 NuNaturals stevia drops
2 tbsp lime juice
5oz raw baby kale or spinach (or 1 box)
2 tbsp minced garlic
3 tbsp soy sauce (or gluten-free)
2 tbsp water
6 cups broccoli, cut small (480g)
2 servings soba noodles (80g uncooked)
avocado, optional for garnish
In a blender, puree the first 10 ingredients until completely smooth, then transfer to a small saucepan and bring to a boil. Lower and simmer 15 minutes. In a sauté pan, sauté the kale and 2 tbsp garlic in a little oil or oil spray until kale begins to wilt. Add the soy sauce, 2 tbsp water, and the broccoli. Cover and cook on medium 3 minutes. Meanwhile, put a pot of salted water on to boil for the noodles. When the three minutes are up, turn off the heat on the kale/broccoli but keep covered until the noodles are ready. Cook noodles according to package directions, drain fully, and pat dry. Now combine everything together. Stir well. Serve with sliced avocado if you want even more green! (Technically you can leave the 1 tsp oil out, but it helps to coat the pasta with sauce so I recommend leaving it in.) I cannot vouch for the recipe with carton coconut milk or any other type of milk, so try that substitution at your own risk. Makes 3 large servings, each the size of the servings in the photos.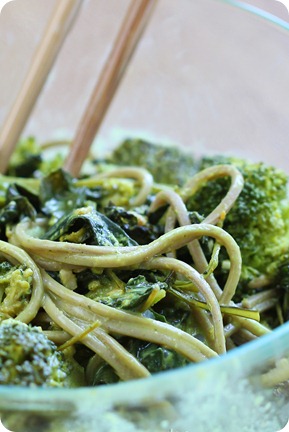 Question of the Day:
When making dinner for yourself, do you more often follow a recipe or just make something up?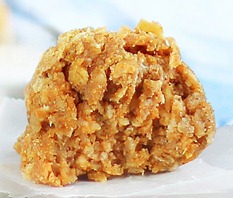 Link of the Day: No Bake Pumpkin Oatmeal Cookies