Soft, homemade, and secretly healthy chocolate fudge zucchini brownies: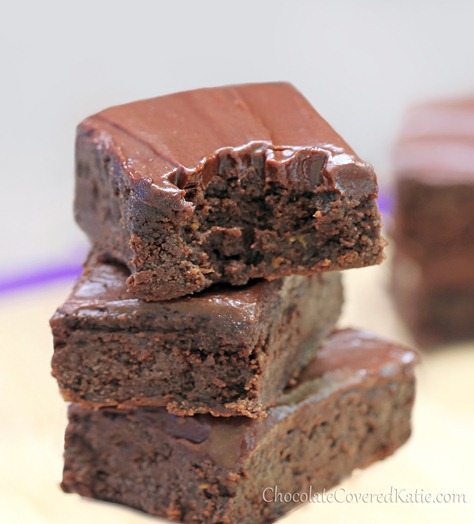 Zucchini brownies that are vegan, gluten free, grain free, and flourless, with both paleo and keto options as well!
But most importantly, they just taste really, ridiculously good. If you want to make the zucchini brownies keto-friendly, just sub yogurt– such as coconutmilk yogurt–for the applesauce.
Be sure to use the flour listed in the recipe, as I haven't tried it with any others and coconut flour generally can not be substituted for regular flour in a 1-to-1 ratio when baking, because it is actually not really flour at all! There's a frosting recipe included in the recipe, or you can choose to frost them with my recipe for Chocolate Frosting Shots.
Here are some more zucchini brownies: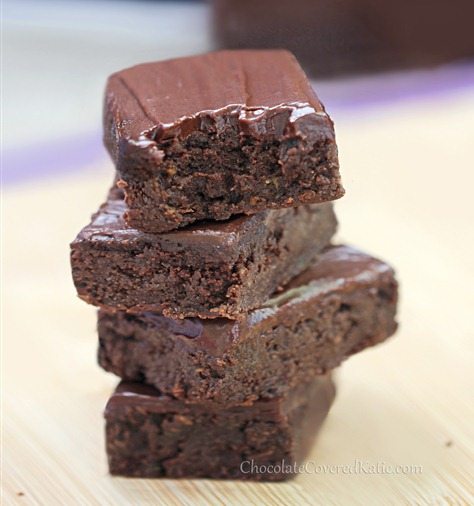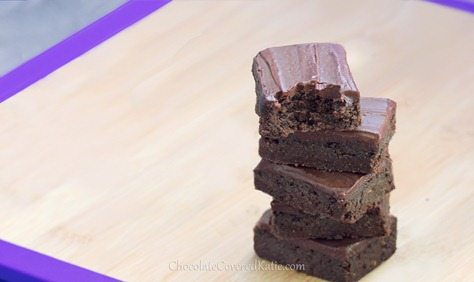 But once the zucchini brownies meet me, they will quickly disappear, as if by magic.
That's what happens when you leave me alone in a room of brownies.
And now I am dreaming of being left alone in a room full of brownies…

This zucchini brownie recipe has quickly become one of my personal favorite recipes on the entire blog – and it's a huge reader favorite as well! They are soft and moist and oh-so fudgy… You will fall in LOVE!

Zucchini Brownies
Zucchini Brownies – Secretly GOOD For You!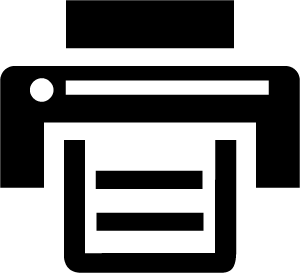 Print This Recipe
[mrp_rating_result show_count="false" show_rich_snippets="false"]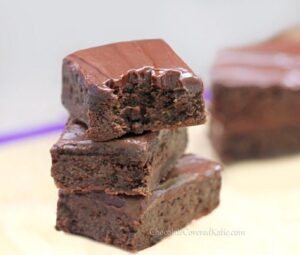 Ingredients
1/2 cup shredded zucchini (100g)
1/3 cup applesauce, or yogurt such as coconutmilk yogurt (80g)
1 cup + 2 tbsp water (270g)
2 tsp pure vanilla extract
3 tbsp flaxmeal (18g)
1/2 cup + 2 tbsp vegetable or coconut oil (115g)
3/4 cup cocoa powder (65g)
1 cup coconut flour (135g) (Coconut-free recipes are linked at the very bottom of this post)
1/2 tsp salt
1/2 tsp baking soda
3/4 cup sugar, or xylitol for sugar-free (150g)
1/16 tsp uncut stevia, or 2 extra tbsp sugar
1/2 cup mini chocolate chips, optional
Instructions
Recipe for zucchini brownies: Preheat oven to 350F, and line a 9×13 baking dish with parchment paper. Set aside. In a large mixing bowl, whisk together the first 6 ingredients and let sit at least 5 minutes. (Tip: shred zucchini in a food processor for fine shreds.) Combine all other ingredients in a separate bowl, and stir very well. Pour wet into dry, stir until evenly mixed, then pour into the baking dish. Using a full sheet of parchment or wax paper, press down very firmly until the brownie batter evenly covers the pan. Bake 19-20 minutes, then pat down hard with a pancake spatula or another sheet of parchment. (If still undercooked, it's fine. Just fridge overnight and they'll firm up!) Let zucchini brownies sit 15 minutes before trying to cut into squares, and if at all possible wait until the next day to eat them. They will be twice as flavorful! Tip: as a general rule, cutting brownies with a plastic knife prevents crumbling. Makes 20-24 squares.
Frost the brownies with either my recipe for Chocolate Frosting Shots or with the following:
1/2 cup cocoa powder (40g)
2 tbsp pure maple syrup or agave (30g)
1/2 cup virgin coconut oil, melted (75g)
Mix frosting ingredients together to form a sauce. Spread sauce over the zucchini brownies, then fridge or freeze 10-20 minutes and the sauce magically transforms into fudgey chocolate frosting! These brownies taste much richer the next day, after the flavors have had a chance to intensify. Due to the melty nature of the frosting, frosted brownies are best stored in the fridge or freezer (they thaw well). These healthy brownies are high in fiber and Vitamin C, cholesterol-free, gluten-free, vegan, low in sugar (or sugar-free), and they even offer Omega 3s!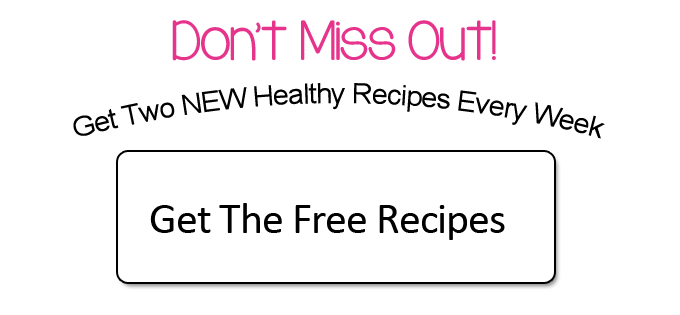 Coconut-Free Brownie Recipes: