Last night, our kitchen magically morphed into healthy Panda Express: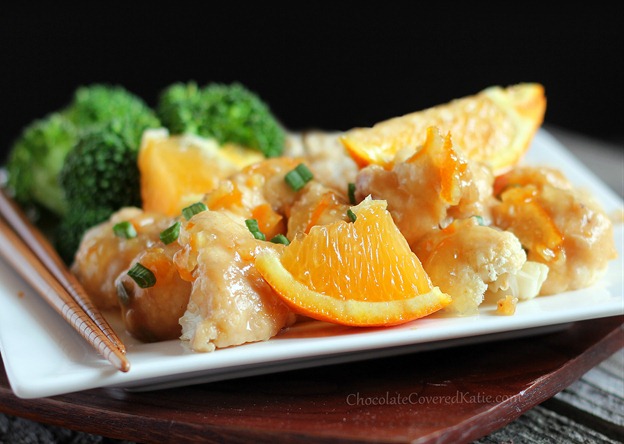 I remember the exact day Panda Express showed up at our local shopping mall. I was in 7th grade—the age where girls ditch their parents, get glammed up in more makeup than kabuki performers, and hang out at the mall every single weekend, feeling incredibly cool and grown up.
After Panda Express moved in, you suddenly couldn't set foot in the building without being hit by the addictive aroma of their orange sesame sauce. It called to us as we perused the displays of glitter eyeliner at Sephora. (Why did I ever think sparkly neon green eyeliner was a good look for me?) It beckoned to us while we debated the pink pleather pants from Wet Seal. (Sadly, I did end up buying a pair.) And then, as we purchased our much-too-short shorts at Abercrombie and Fitch, the orange sesame aroma practically screamed to us. (Perhaps it was simply trying to be heard over A&F's ridiculously-loud music.)
Finally, we'd give in to temptation, devouring every sweet orange bite.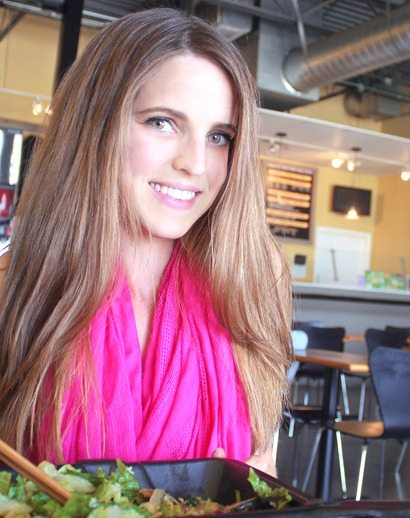 Last night we thought it'd be fun to make a Panda-inspired dinner, complete with chopsticks and Chinese takeout containers from Michaels. At first I thought to make tofu. But… cauliflower just seemed way more fun! For the cauliflower, I used: this cauliflower recipe.
(If you'd prefer, you can make "popcorn cauliflower" by combining 1/2 cup any type of flour with 1/2 cup water, dipping cauliflower florets into this mixture, baking 20 minutes at 425F, then pouring the sauce on top and baking another few minutes.)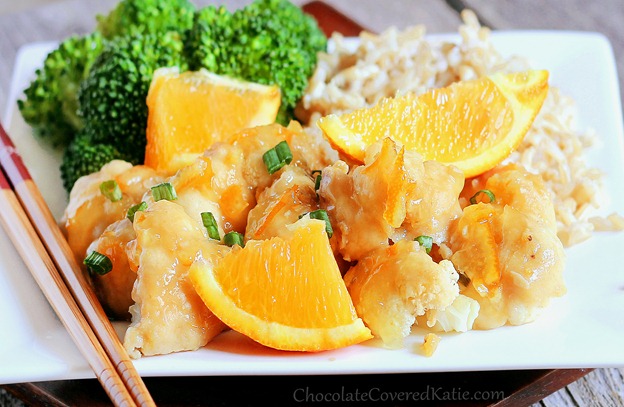 To recreate Panda Express's "secret" sauce, I first looked at the ingredients in their bottled sauce and many copycat recipes online. Then I gathered some basic ingredients common in all of the recipes (vinegar, garlic, ginger…) and played around with the proportions until the sauce tasted just as good as better than the one from Panda Express. What follows is some really, really good sauce.
You'll want to put it on everything!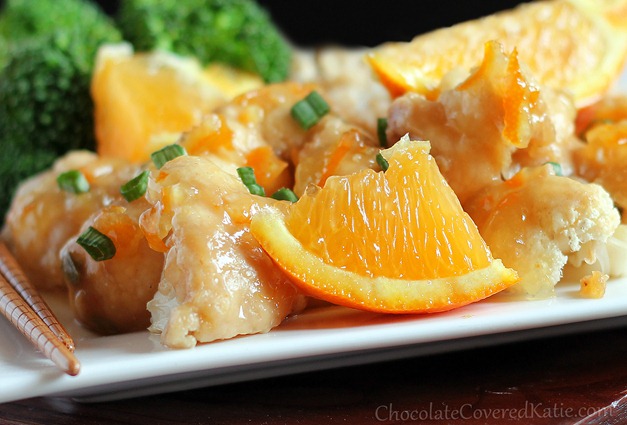 Healthy Panda Express Orange Sauce
1/2 cup vegetable broth (120g)
2 tbsp cornstarch or arrowroot (30g)
3-4 tbsp orange marmalade (45-60g)
2 tbsp minced garlic (30g)
1/2 tsp powdered ginger
2 tbsp + 2 tsp rice vinegar (45g)
2 stevia packets, or 2 tbsp sugar (Liquid sweetener will work; just use a bit more cornstarch for thickening.)
2 tbsp soy sauce or gf tamari (30g)
optional: 1 tsp sesame oil
optional: green onions for garnish, crushed red chilis for a spicy variation
Whisk broth and cornstarch or arrowroot until dissolved. Now turn on the heat to low-medium and add all other ingredients. Bring to a boil, stirring occasionally. Once it's thickened, remove from heat. Makes 300g (about 1 1/4 cup). Serve over whatever you wish: rice, veggies, soba, tofu, etc. As noted above, here are the directions if you wish to make chicken-style cauliflower (it works with tofu as well): combine 1/2 cup any type of flour with 1/2 cup water, dip florets of one head cauliflower into this mixture, bake 20 minutes at 425F, then pour the sauce on top and bake another few minutes.
View Orange Sauce Nutrition Facts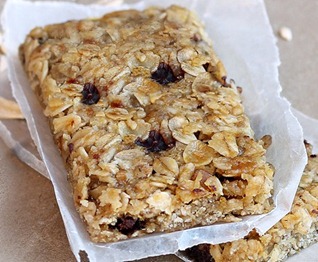 LINK OF THE DAY: