This is what happens when Summer meets Fall: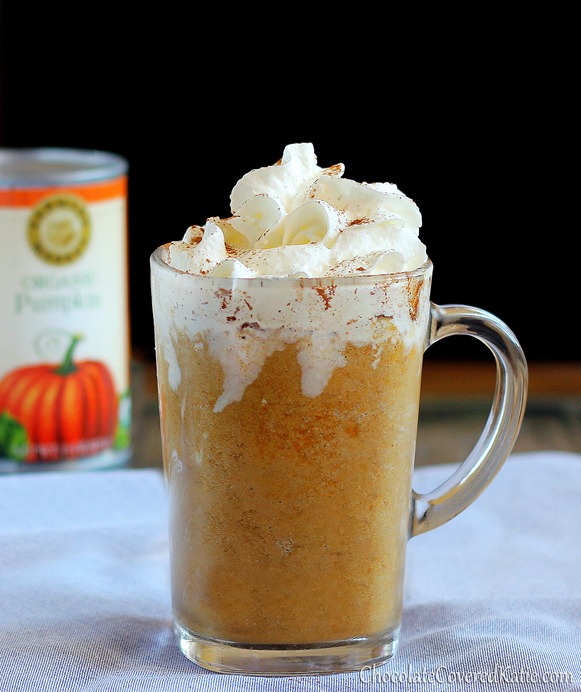 Hellooooo Fall.
Yes, Fall is fast approaching, meaning it's once again time for comfy boots and sweaters, crisp and juicy apples, tangerine leaves that get lost in the whistling breeze…
And pumpkin.
Lots and lots of pumpkin.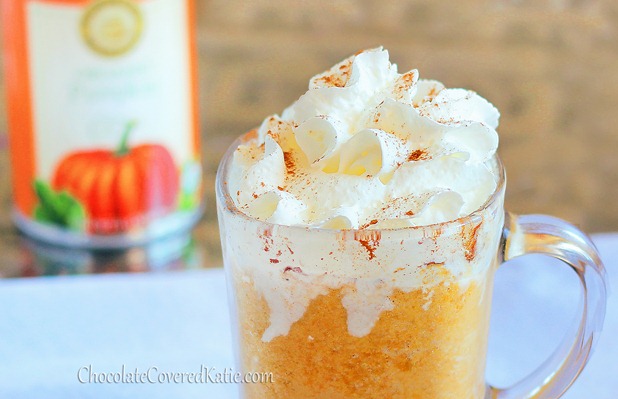 What better way to welcome Fall than with a homemade Pumpkin Spice Frappuccino?
You don't even need to leave your pajamas!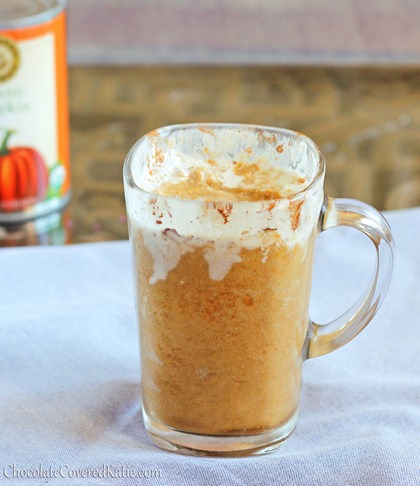 Pumpkin Pie Frappuccinos
(makes 2 large servings)
Inspired by my Healthy Starbucks Frappuccino Recipe.
2 cups milk of choice (480g)
1/2 tsp pure vanilla extract
2 tsp instant coffee granules (decaf or regular)
scant 1/16 tsp salt
stevia extract to taste, or 3 tbsp sugar (or other sweetener of choice)
1/2 cup canned pumpkin (120g)
1/4 tsp cinnamon (or pumpkin pie spice)
Mix the ingredients together in 1 or 2 shallow plastic containers. Freeze. (You could also use an ice cube tray.) Once frozen, pop the blocks out of the containers. Thaw until just soft enough for your blender to be able to handle it, and blend until desired slushiness is reached. Add extra sweetener if needed, but do NOT add ice! It will dilute the flavor. Pour into two glasses and enjoy. Note: the flavor and texture will obviously vary depending on your choice of milk. I'm sure many types of milk will yield a good result, but I've only tried the recipe with Silk almond milk.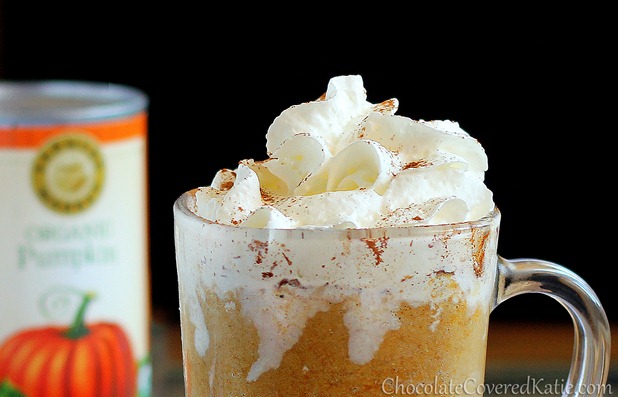 Fill in the blank: The best thing about Fall is _____________.
Pumpkin season? Apple season? Butternut squash? My favorite part of Fall is probably the cooler weather it brings. Goodbye 100-degree days!
Link of the Day: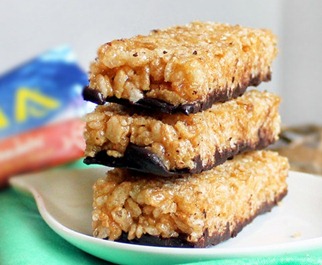 ……………….Homemade Luna Bars