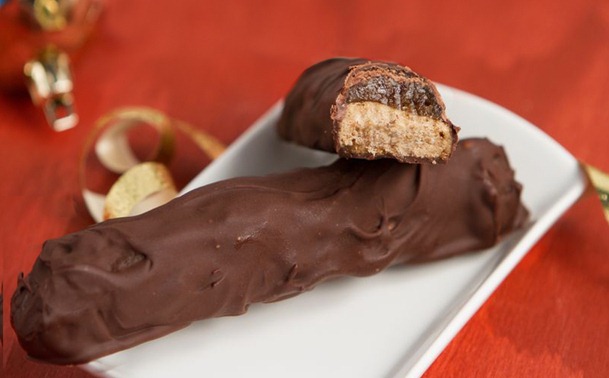 Lately, things have gotten entirely too healthy around here. Roasted vegetables? Lentil stew? Baked oatmeal? If it is true that this is the Healthy Dessert Blog, where are all the desserts?
Where is all the CHOCOLATE?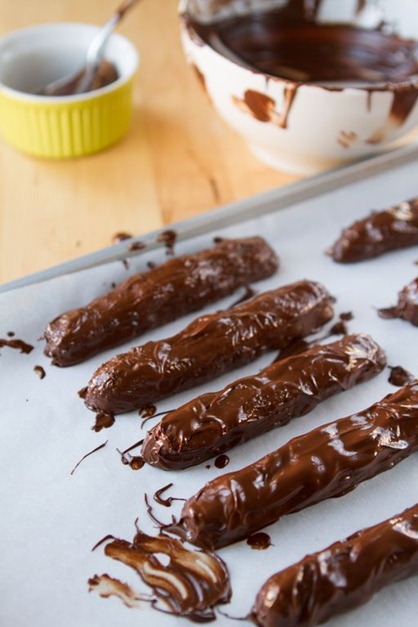 Oh there it is.
When I compiled my candy recipes into the Healthy Chocolates & Candy page, many of you lamented the absence of a healthier copycat Twix bar. I put it on the to-do list, but the list keeps growing longer and longer… Luckily, my incredibly-talented friend Leanne agreed to take on this healthy-Twix-bar challenge, for the benefit of all of us!
Please welcome Leanne and her allergy-friendly, gluten-free Twix bars:
Hi Everyone! My name is Leanne Vogel. I'm a holistic nutritionist and the lady behind Healthful Pursuit – a space where I share my pursuit of self-discovery through allergy-free recipes, travel, and a whole lot of yoga.
I'm super stoked to be here with you guys today. I've had to pinch myself multiple times as I prepared this post. Katie is one of my favorite bloggers so to be here sharing a recipe with you is a bit too exciting for words!
The food we surround ourselves with has a dramatic impact on the way that we live out our lives. If we feel good about what we're eating, if food makes us feel like we can accomplish anything and gives us a sense of balance, we'll be so much more open to the experiences life has for us. And ya, this includes finding a replacement to our favorite candy bars.
What's more indulgent than creating your very own a vegan and gluten-free homemade Twix bar?
I couldn't think of anything else either.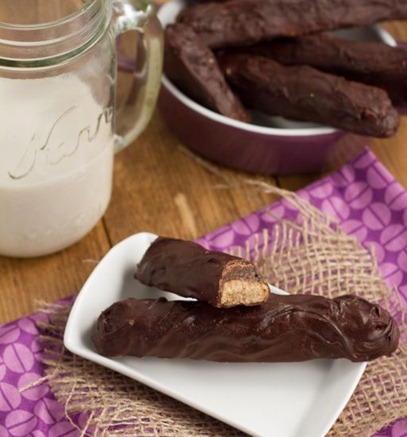 Healthy Twix Bars
(makes 12 bars)
1/2 cup white rice flour or buckwheat flour or sorghum flour
1/2 cup arrowroot or tapioca
2 tbsp evaporated cane juice or regular sugar or coconut sugar
3 tbsp sunflower seed butter (or another nut or seed butter)
2 tbsp virgin coconut oil
1 tbsp freshly ground flax mixed with 2 tbsp water (Allow to sit for 5 minutes before using.)
1 tbsp pure vanilla extract
Caramel:
100g pitted dates (approximately 6 dates)
3 tablespoons sunflower seed butter (or another nut butter of choice)
1 tsp water
pinch salt
Chocolate Coating:
Preheat oven to 350F and line a cookie sheet with parchment paper. Set aside. Begin by preparing shortbread. Add first three ingredients to a medium-sized bowl. Whisk to combine. Then add sunflower seed butter, coconut oil, flax mixture and extract. Mix with a hand mixer or stand mixer until fully combined. The dough should stick together well.
Shape dough into twelve 3-inch cookies. To do this, scoop out about 1 1/2 tablespoons at a time into your hand and roll into a ball. Slowly shape into a long tube by rolling back and forth between the palm of your hands until it's about 3-inches long. Set down on prepared cookie sheet and flatten with fingers. You can make the cookie even straighter by using the side of a knife to press up against the edges. Place cookies in the preheated oven for 10-15 minutes until tops are slightly cracked and sides are golden. Set aside to cool. Meanwhile, place caramel ingredients in the bowl of your food processor. Process until smooth. If the mixture will not get smooth, just add a touch more water.
Once cookies are cooled, top with caramel and place on a second cookie sheet that's lined with parchment paper. To do so, roll caramel like you did the cookies; into 3-inch tubes, and place over top of cookies. Place in the freezer and allow to set for at least 10 minutes. This will make the cookies easier to dip in the chocolate. Melt chocolate chips by dropping into a metal bowl and place over top of a sauce pan filled with water. Bring water to a boil and stir chips until melted. Remove from heat.
Remove the cookie sheet from the freezer and; one by one, coat the bars in chocolate. To do this, drop the bar into the chocolate and coat it with your fingers. Remove excess with your fingers and place back on the parchment. Repeat with remaining cookies. Place back in the freezer and allow to set for 15 minutes.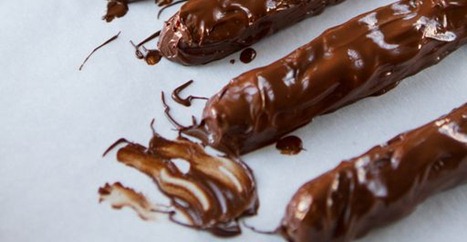 Leanne's question of the day: How do you create balance in your life?
Link of the Day: