This healthy vegan marshmallow fluff is going to rock your world…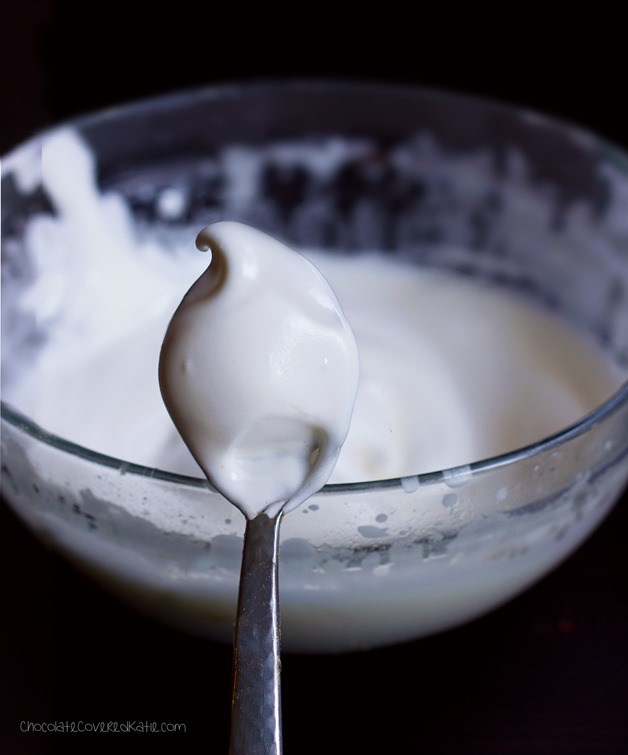 Sweetener of choice
+
Water from a can of chickpeas
=
Homemade marshmallow fluff ????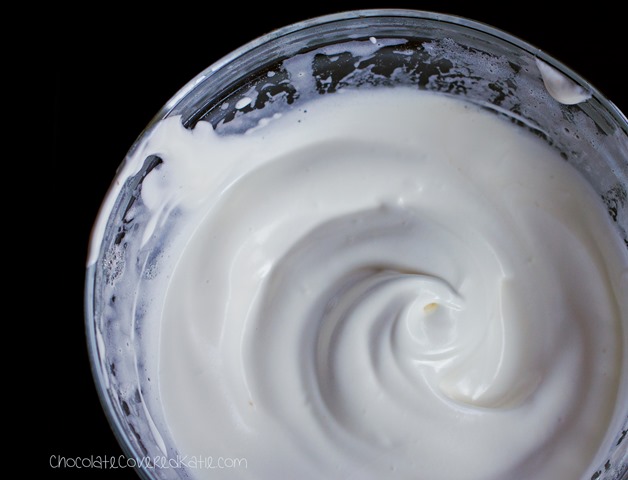 Crazy, right?!
I can't take credit for this brilliant "bean liquid egg whites" discovery. The idea was sent to me in a facebook message earlier this year by a reader who discovered you could whip up the liquid from a can of garbanzo beans with sugar to form stiff peaks then pipe the mixture out and bake it into vegan meringues.
Since readers often write to tell me their own recipe ideas or experiments, I didn't think too much about the message at first, especially since meringue and I have always been more of acquaintances than friends. However, a few months later when I noticed some of my friends posting stunningly beautiful chickpea vegan meringues on instagram, suddenly I was intrigued.
Healthy Vegan Marshmallow Fluff
Then another reader left a comment on the blog asking if I'd tried bean meringue yet and mentioning that chickpea liquid–commonly referred to as aquafaba–has been used as an egg replacer since as early as in a 1968 cookbook (Ten Talents, by Rosalie and Frank J Hurd). Wait… so it can be an egg replacer in other things besides meringue?!?
Like crepes?! Or baked goods??
So many ideas are swirling around in my head right now…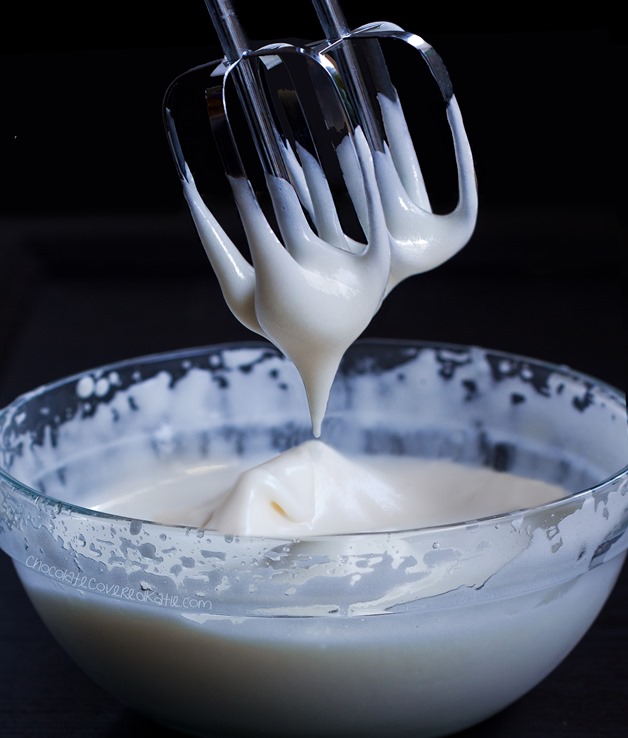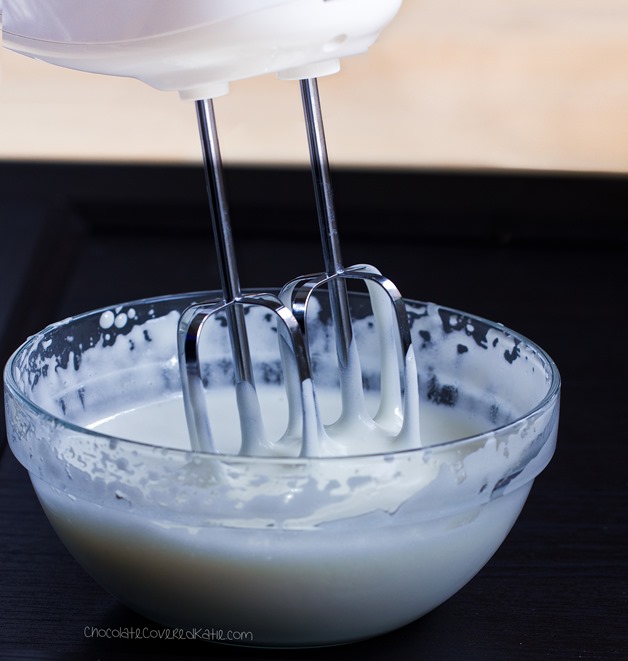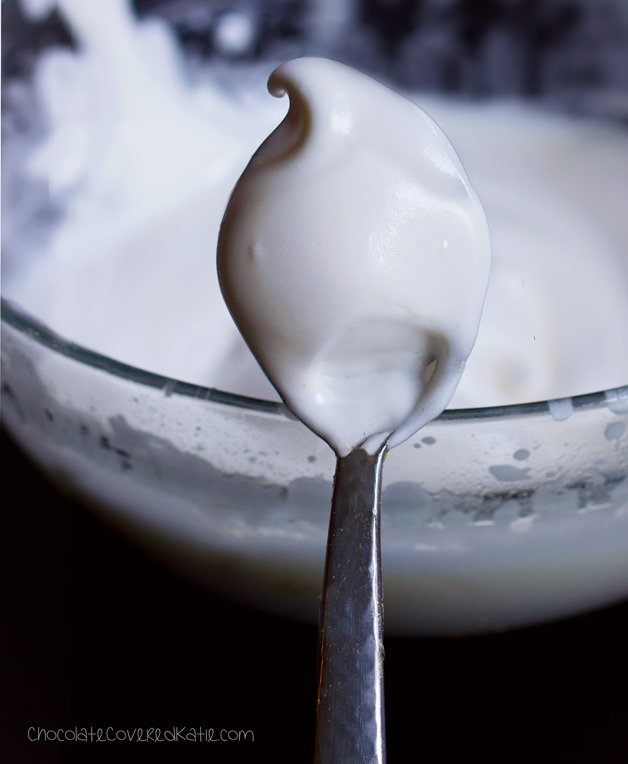 Christina's message had mentioned whipping the liquid with fine sugar to form meringue, but I wanted to know if the aquafaba would also work with a liquid sweetener. Only one way to find out! Seven minutes in, my pseudo meringue still looked like water, and I was almost ready to give up and throw the whole thing out.
But—magically at minute 9—it began to thicken… and thicken… and thicken even more!
I had a baking sheet all ready to go for the meringues… The only problem was that I just couldn't seem to stop dipping my spoon into the airy cream.
It was just like marshmallow fluff!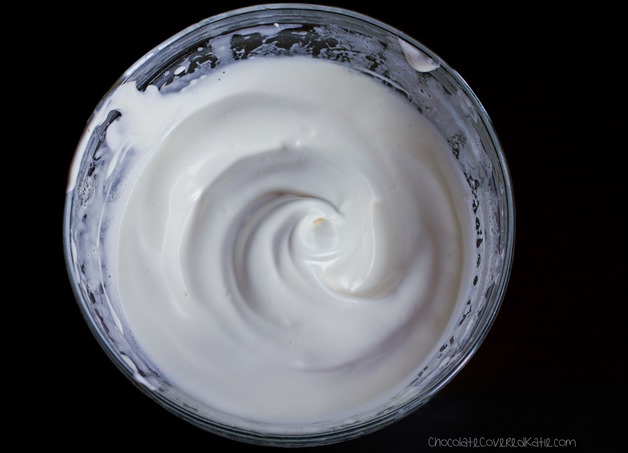 Ideas for ways to use this healthy marshmallow fluff include:
Homemade s'mores, as frosting for cupcakes or my Vegan Chocolate Cake Recipe, in fluffernutter sandwiches… the possibilities go on and on!

Edit – There's also now a version for Chocolate Marshmallow Fluff!

Vegan Marshmallow Fluff
(makes about 3 cups)
1 (15oz) can chickpeas or white beans, with or without salt
1/3 cup honey or agave OR 1/2 cup fine sugar or xylitol (vegans: use the non-honey options)
optional pinch cream of tartar, for stabilization
feel free to add a little pure vanilla or almond extract
Open the can of beans and drain just the watery part into a stand mixer or a large mixing bowl. (Save the actual beans for a different recipe. If you need inspiration, here are 50+ Healthy Uses For Canned Beans.) You should have about 1/2 cup chickpea liquid. Add all other ingredients, and beat with an electric mixer or in a stand mixer for 12-16 minutes. It will look thin for quite a while—and you'll probably be cursing me—but don't give up hope! Mine really began to thicken around minutes 10-11. Cover and refrigerate any leftovers. It separates overnight, but re-beating works perfectly. (I've not tried this recipe without beaters, but you are free to experiment. The sugar version can be baked into meringues; I haven't tried baking the liquid-sweetener version.) I've tried this healthy marshmallow fluff with both regular and unsalted bean liquid and can't taste a big difference, so use whatever you have on hand.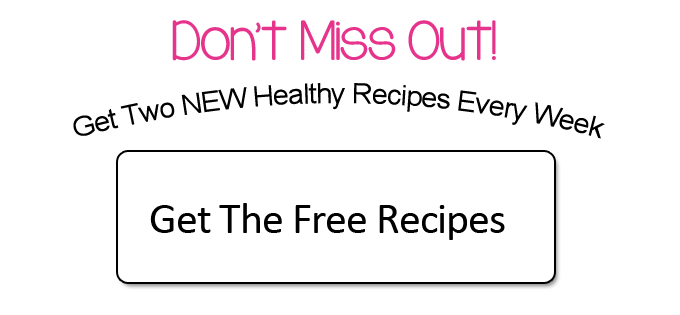 More Vegan Recipes: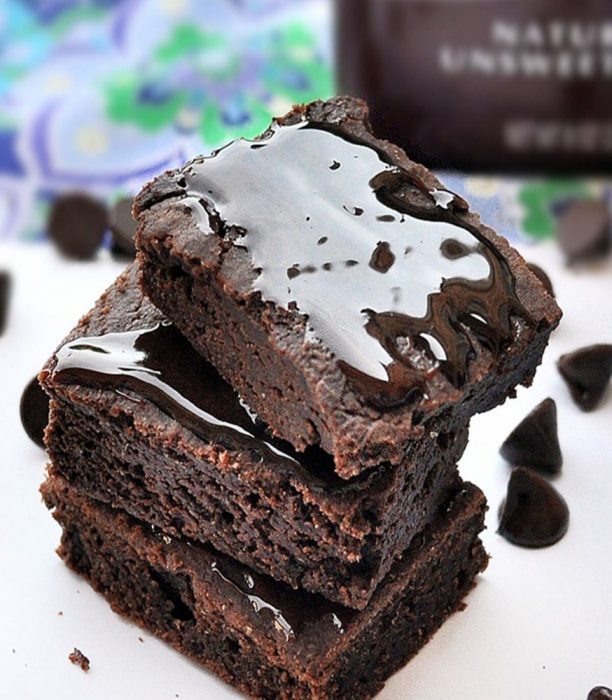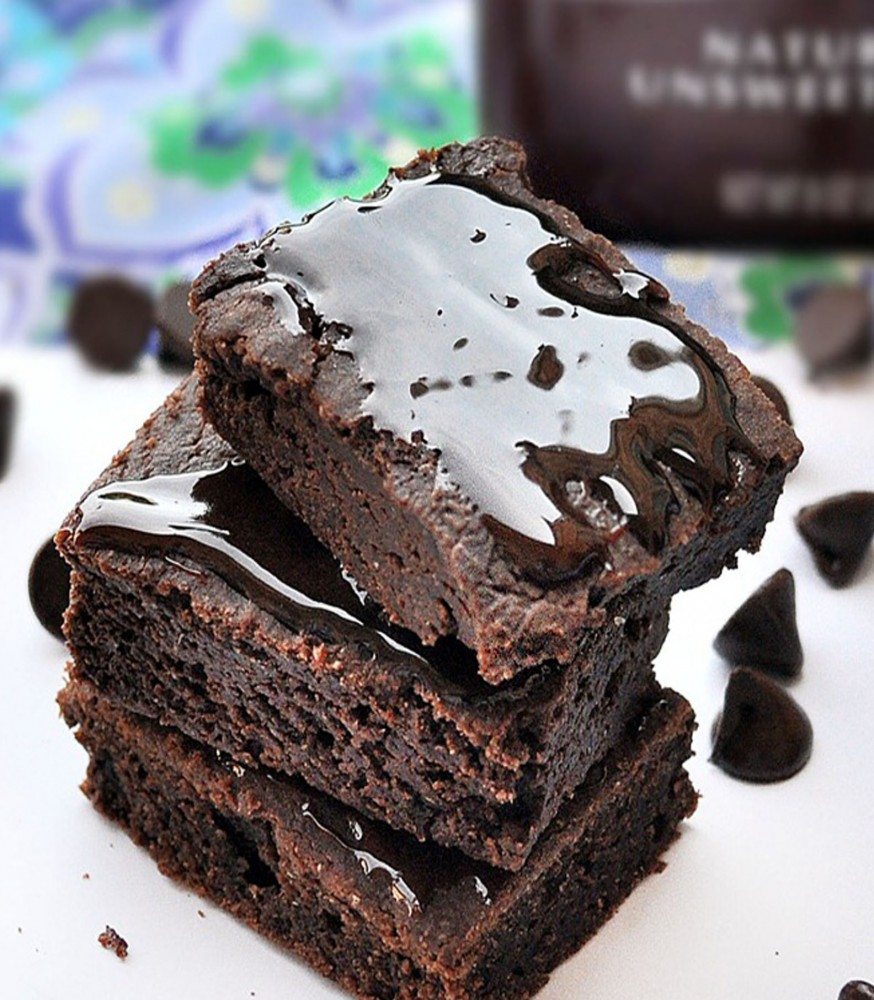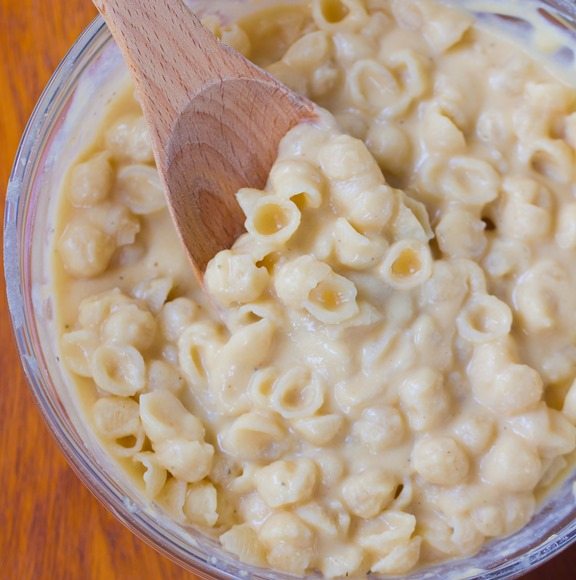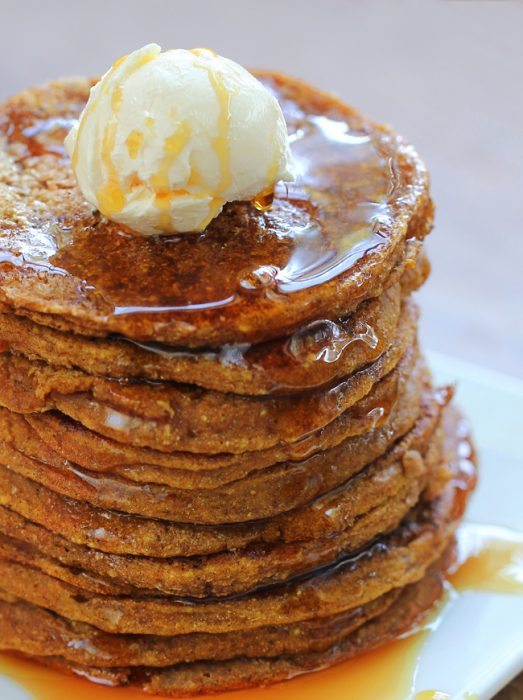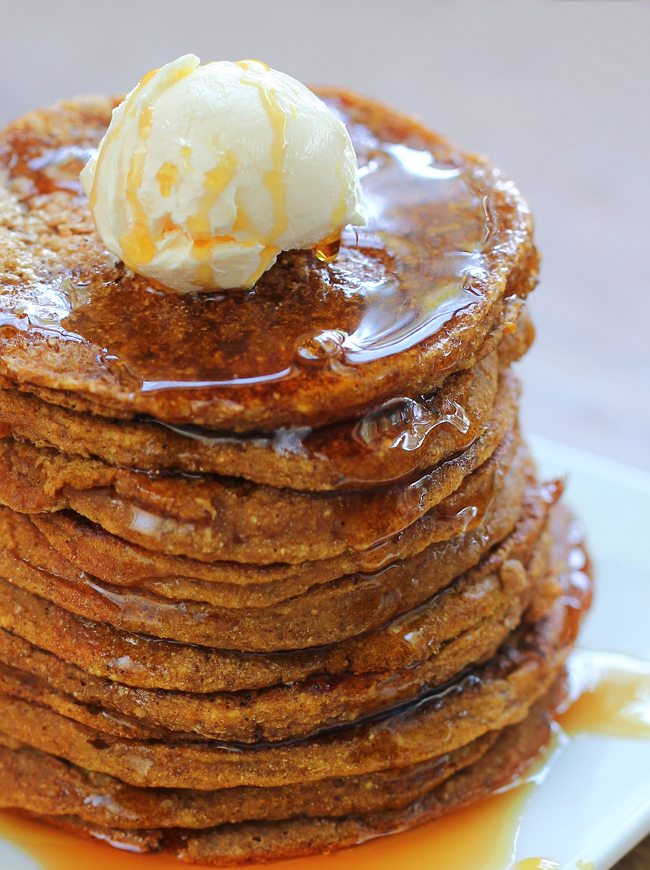 Vegan Breakfast Recipes  – 50 Vegan Recipes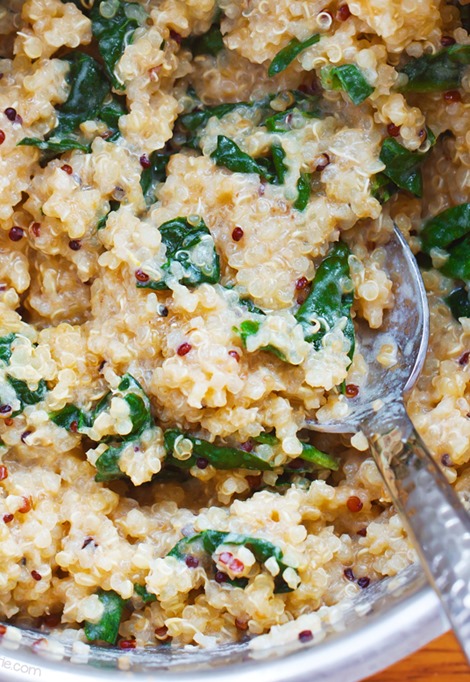 And now I'm going to go work on some homemade Mallomars…