These pudding pops are like eating a York Peppermint Patty straight from the freezer.
True story:
It's been so hot these past few weeks that yesterday I finally decided to bring the popsicle molds back from their post-summer home in the garage. However I probably should have looked at the weather report first… Midday the temperature dropped 30 degrees, rendering my jean shorts, sandals, and homemade pudding pops completely out of place.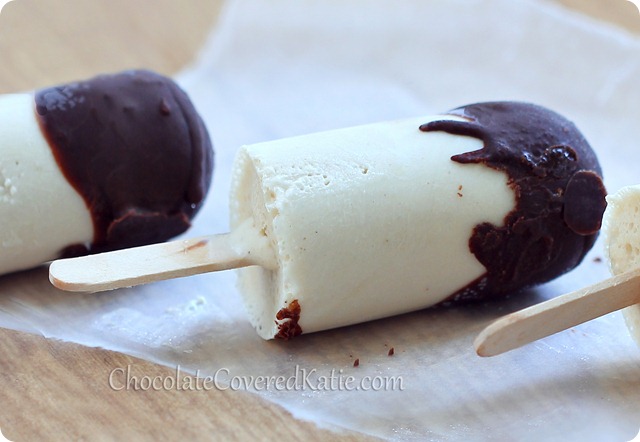 Oh well.
I ate them anyway.
(The popsicles, not the jean shorts and sandals. Just in case you were wondering.)
Peppermint Patty Pops
Inspired by Homemade Peppermint Patties
1/2 cup raw cashews or macadamia nuts (60g)
2/3 cup milk of choice (160g)
scant 1/8 tsp salt
2 tbsp sugar of choice or xylitol (24g)
pinch pure stevia, or 1 extra tbsp sugar of choice
1 tsp pure vanilla extract
just over 1/8 tsp pure peppermint extract
In a cereal bowl, cover the nuts with water. Let sit 6-8 hours. (For a nut-free popsicle recipe, try these yogurt-based Mint Chocolate Pops.) Drain completely, and be sure to pat dry. Blend all ingredients together until completely smooth. Pour into popsicle molds. Once frozen, dip each pop in the chocolate sauce recipe listed below, then place on a sheet of wax paper and immediately re-freeze. You'll probably only use around 1/2 the coating, but it's better to make a bigger amount for easier dipping. Makes 7 homemade pudding pops the size of the ones in the photos.
Chocolate Coating:
2 tbsp cacao or cocoa powder (10g)
2 tbsp coconut oil (20g)
1 tbsp pure maple syrup or agave (15g)
View: Pudding Pop Nutrition Facts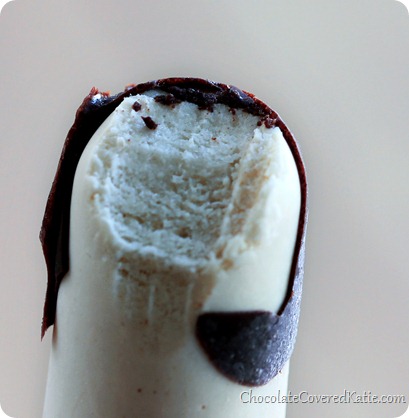 Link of the Day: Chocolate Oatmeal