A light and ultra soft blueberry banana bread recipe, bursting with sweet blueberries… no refined sugar or oil required!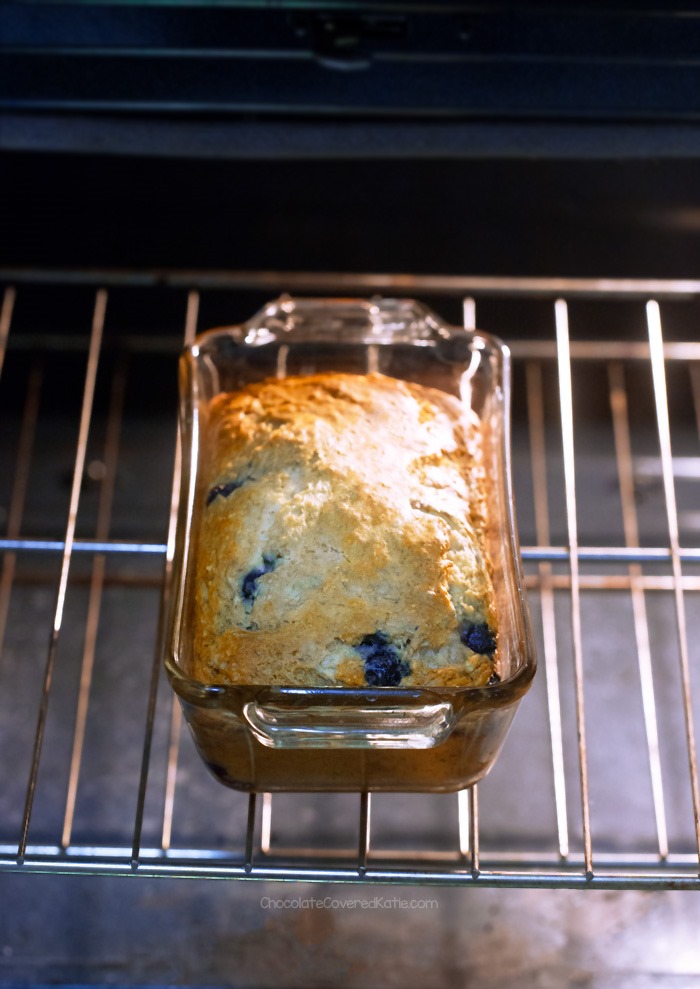 So… apparently everyone is making banana bread right now.
This simple homemade blueberry banana bread can be vegan, gluten free, whole grain, and completely delicious.
Leftover slices freeze well, making it the perfect recipe for breakfast meal prep!
Also Try These Keto Blueberry Muffins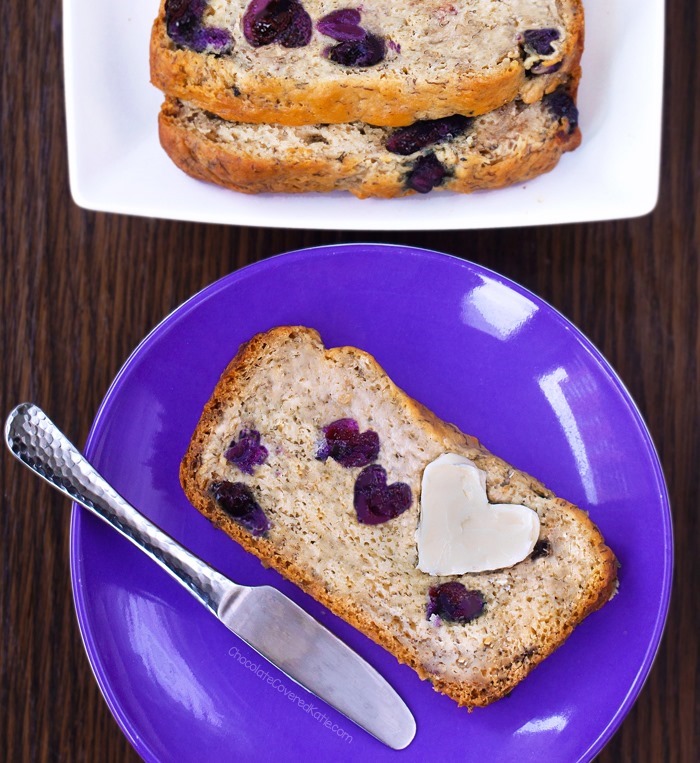 After taking the loaf from the oven and discovering some of the blueberries magically resembled tiny hearts, I decided to run with the heart theme, using a cookie cutter to make a vegan butter heart and taking a few liberties with Photoshop to really play up the natural shape of the berries and add a cartoon-like finish to the photo. Sometimes I have way too much fun with my job.
More Banana Bread Recipes
(View The Video Above)
The video above gives a visual of how to make banana bread, in case you're a visual learner like I am and would prefer to see the steps. The movie is for plain banana bread, so don't forget to throw the blueberries in!
You want to add them at the very end and stir as little as possible… unless you like the idea of banana bread that turns purple… which actually might be fun… Hmmm…
The blueberry banana bread is good plain or spread with jam or almond butter, but my favorite way to eat it is topped with Coconut Butter.
Leftover Blueberries? Make this Blueberry Crisp Recipe


Adapted from my favorite Healthy Banana Bread recipe
Blueberry Banana Bread
An ultra soft blueberry banana bread recipe, bursting with sweet blueberries and perfect for a healthy breakfast.
Ingredients
2

cups

spelt,

white, or oat flour

1

tsp

baking soda

3/4

tsp

baking powder

3/4

tsp

salt

1/8

tsp

cardamom,

optional

1 1/2

cups

mashed overripe banana

(for banana-free, try this Blueberry Bread Recipe)

1/2

cup

pure maple syrup,

honey, or agave

1/4

cup

milk of choice

1/4

cup

oil OR additional milk of choice

2

tsp

pure vanilla extract

1/2

cup

blueberries,

fresh or frozen and fully thawed
Instructions
Preheat your oven to 350 F. Grease a 9×5 pan, and set aside. In a large bowl, combine first 4 ingredients (and cardamom, if using). Whisk all remaining ingredients except the blueberries in a separate bowl, then pour wet into dry and stir to form a batter. Very gently add the blueberries, stirring only enough to incorporate them, so as not to break the berries and turn the entire loaf purple. Smooth batter into the 9×5 pan. Bake on the center rack 38 minutes, then do not open the oven door but turn off the heat and leave in the closed oven for 10 additional minutes. If still undercooked after this time, put back into the oven (and turn the oven back on) for 5 more minutes, then check the bread again. Let cool completely, then loosely cover so there is room for moisture to escape. Taste and texture will be much better the second day (and even better the third day as it will get sweeter), and I'd recommend refrigerating after a day, for freshness. Leftovers can also be sliced and frozen if desired. As with all my recipes, I can only vouch for the results if made with one of the flours listed, but please feel free to experiment!View Nutrition Facts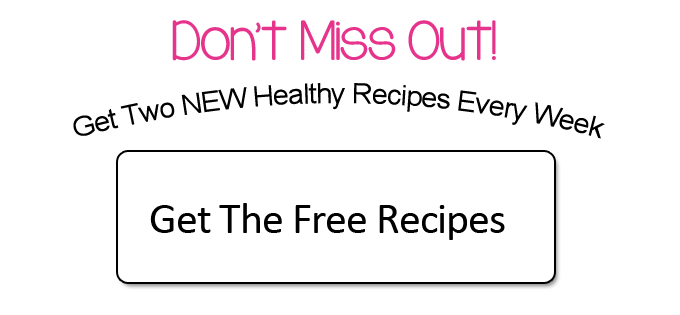 Trending Right Now: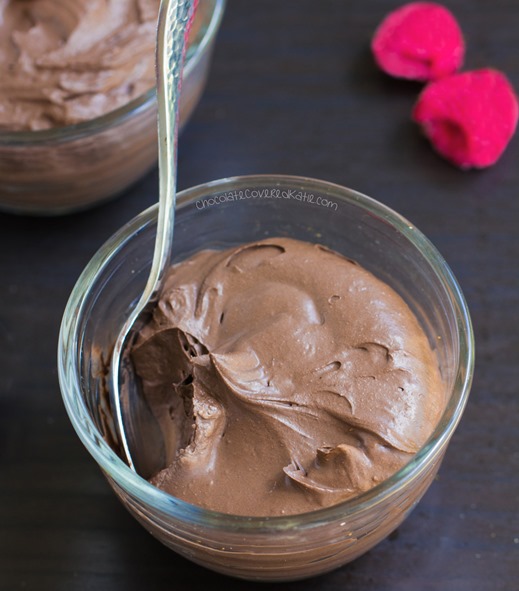 Healthy Chocolate Pudding – NO tofu, no avocado!