These healthy breakfast banana pops are a super quick and easy recipe that both kids and adults will love!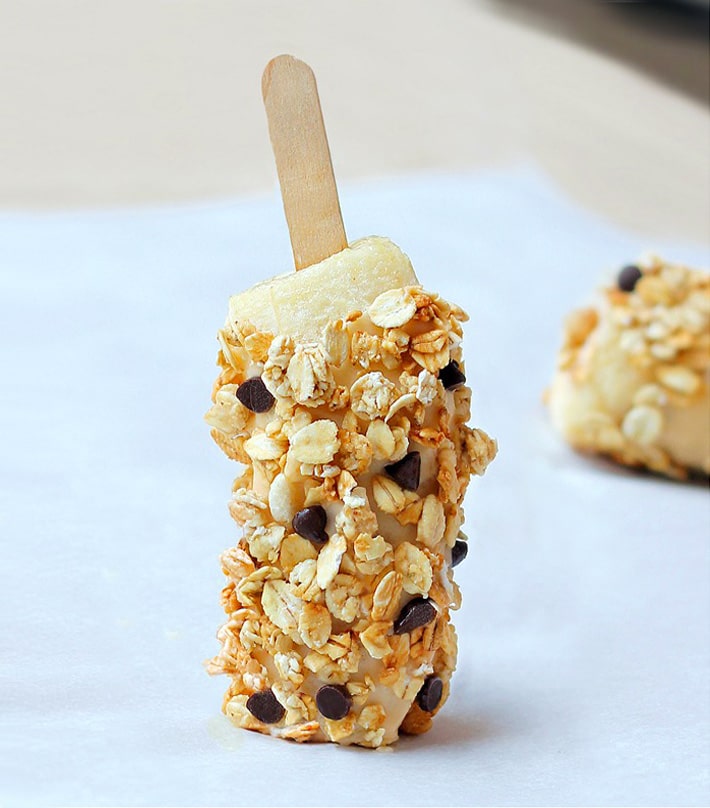 A delicious breakfast or healthy snack
When I was little, we'd make breakfast banana pops weekly during the spring and summer months, rolling the bananas in anything from cinnamon and sugar, to granola and raisins or mini chocolate chips, to crushed chocolate chip cookies.
The no bake recipe is also great for those who hate to cook, because you don't ever need to turn on an oven. With just three or four ingredients, it's pretty much foolproof!
Also be sure to try this Chocolate Banana Bread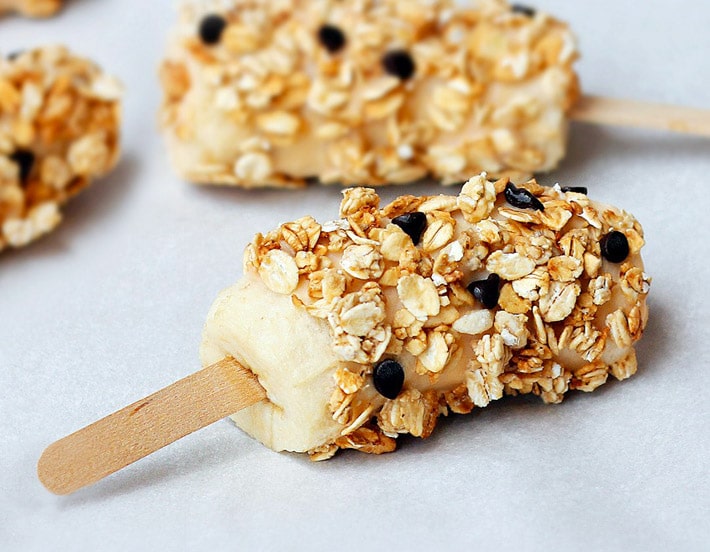 As a kid-friendly snack, the pops are packed with potassium.
Or serve the banana pops as part of a healthy balanced breakfast, along with a protein source such as yogurt or this savory vegetable Tofu Scramble Recipe.
I especially love the frozen bananas after running outside on a hot day or as a fast and healthy post-workout option.
Readers also love these Vegan Chocolate Chip Cookies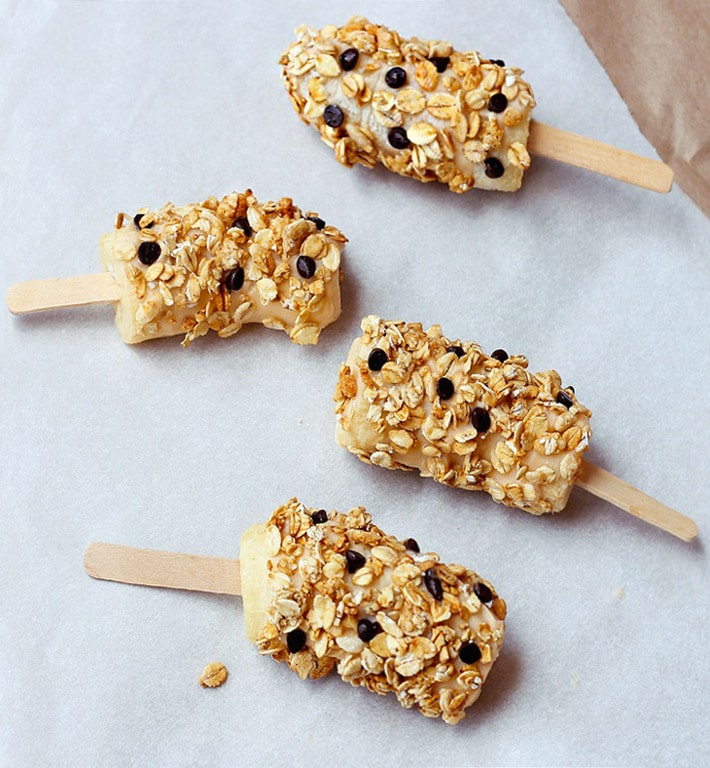 Breakfast Banana Flavors
Chocolate Peanut Butter Cup: Dip frozen bananas in melted chocolate, then dip each banana halfway down in gently warmed up peanut butter.
Cinnamon Roll Bananas: Mix three parts sweetener to one part cinnamon. Roll the bananas in the cinnamon sugar mixture before freezing.
Almond Butter Granola: Warm up almond butter on the stovetop or in the microwave. Dip or spread on the bananas, then roll in your favorite cereal.
Strawberries and Cream: Dip bananas in plain or vanilla yogurt. Then dip in freeze-dried strawberry powder. Freeze. Kids love this variation because of the fun pink color.
Or try any of these other toppings: crushed walnuts or pecans, shredded coconut, Cheerios, rainbow sprinkles, chopped peanuts or almonds or pistachios, crushed Oreos, rolled oats, chia seeds or hemp seeds, or anything else you can imagine!
Trending now: Baked Oatmeal Bars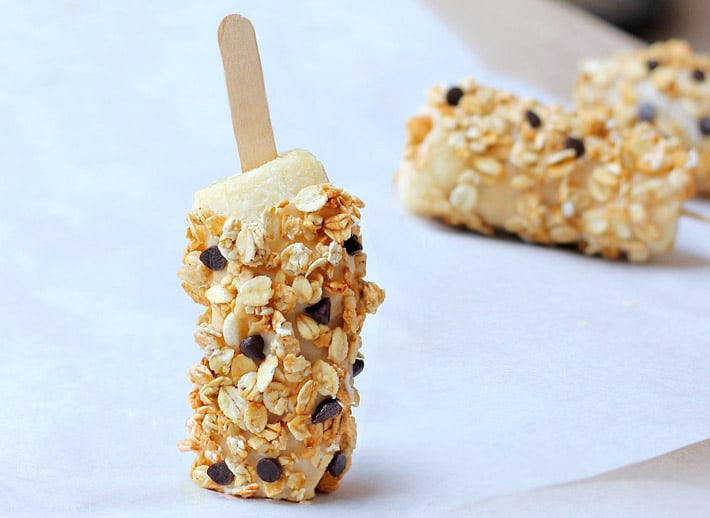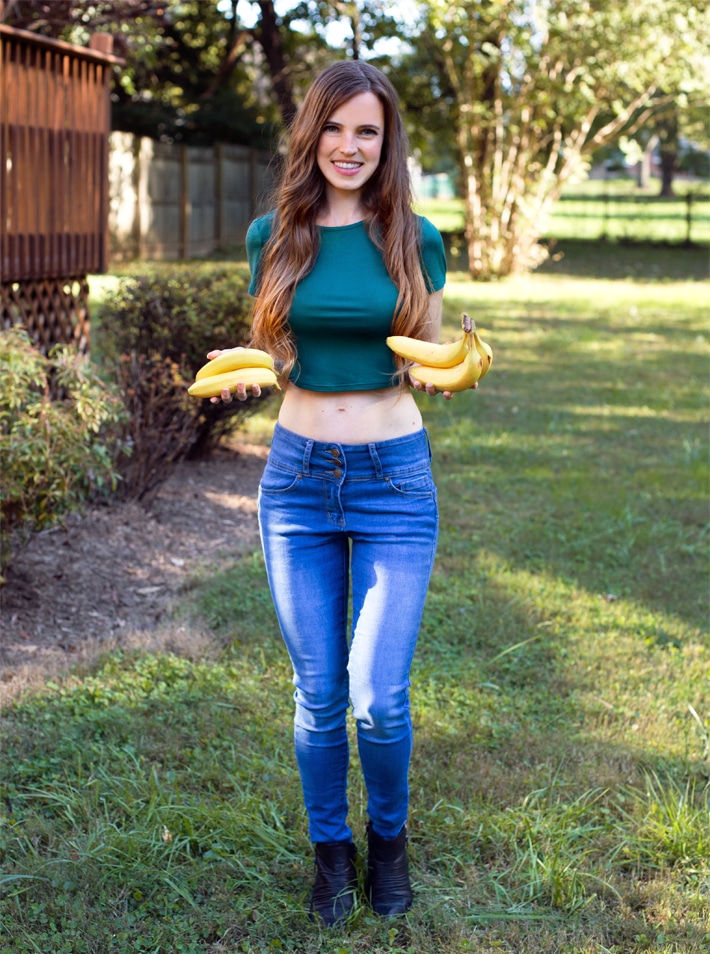 How to make the breakfast banana pops
Start by gathering all of your tools and ingredients.
Peel the bananas, and cut them in half widthwise. Insert a popsicle stick or the thin side of a spoon into the flat bottom of each halved banana.
Pour toppings such as granola, cereal, or crushed cookies into a shallow dish or plate.
If using a natural nut butter, or if coating in chocolate, gently warm until smooth and easily stir-able.
Dip each banana into your yogurt, chocolate, or nut butter. Then roll in desired toppings or stick large toppings on by hand.
Place the bananas on a tray lined with wax paper or parchment paper, and freeze to set the coating. Store leftover chocolate or frozen yogurt banana popsicles in the freezer.
Breakfast Banana Pops
These easy breakfast banana pops are a healthy snack that kids and adults love!
Ingredients
2

bananas

yogurt, nut butter, or melted chocolate

toppings of choice (see above for many flavor ideas)

popsicle sticks or spoons

tray lined with parchment or wax paper
Instructions
Peel bananas, cut in half, and insert popsicles sticks or the thin side of a spoon. Dip in yogurt, softened nut butter, or melted chocolate chips. Roll in desired toppings or stick larger toppings on by hand. Place on a tray lined with parchment or wax paper. Freeze.

View Nutrition Facts
Healthy Banana Snack Ideas