Healthy Twinkies?????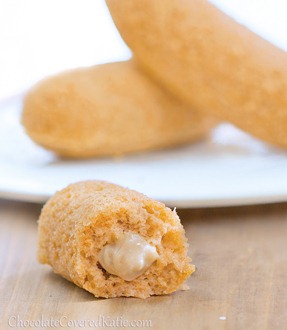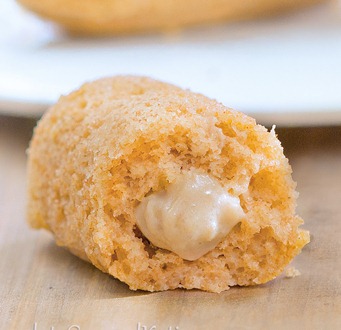 What comes to mind when you think of unhealthy foods?
Right away, I picture two things: Big Macs and Twinkies. While the latter is certainly not the most unhealthy food in existence (Hello double doughnut bacon cheeseburgers!), Twinkies have earned a bad rap thanks to their high sugar content, long list of artificial ingredients, and their creepy ability to stay fresh for 100 years.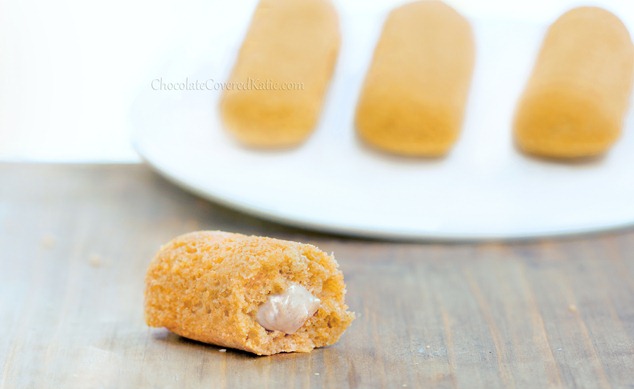 (As it turns out, that last point is just an urban legend. Twinkies don't really last 100 years.)
During the Great Twinkie Shortage of 2012 (It has a name… Who knew!), when Hostess declared bankruptcy and stopped producing Twinkies, I thought it might be fun to create a healthier recipe for homemade Twinkies. Paying homage to the original Twinkies—which were filled with banana cream until the US rationed bananas during WWII—I've opted for a banana-flavored filling in these homemade and healthy Twinkies.
You can easily make them banana-free if you prefer.
Homemade Healthy Twinkies
(makes 8)
1 cup spelt or all-purpose flour (130g)
1 1/2 tsp baking powder
1/3 cup xylitol or sugar of choice (60g)
1/16 tsp pure stevia, or 2 extra tbsp sugar of choice
1/4 tsp salt
3 tbsp vegetable or coconut oil (30g)
1 tsp pure vanilla extract
1 tsp white or apple cider vinegar
2/3 cup milk of choice (160g)
Homemade Healthy Twinkies Recipe: Preheat oven to 300 degrees F, and grease a canoe pan if you have one. (For Twinkies without a canoe pan: Shape tin foil, double folded for sturdiness, into 8 canoe-shaped wells. Lightly grease the insides of each well, and position on a baking tray.) In a large bowl, combine all dry ingredients and stir very well. Whisk all liquid ingredients in a separate bowl, then pour wet into dry and stir until just evenly mixed. Immediately portion into the molds. Bake 16 minutes, then take out of the oven and let sit 5 minutes before removing from the molds. Let cool completely before filling.
Filling: (Feel free to fill with something else, such as Suzanne's Ricemellow Crème, if you can't have nuts.)
1 cup raw cashews or macadamia nuts (120g)
1 banana (omit for a banana-free version)
pinch salt
1/4 tsp pure vanilla extract
pinch stevia extract, or 2 tbsp sweetener of choice (liquid or granulated both work here)
milk of choice as needed, to achieve a pastry-cream texture
In a cereal bowl, cover the nuts with water and let sit at least 3 hours (no longer than 8). Drain completely, then combine all ingredients in a Vita-Mix or a good food processor (adding a little milk of choice until the correct consistency is reached – you'll need more if omitting the banana and/or if using a dry sweetener). Blend until very smooth and creamy, occasionally scraping down the sides if using a food processor. To fill the homemade Twinkies, poke three holes in the bottom of each, using a chopstick or the non-pronged end of a fork, and move the instrument around inside the pastry to make room for the filling. Pipe filling into the healthy Twinkies with a pastry bag, or a plastic bag with a tiny portion of one of the edges cut off, or the filling injector that comes with a canoe pan.
View Healthy Twinkies Calories and Nutrition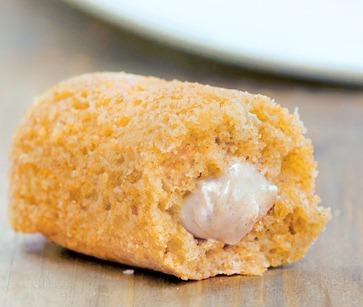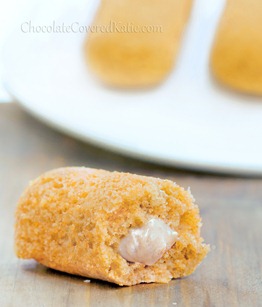 Question of the Day:
What are some of the unhealthiest foods you can think of?
There are always Cheesecake Factory desserts… and the Wendy's Triple Baconator (as scary as the name implies)… There's also a casserole recipe making the rounds on Pinterest that consists of nothing more than tater tots, ground beef, bacon, cream of something soup, and three different types of cheese. Not a green vegetable in sight. You look at something like that and it's no wonder modern society is plagued with so many health problems.
Link Of The Day: