Another chocolate recipe?
My goodness, you'd think this was some sort of chocolate-covered blog.
Oh wait; that's right. It is.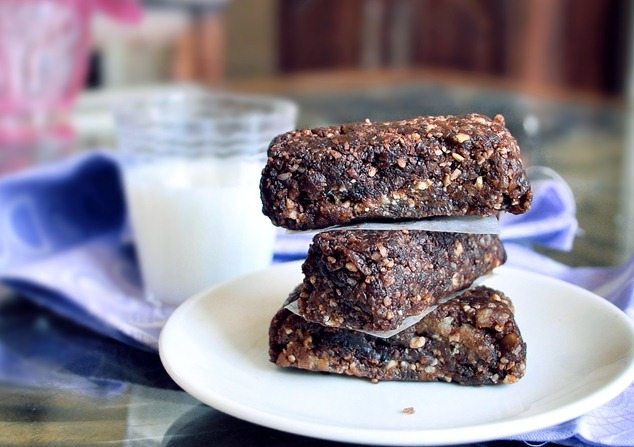 The first time I tried a Larabar, I didn't really like it. My mistake was in choosing a cherry-flavored bar. Someone should've shaken me and said, Hello! Of course you didn't like it, Katie. It has no chocolate!"
When I tried a Jocalat chocolate Larabar, it was love at first bite. As a busy college student with no time to bake brownies, these bars offered a quick cure for my chocolate cravings (or a stopgap anyway. I doubt I will ever find a cure for my chocoholism… but that's perfectly ok with me!)
Recently, I've been having trouble locating Jocalats. Thank goodness I know how to make my own chocolate Larabars.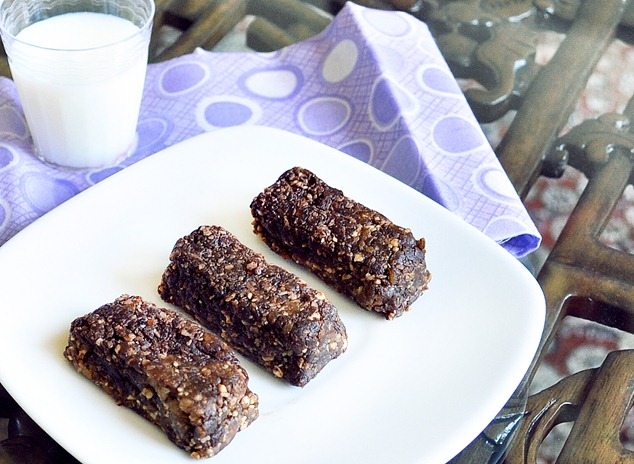 Plus, they're cheaper than store-bought and save packaging too.
Hot Fudge Brownie Larabars
Based on the recipe for Fudge Babies.
1 cup walnuts (120 g)
1 and 1/3 cups pitted dates (220 g) (I love SunMaid dates, as they're much softer.)
1 tsp pure vanilla extract
3-4 tbsp cocoa powder (or even Dutch cocoa)
optional: 1/8 plus 1/16 tsp salt (I always add it)
optional: chocolate chips or even a piece of a chocolate bar or baking chocolate
Blend all the ingredients, using a food processor or Magic Bullet. No need to blend the dates first; I just blend everything all at once in my MB. If you use drier dates than SunMaid, you might have to add up to 1 tbsp water. Form into bars. It might help to put dough in a plastic bag and close the bag, then shape into a bar. (Feel free to experiment with different nut combinations. I often sub almonds or cashews for some of the walnuts.)
Click for more flavors: Homemade Larabar Recipes.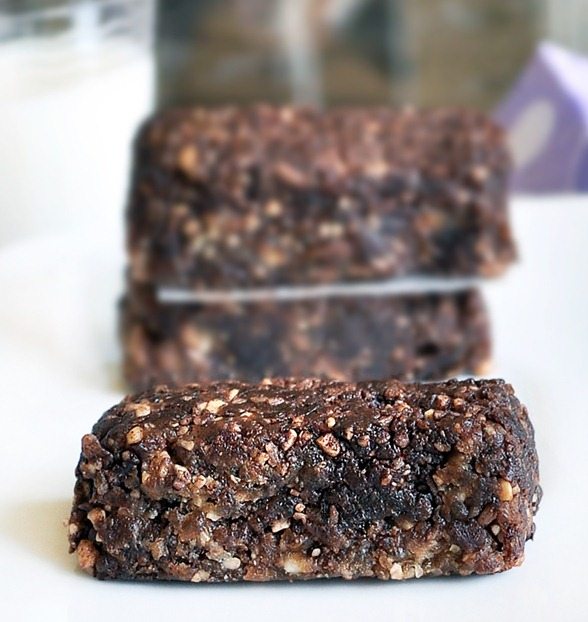 What are your favorite Larabar flavors?
One of my favorite homemade larabar flavors: Homemade Oatmeal Cookie Larabars.
As for the real Larabars, my favorite flavors are the plain chocolate Jocalats and the cookie dough Larabars. I love making up my own flavors and am thinking chocolate-raspberry might have to be next! Any other flavor suggestions for homemade Larabar recipes you'd like to see?