Back in October, I mentioned that I had an appointment with a Pedorthist to get custom orthotics made. The appointment went really well; I learned a lot about feet from a man who really knew his stuff! And I've happily been wearing my orthotics in my everyday shoes (although I'm not sure what I'm going to do once sandal season hits. What do you other orthotic-wearers do about this?).
But I still haven't put the orthotics in my running shoes. The inserts are so thick that they won't comfortably fit inside the shoes. Finally, yesterday, I got around to buying a bigger pair: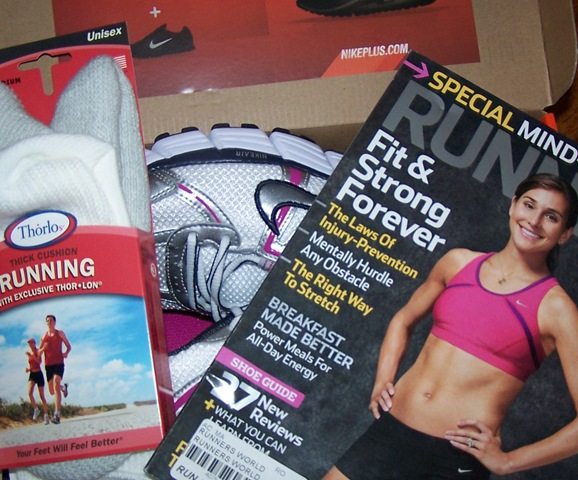 Above, loot from the running store: the shoes, new Thorlos (love them!), and the latest issue of Runners' World with Kara Goucher on the front (love her too!).
This is like my fourth or fifth pair of Nike Pegasus shoes, even though I only discovered them a short time ago. What can I say? If something works for you, keep doing it! And these things feel like wearing slippers! It's like they were made specifically for my feet (but I'm sure all their other fans would disagree with me). I was first fit for the Pegasus shoes at a running store. After the initial pair, though, I'll buy them wherever I happen to see a super-good price (or when I find one of those nifty $25-off Sports Authority coupons). But because I wanted to be properly fit for the orthotics this time, I went back to the running store.
On this particular trip, the employee first had me try on Asics, then Brooks, then New Balance. All the while, I'm asking: "Maybe I should try Pegasus?" None of the other shoes felt right, and I began to worry that perhaps it was the fault of the orthotics, meaning no shoe would ever feel good with them in. Enter Pegasus… And they all lived happily ever after.
I used to buy running shoes based on the color. The turquoise blue shoes were always the first ones I'd try.  But you don't have to be a runner for long to realize that after a few weeks, color becomes a moot point (especially if you have a penchant for running on grass). This time, I bought pink.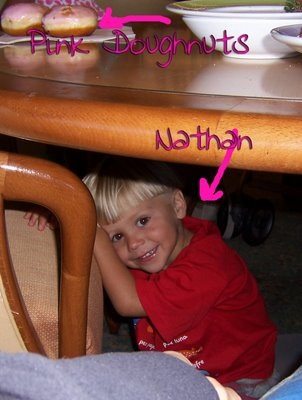 The Pink Doughnut Eater would be proud!
Speaking of things that are pink… Chocolate-Covered Meal of the Day: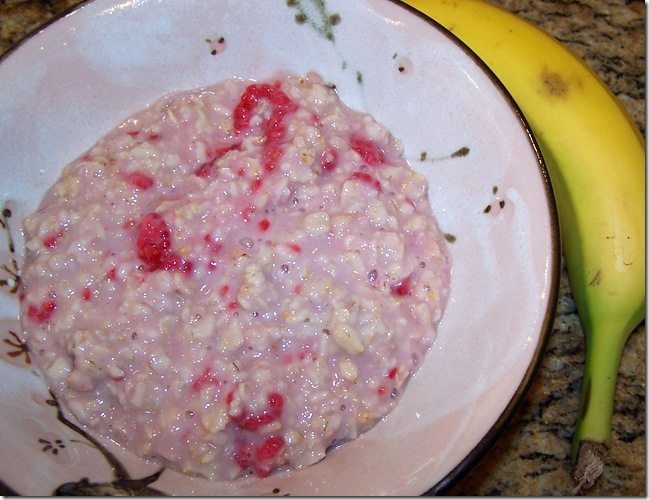 Beauty Queen Oatmeal
Oatmeal cooked in a combination of almond milk and water
vanilla extract and a pinch of salt
lots of fresh raspberries, smushed in
And a banana on the side.
Question of the day: Is there anything that you love so much you have it in multiple colors? Aside from my sneakers, I also own some American Eagle tops, Gap tanks, and an incredibly-comfy Express sweater in every color they make.