Currently…
Eating: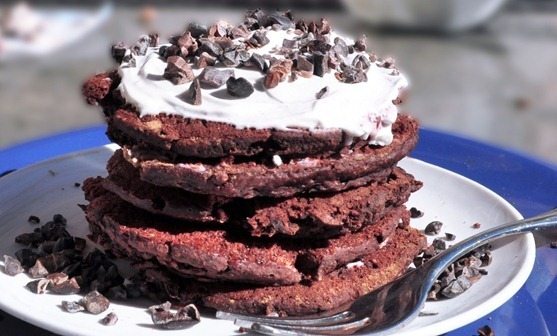 I left out the food coloring, though. So really, they're Chocolate Brownie Pancakes, which sounds equally delicious as red velvet. If not more so.
Entertainment:
Stark contrast, huh?
I read 100 Years of Solitude a few years ago in Spanish (for school). Liking it much better in English! And I don't watch much tv, but Desperate Housewives is my guilty pleasure.
Wearing:
I will only shop at J. Crew when there's a sale. Otherwise, girl cannot be trusted. (Same thing with Anthropologie. Sure, they have bargain racks. But invariably, every price tag I pick up says $250. Yikes.)
What are your "currently"s?
Another of mine: making Raw Chocolate Milkshakes.
Still deciding what flavor to make next. P.S. What does cake batter ice cream taste like? A lot of people have left requests for a raw cake batter milkshake… but I've never tried the original, so I don't know how to recreate it!