Bar Wars, Return of the Laras
What's your favorite bar? Lately, I seem to keep striking out on the bar front. Maybe the powers that be are just trying to tell me: Stop looking; you've already found more than enough that you love (Wilds, Jocalats, all varieties of fudge baby bars, and on and on). But even though I have enough variety, flavor-wise, to never be bored, curiosity gets the best of me each time I see a fun new product. I just love trying new things!
The latest:  I finally tried the Larabar carrot cake bars that came in my surprise package from the company.  Sad to say, I was, once again, underwhelmed. They weren't bad or anything, but my own carrot cake bars are better. So, naturally—still craving carrot cake (Aren't I always?), I had to go and make some homemade bars.
(I'm not the only one with a carrot addiction. These three guys apparently share my love!)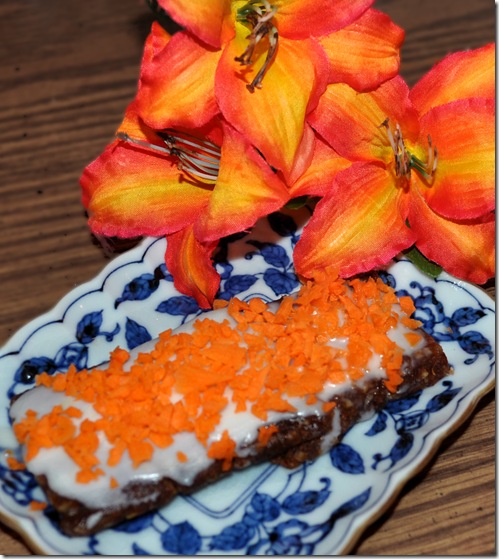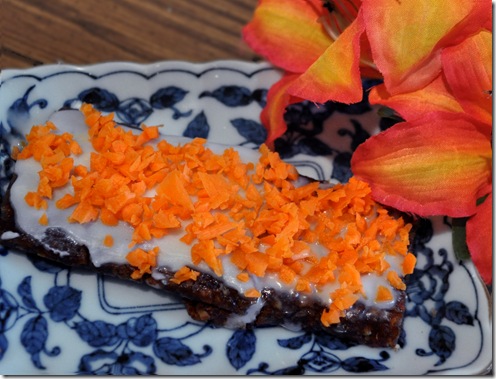 I topped off my homemade Carrot Cake Bars with coconut butter and carrot.
Lesson to be learned: coconut-butter-topped bars > coconut-butter-less bars every single time. The poor Larabars never stood a chance.
And there I go with the fake flowers again. Signature CCK. Hey, don't hate on the fake flowers: they're easier to take care of (no watering!) and they don't die ;). But perhaps I, at least, need to invest in some new colors!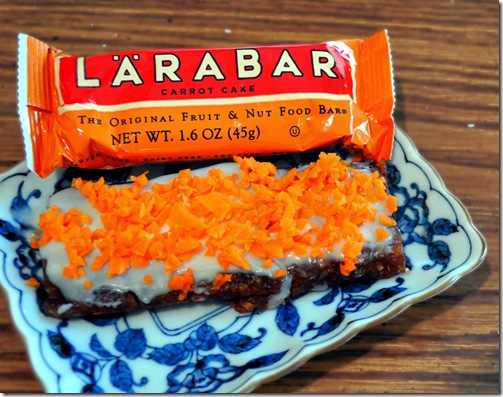 Above, Larabar meets homemade Carrot Cake Bar.
I don't not recommend the carrot cake Larabars: If you're a fan of dried pineapple, you'll probably like them, because that's all I tasted. Actually, to me they taste exactly like the apple pie Larabars with added pineapple. But my favorite Larabars are still—and probably always will be—the chocolate Jocalat bars. 'Cause on them, you can perform the Brownie trick, taking these bars from yummy to YUMlicious!! Just a few seconds in the microwave leads to pure chocolate-brownie bliss. In summary: for carrot cake, I'll stick to my bars. However, when it comes to chocolate, nobody does it better than Lara!
Microwave Brownie Trick:
Unwrap a Chocolate Jocalat bar, and place on a microwave-safe plate.
Microwave for about 15 seconds, then open the door and turn.
Then microwave 10 seconds.
Open door (to let some heat out) and microwave 10 more seconds if you want it really melty.
(Don't microwave too long; burnt chocolate's a party pooper.) If you want the baked-brownie taste but not the mess of the melted chocolate, you can put the cooked Jocalat in the fridge or freezer so all the melted chocolate re-hardens. Oh goodness, raw foodists hate me right now, don't they??
..
Sending  HUGE thanks to all who defended me on yesterday's post.
I won't even mention the negative, but I can't go without telling y'all how much your supportive comments meant to me. Actually, your kind comments always mean a lot to me; I don't thank you enough. Thank you!!