I'm moving!
From now on, my address will be: 516 East 6th Street, New York.
Oh wait. That just so happens to also be the address of Lula's Sweet Apothecary and its cashew-based ice cream flavors such as caramel swirl, peanut butter chocolate chip, butterscotch, soft-serve cake batter… Coincidence?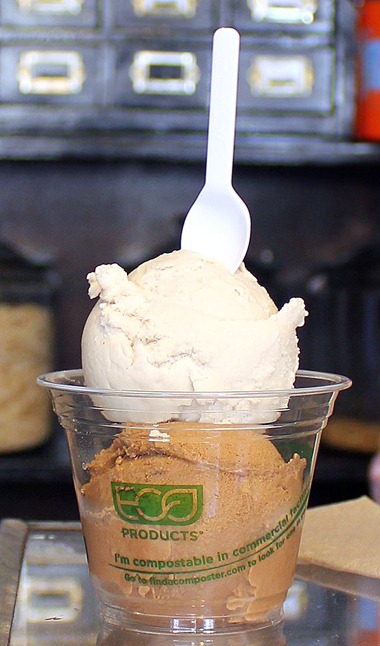 Above: Mocha Chip and Cream Soda ice cream.
Did I mention that eating at Lula's got my boyfriend to grudgingly admit vegan ice cream can be awesome? We've now been to Lula's umm… three times in a week. I think know I'm in love.
Lula's has the uncanny ability to churn out ice creams that exactly mimic the flavor of their inspired foods. The cookies-n-cream tastes like eating Oreos, the cream soda is so authentic it should come with a straw, and if you close your eyes while consuming the pb&j ice cream you will swear that you're biting into a peanut butter and jelly sandwich.
On the first trip, I ordered their famous cake batter soft serve: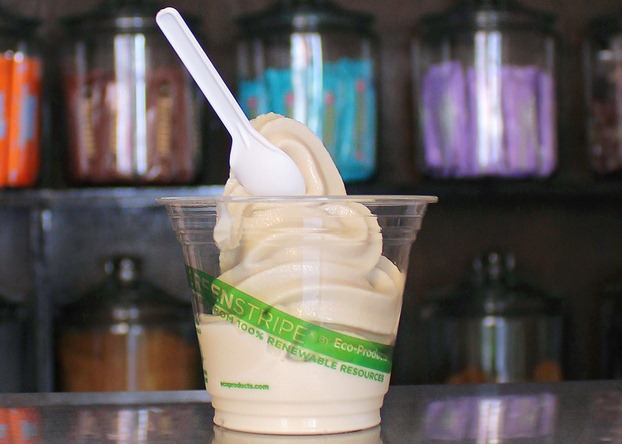 It tasted exactly like cake batter.
And it made me embarrassed for posting my Cake Batter Milkshake.
My shake recipe tastes like a delicious vanilla-y shake… But Lula's soft serve? It tastes like you are literally eating raw cake batter in the form of ice cream. In fact, it was a little too weird for me; the cake batter flavor was too spot-on! Since I didn't want to settle for something I didn't completely love (on what I thought would be my only trip to Lula's), I went back in and ordered the chocolate soft serve: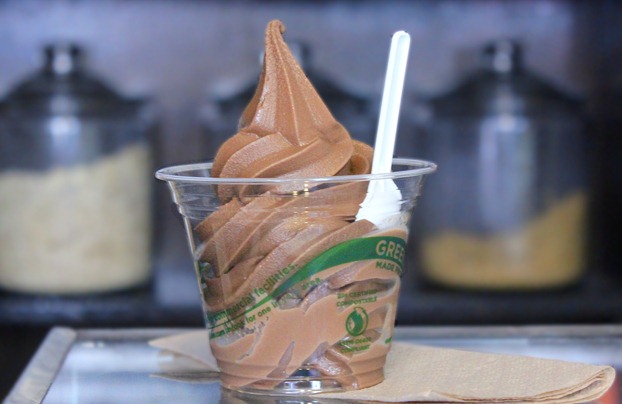 Hands down the best thing I'd eaten on the entire vacation.
(As mentioned earlier, we went back twice more after that first trip to Lula's, and I ordered their non-soft-serve chocolate ice cream and oatmeal-raisin cookie. Please, Lula's, please come to Texas!!)
Later…
For dinner, we met up with Jessica and her boyfriend at Souen, one of my favorite restaurants in NYC. Souen is macrobiotic, but not completely vegetarian, and the boys both ordered sushi.
I usually order the Kuzu Stew, but Jessica kept raving about a particular dish with the unassuming name of "Squash Tofu." I never would've thought to try it had she not gone on and on (and on) about how good it was.
The dish (which we both ordered sans tofu) boasts a plethora of vegetables—broccoli, cauliflower, cabbage, onion, kale, carrot, and kabocha squash—enveloped in the most delicious creamy tahini sauce you could ever imagine. Think: the taste and texture of peanut sauce, but with tahini instead of peanut butter. It was thick and rich and the perfect balance of salty and sweet.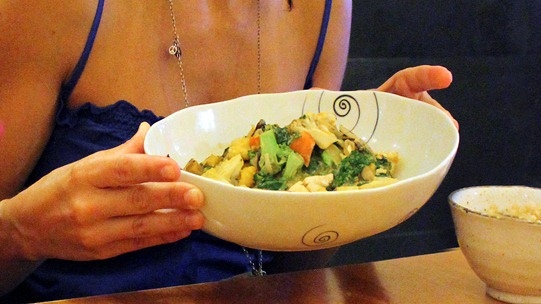 (Above, Jess and her dinner, which also came with a side of brown rice.)
Question of the Day:
What restaurant or bakery would you like to live at?
If anyone needs me, I'll be in the Lula's freezer, eating my way through their chocolate ice cream. Note to the staff at Lula's: stock up.
Link of the Day: