Let's talk chocolate.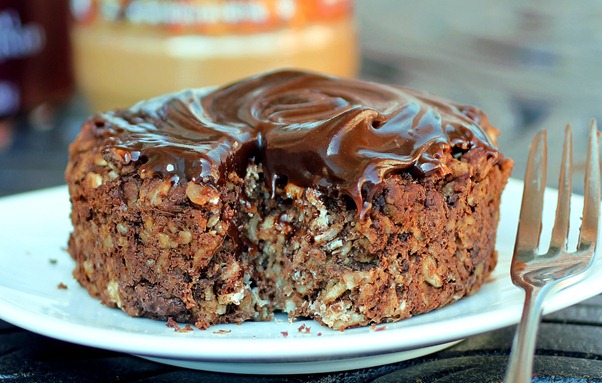 And peanut butter.
And chocolate.
Did I mention chocolate?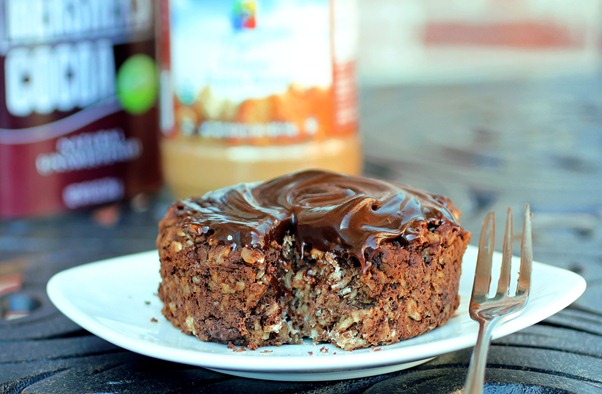 Good News! Research is now saying that eating dessert for breakfast can actually be healthy. This is great news for me, as I've been eating dessert-type breakfasts for years and had no plans to stop. Today's breakfast, for example, was chocolate peanut butter baked oatmeal.
I topped the peanut butter cup oatmeal with more chocolate: Healthy Chocolate Fudge Frosting.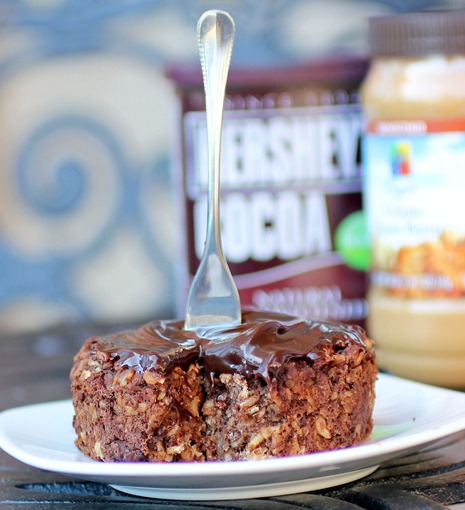 Was this breakfast, or was it really dessert? The puzzle confused my tastebuds. But with all that chocolate going on, it also made them very happy.
Reeses Peanut Butter Cup Baked Oatmeal
(serves 1)
1/2 cup rolled oats (50g)
1/4 tsp pure vanilla extract
1/4 cup mashed banana (or sub another mashed fruit)
1/4 cup milk of choice or nondairy creamer
pinch pure stevia OR 1 1/2 tbsp liquid sweetener such as maple syrup or agave (If using liquid sweetener, scale back the milk to just 2 tbsp)
1/8 tsp salt
1 tbsp cocoa powder
1-2 tbsp peanut butter (or other nut butter or sunbutter)
Optional: handful of chocolate chips!
Reeses Oatmeal Recipe: Preheat oven to 380 degrees. Combine all ingredients and mix well. (If peanut butter was in the fridge, you might want to heat it up a little so it's easier to stir.) Pour into a greased 1-cup ramekin, or two 1/2-cup ramekins, or a mini-loaf pan. Cook for 20 minutes or more, until it gets firm. Finally, set your oven to "high broil" for 3 more minutes, or until it reaches desired crispy-ness (or simply just bake longer, but broiling gives it a nice crust). Optional: top with the frosting recipe linked under the second photo of this post. You can even make this the night before, or make multiple servings at once and freeze leftovers for an instant breakfast! (A few readers have had success making this in the microwave, but I haven't tried it.)
View Peanut Butter Cup Oatmeal Nutrition Facts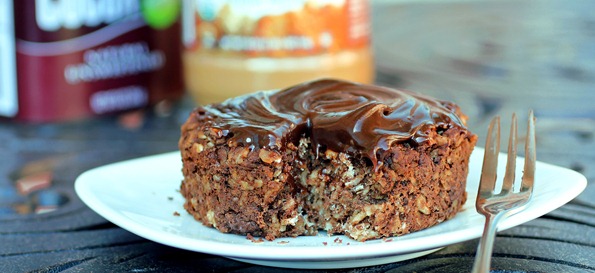 Do you ever eat chocolate at breakfast?
The more appropriate question for me would probably be: do I ever not eat chocolate at breakfast? And the answer would probably be no!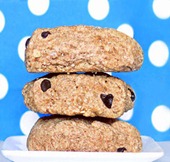 Link of the Day: