Yesterday's snack:
Two mini boatmeal cakes topped with cinnamon swirl peanut butter!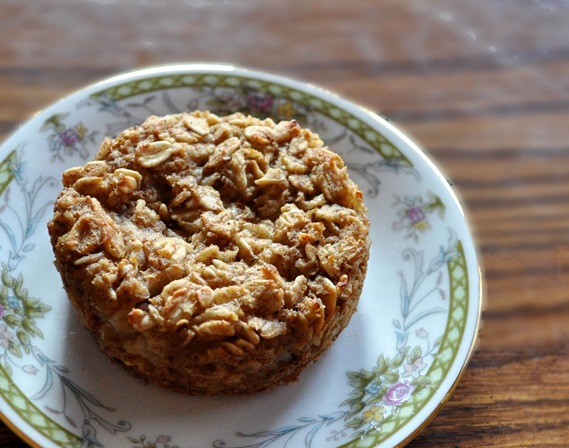 Recipe: Baked Oatmeal Cake For One
Times the above recipe by two, and you'll get my snack. Two oatmeal cakes are better than one, right? For the miniatures, all I did differently was use two 1/2-cup ramekins (any oven-safe dish will do) in place of one big dish. The result was two "muffin-sized" oatmeal cakes. This particular flavor was Apple-Cinnamon: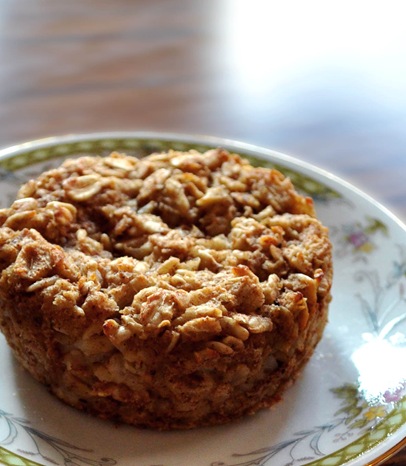 Apple Cinnamon Oatmeal Cakes
(makes 2 muffin-sized cakes)
1/2 cup rolled oats (50g)
1/4 tsp vanilla extract
1/2 tsp cinnamon
sweetener, such as 1 1/2 tbsp maple syrup or 1 to 1 1/2 packs stevia (I omitted, but I've cautioned you before about my lack of sweet tooth)
3 tbsp unsweetened applesauce (60g)
1-2 tbsp chopped apple
1/4 cup milk of choice or juice or water (decrease to 3 tbsp if adding the optional oil)
heaping 1/16th tsp salt
Optional for richness: 1 tbsp oil or nut butter of choice
Preheat oven to 375 degrees. Combine raw oats, spices, applesauce, apple, and liquid. Pour into a small baking pan, loaf pan, 1-cup ramekin, or two 1/2-cup ramekins. Cook for 15-20 minutes, or more until it's firm. Finally, set your oven to "high broil" for 3 more minutes (or simply just bake longer, but broiling gives it a nice crust). Don't forget to spray your ramekins first if you want your cakes to pop out.
See the original post for Baked Oatmeal Cake Nutrition Facts.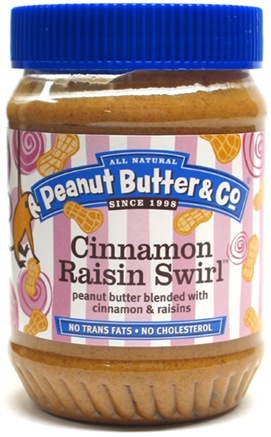 You could use coconut butter or Healthy Cream Cheese Icing, but I expanded my foodie horizons and tried something new.
Next up in the boatmeal world? I really must try carrot cake. And then maybe gingerbread. Or peanut butter banana, like many of you suggested.