Ultra fudgy, gooey, and super chocolatey unbaked mint brownies, with dark chocolate ganache.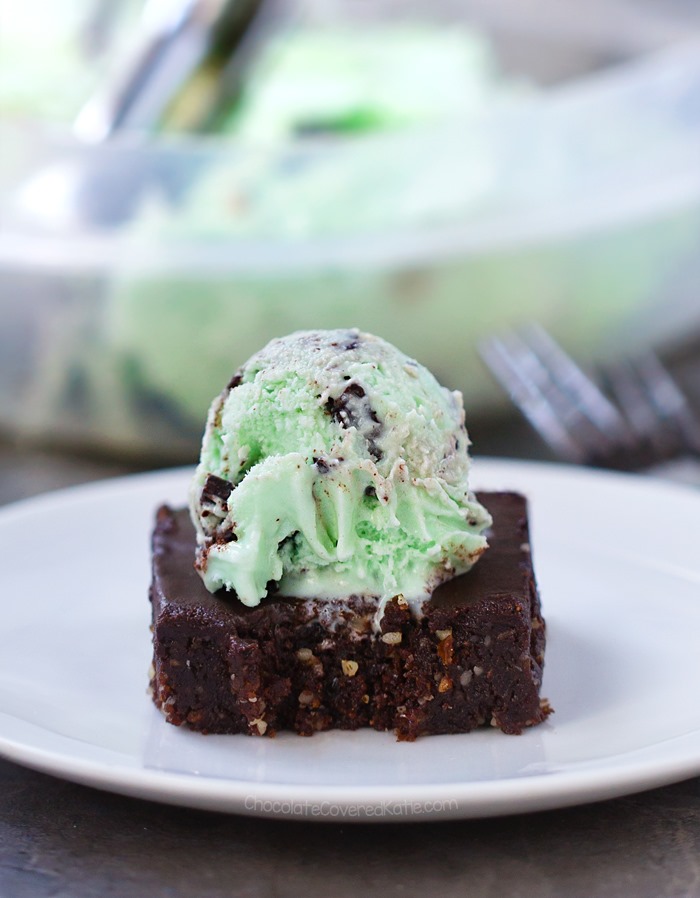 These no-bake mint brownies can be all of the following:
Raw
Vegan
Paleo
Soy Free
Gluten Free
No Added Sugar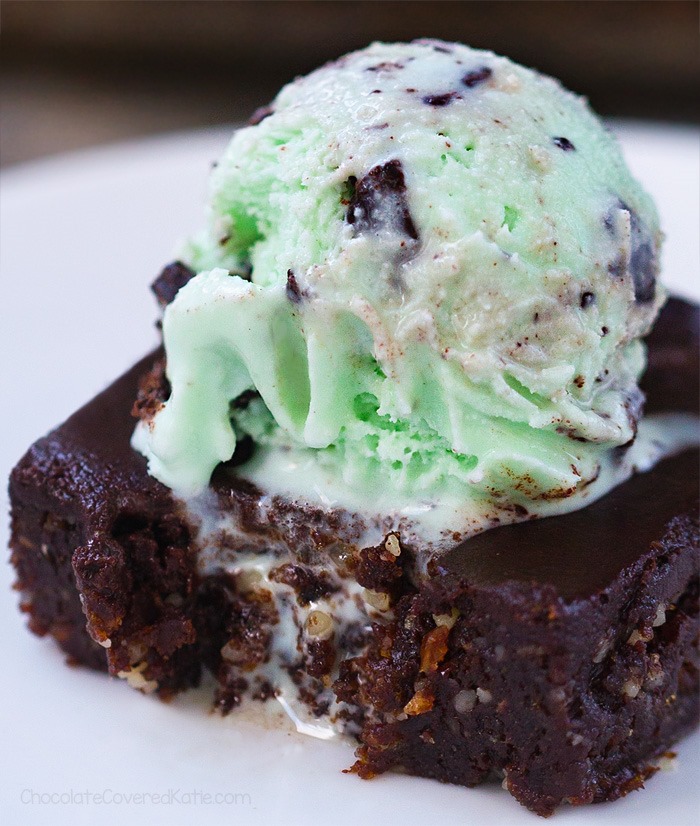 Just imagine eating a brownie that tastes like a Thin Mint cookie.
Now imagine the mint chocolate brownie is NO BAKE and naturally sweetened, made without flour, butter, or refined sugar.
If you want to really take things over the top, try turning it into a no-bake brownie sundae with a scoop of creamy Mint Chocolate Chip Nice Cream.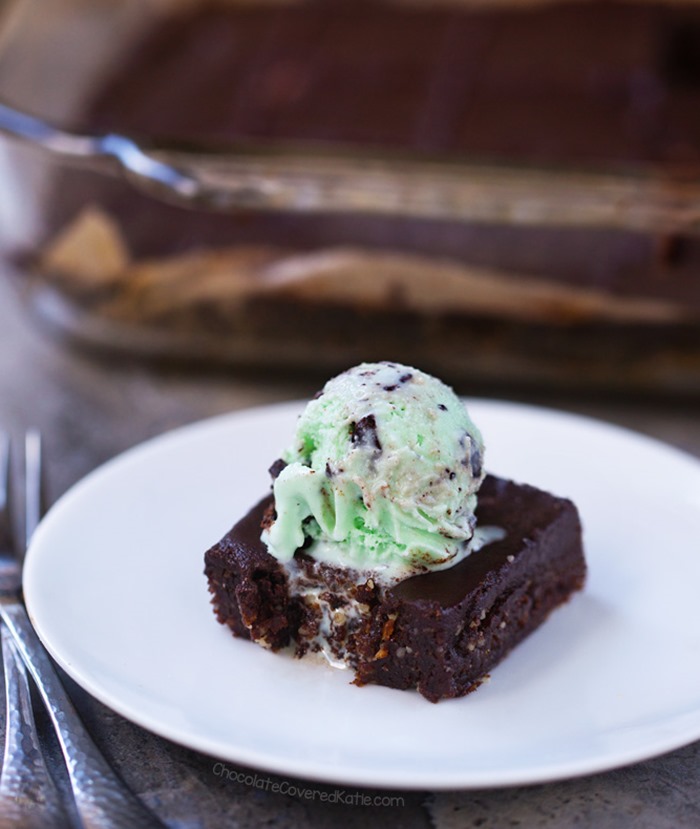 Bonus points, the energizing peppermint and chocolate are a great pick-me-up if you're feeling sleepy thanks to Daylight Savings!
I think I might be the only person in the world who actually likes Daylight Savings. Oh I definitely wish we stopped doing it altogether. (Doesn't everyone? Why is this still a thing???)
But in terms of springing forward vs. falling back, I hate the latter much more. I seem to enjoy waking up at 4 am for some reason, so springing forward gets me at least a little closer to everyone else. I would still totally be on board to get rid of Daylight Savings though. Just saying.
(View the video, above)
I also made a new video for the brownies, because I know a lot of you prefer to see recipes being made instead of just reading instructions.
I prefer that too – and also, I really love making the videos!


No-Bake Thin Mint Brownies
Adapted from The Ultimate Unbaked Brownies
No-Bake Thin Mint Brownies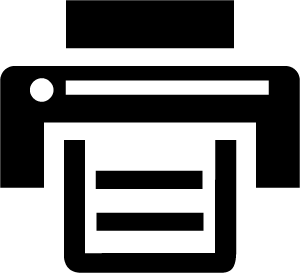 Print This Recipe
[mrp_rating_result show_count="false" show_rich_snippets="false"]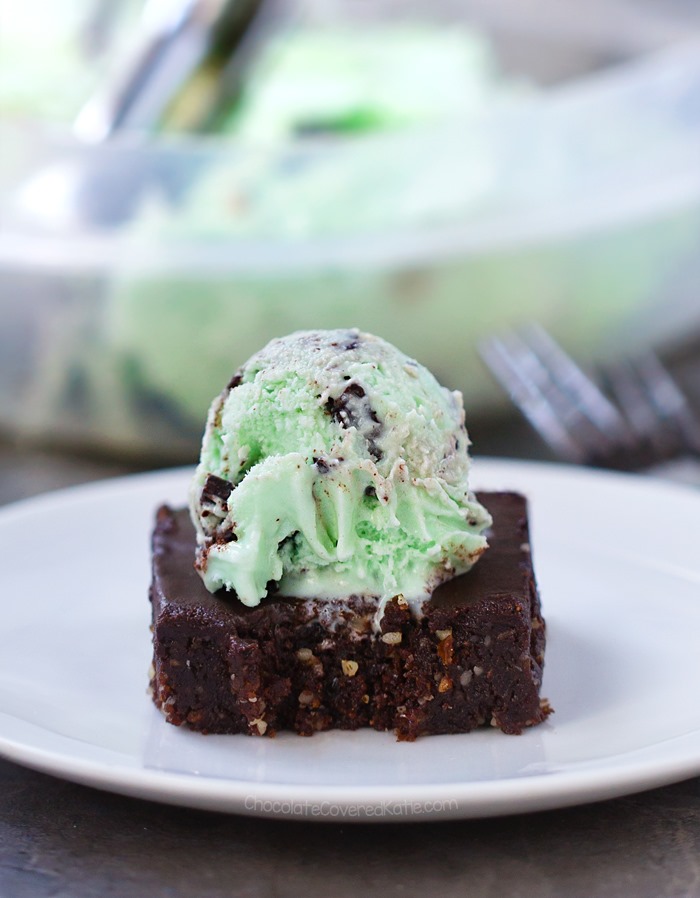 Ingredients
2½ cups loosely packed pitted dates
1 1/2 cups raw walnuts or almonds
6 tbsp cacao or cocoa powder
1 1/2 tsp pure vanilla extract
1/2 tsp pure peppermint extract
2 tsp water
1/4 + 1/8 tsp salt
frosting, listed below
Instructions
Make sure to use pure peppermint extract, not imitation. (I haven't tried the recipe with mint extract.) Combine first 7 ingredients in a food processor—scraping down as needed—until it turns into tiny, sticky crumbles. It will seem dry at first, so just keep processing until sticky. Line an 8-inch pan with wax or parchment. Press dough very firmly into the pan. For frosting, either melt 1/2 cup chocolate chips with 2 tsp oil to form a thin sauce OR stir together 1/4 cup cacao or cocoa powder, 2 tbsp melted coconut oil or cacao butter, and 1/4 cup pure maple syrup or agave to form a sauce. You can add up to 1/4 tsp pure peppermint extract if you wish. Spread over the brownies, Refrigerate or freeze to set the chocolate. Leftovers can be covered and stay out at room temperature for a day, or up to 2 weeks refrigerated, or 1-2 months sliced and frozen. (If using the coconut-oil frosting, it's best to refrigerate unless storing in a very cool place.)
Trending Right Now: