Yummy. Sweet.
Crumbly and Buttery.
By the way, did you know that a synonym for buttery is butyraceous? I learned quite a few new words today, thanks to thesaurus.com: pinguedinous, pomadig, sebaceous, cereous, lardacious…
Pretty sure I'll never need to use that last one!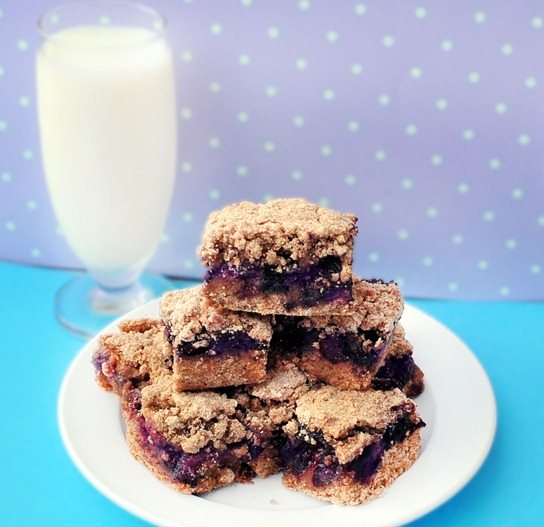 Purple-licious!
I initially thought to use mixed berries in my bars so they'd be patriotic: red and blue. But once they cooked, a deep purple hue (or a porphyrous hue, if we want to extend this post's new-word trend) completely trumped red and blue. So much for trying to be patriotic!
They're more violaceous than a Soy-Free Love Potion.
My apologies to Uncle Sam and Betsy Ross. Really, though, the color red is present in too many holidays: Christmas, Valentine's Day, all our patriotic holidays… It's not often one gets to celebrate purple!
I told you I'd only post this recipe if everyone liked it at my neighbor's party. I even had a backup post written, just in case. Luckily, I can save that post for another day, because people went CRAZY for these crumble bars, with their sweet berry filling. They're everything you'd want from a warm berry crumble, in the convenient form of a bar!
Buttery Berry Crumble Bars
(Makes 10-14 bars)
1.5 cup whole-wheat pastry flour (or white flour, or Bob's gluten-free)
1/2 tsp baking powder
1/4 tsp salt
1/2 cup brown sugar (see notes below, for lower-sugar option)
pinch stevia OR another tbsp brown sugar
1 1/4 tsp cinnamon
1/4 cup plus 3 tbsp cold vegan butter (See calorie link below, for fat-free option. And does anyone want to try this recipe out with coconut oil and tell me if it works?)
2 tbsp milk of choice
2 cups fresh or frozen berries (8oz)
2 tsp cornstarch
3 tbsp maple syrup (or agave)
1 tsp pure vanilla extract
Stir together the first eight ingredients, making sure to break the butter up really well so that little crumbs form. Scoop 2/3 of the dough into a 4×7, oiled glass dish (or any small pan), and press down firmly. In a separate bowl, stir together the other ingredients. If using big berries, mash/chop them a little. Layer them into the pan, then top with the rest of the dough from the first pan and press down a bit. Bake for 45 minutes at 350 F, then cool at least 30 minutes before cutting into bars. Store uncovered, unless you want a soft crust (in which case, you should cover completely with saran wrap).
See the following post for the Calorie Information.
Due to the fact that I was bringing these to a party with guests accustomed to "regular" desserts, I used more sugar than I normally would (but still less than most recipes call for). If you want a subtly-sweet bar, you can scale back the sugar or try more stevia.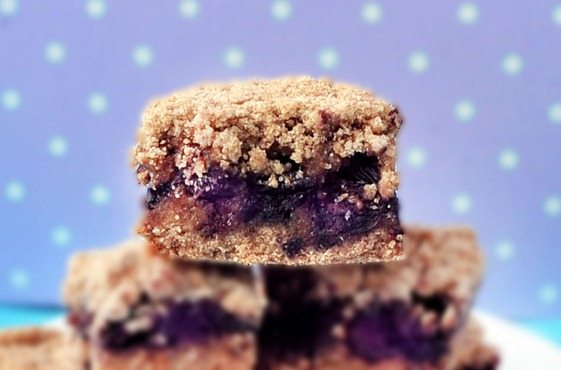 The crumble bars are whole-grain, fruit-filled, and are made with less fat and sugar than basically every other bar recipe I saw whilst creating this. But the party-goers (none of whom are vegans or "healthy" foodies) devoured every last buttery crumb! 🙂
What are your favorite food textures?
Crunchy? Sticky? Buttery? Or maybe lardacious? Come on, I know you all want your food to be lardacious! My favorite textures are probably creamy, gooey, and fudgey.
Mmm fudgey, like Chocolate Peanut Butter Fudge.