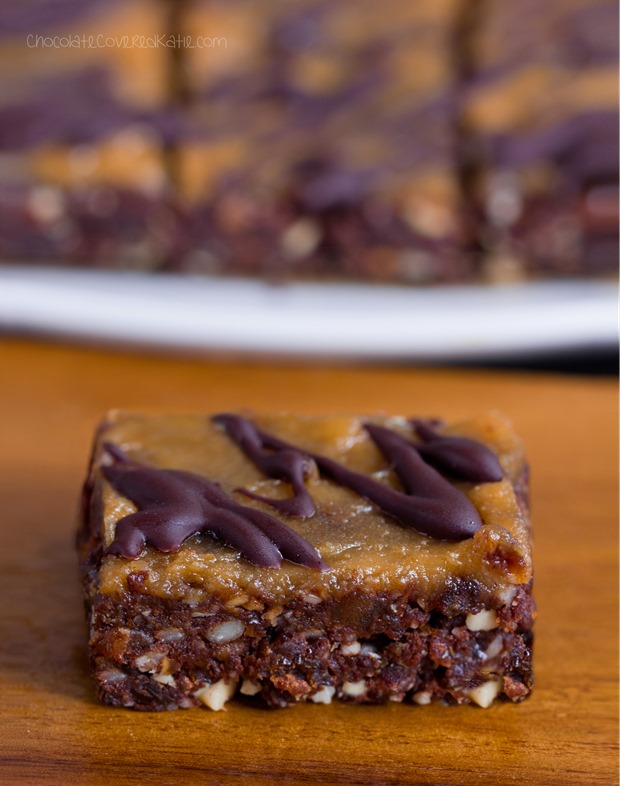 Cookbook Update:
Two weeks ago, Amazon saw a crazy surge in orders of the Chocolate Covered Katie Cookbook that caused them to completely sell out of copies (which was so incredibly fantastic!!). They got more copies in and immediately sold out again, and everyone who's tried to purchase the book since then has been told it was currently unavailable while they waited for a third printing.
Please accept my apologies for this; it's been so frustrating not being able to tell people when the book would be back in stock. But finally, as of this morning, it should now be available again on Amazon and in stores.
Thank you so much to all of you who have been buying it!!!!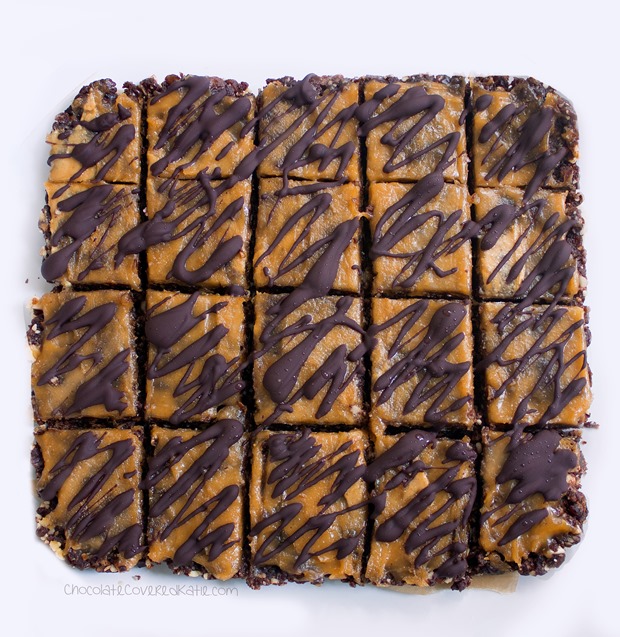 Now, let's talk about these no-bake chocolate peanut butter brownie bars. Because… that's why you're really here, right? These bars can be many wonderful things, including all of the following:
raw / sugar-free / dairy-free / paleo / vegan / and gluten-free!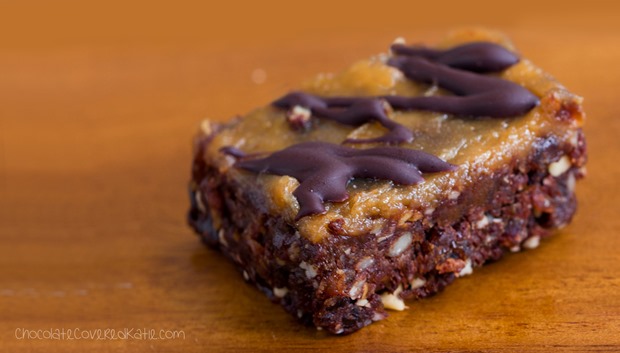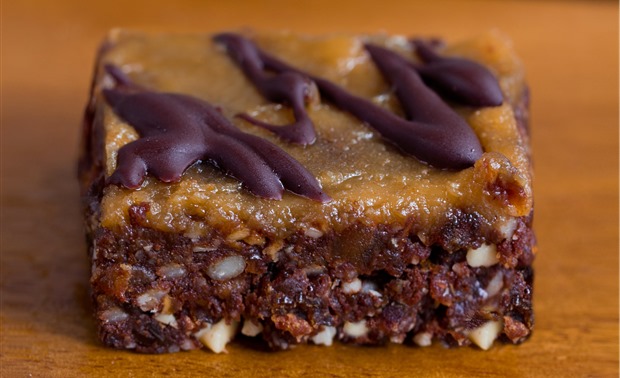 You don't need to refrigerate the brownie bars, making them perfect for road trips or for adding to a lunchbox. And they also freeze well, so you can have chocolate on hand whenever a craving strikes. Which may or may not be a good thing…


No-Bake Chocolate Peanut Butter Brownie Bars
Adapted from: Homemade Larabars
1/4 cup plus 2 tbsp cocoa or cacao powder
just over 1/4 tsp salt
2 1/2 cups loosely packed pitted dates
1 cup raw almonds or walnuts
1/2 cup raw nuts of choice
1 1/2 tsp pure vanilla extract
2 tsp water
1/4 cup chocolate chips, optional
1/4 cup nut butter of choice (or pb2) OR allergy-friendly alternative
2 tsp pure maple syrup or honey OR stevia to taste
2 tbsp milk of choice (plus extra if using stevia)
*Notes: If you have a small or medium food processor, it may be a good idea to process in two batches so as not to overwork your machine. Using a blender might yield an overly sticky result, so try that at your own risk. Recipe: In a high-quality food processor, combine all but the final three ingredients (but including the chocolate chips, if using) until sticky crumbles form. If it's still too crumbly to stick together, process longer. Line an 8-inch square pan with parchment paper, then transfer the crumbles to the pan and use a second sheet of parchment to press down evenly into the pan. In a small dish, stir together the final three ingredients to make a frosting – it will look liquidy at first, but just keep stirring. Spread the frosting over top, then set in the fridge until ready to cut and serve. You can also drizzle melted chocolate on top if desired. I let mine sit in the fridge for a few hours, then I was easily able to slice and place the brownies in a sealed container to bring to a party. Store leftovers unrefrigerated for a few days, or refrigerated a few weeks, or frozen for up to 2 months.
View Brownie Bars Nutrition Facts

Link Of The Day: