Has the weather gotten cold yet where you are?
These soft and fluffy peanut butter biscuits are the perfect comfort food for any cold October morning. Dip them in hot maple syrup, spread on some melted coconut butter, or sandwich the biscuits with raspberry jelly and even more peanut butter… They also make a terrific portable snack and are great to throw into childrens' lunch boxes.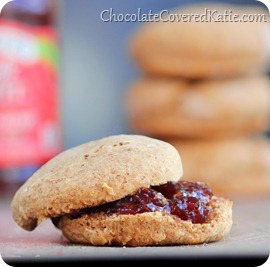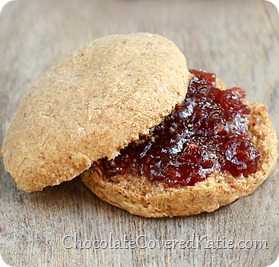 Then again, no one says you can't enjoy these healthy biscuits in warm weather like I've been doing here in Texas. Just because it's still 90 degrees doesn't make them any less delicious. Peanut butter is timeless. And apparently seasonless.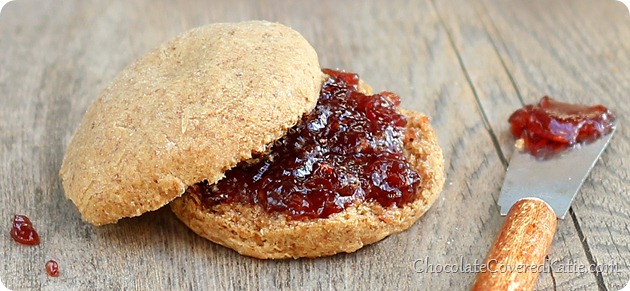 Peanut Butter Biscuits
1 tbsp white vinegar or apple cider vinegar (15g)
2/3 cup milk of choice (160g)
3 tbsp oil (30g)
1 3/4 cup spelt flour (245g)
1/2 cup roasted peanuts (with salt)
1/2 cup raisins (70g) or 1/2 cup sugar of choice
Only if using raisins, add a pinch of stevia or 2 tbsp sugar for sweeter biscuits
2 1/2 tsp baking powder
1/2 tsp baking soda
3/4 tsp salt
Preheat oven to 375 degrees. Whisk together the vinegar, milk, and oil in a little bowl. Let sit for at least 5 minutes. Pulse peanuts in the food processor (or a Vita-Mix), then add other dry ingredients and pulse until smooth. Transfer the dry ingredients to a big bowl and add milk mixture. Mix just until it comes together. Transfer dough to a floured surface or tray, and knead a few times until it's not sticky. (Sprinkle with more flour if needed.) Press dough into a rectangle 1/2-inch thick, and cut into squares or rounds. You can bake them on the same tray. Bake 9-14 minutes (9 for smaller biscuits). Makes 18 small biscuits, the size of the ones in the photos, or 12 much-larger biscuits. These biscuits taste like something between a biscuit and a scone, and they're good topped with a little coconut butter or vegan butter (and maybe some agave or molasses), or perhaps even pumpkin butter. Or jam and more peanut butter!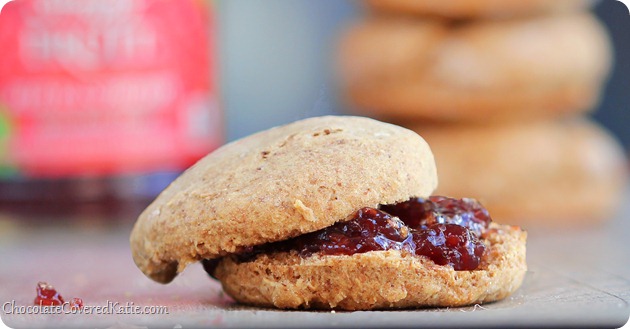 Question of the Day:
Does it feel like Fall yet where you are?
We are having an incredibly warm Fall so far, even by Texas standards. Although I like warm weather, I can't say I'm not looking forward to putting away the flip flops and jean shorts in favor of scarves, hats, and sweaters.
Link of the Day: Peanut Butter Frozen Yogurt