Nom.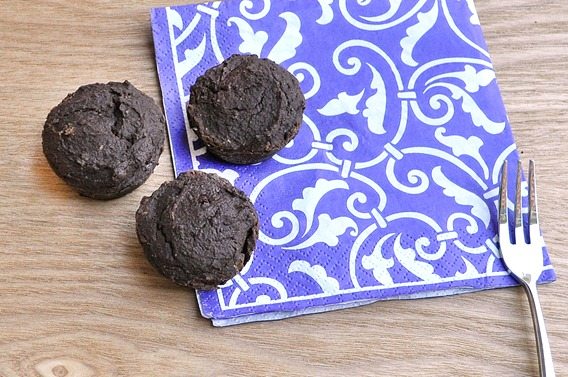 Nom Nom.
Nom Nom Nom.
Have you ever tried a two-bite brownie?
I'd not heard of such a thing until after I became a vegan. And honestly? I'd rather eat a big ole brownie than a baby one. But I know a lot of y'all like mini desserts. These will be right up your alley!
They're like hotter (literally!) siblings of the famous Fudge Babies.
Fudge Munchkins
(makes 14-18 brownie bites)
1/4 cup unsweetened cocoa powder
1/2 cup ww pastry flour (or white or spelt)
1/4 tsp baking powder
1/4 tsp salt
1/2 cup sweetener (see link, below, for lower-sugar version)
1.5 oz mori-nu firm tofu (about 1/8 box)
1/3 cup applesauce (use only 1/4 cup if using 3tbsp oil)
1 to 3 tbsp oil (Use the higher amount for richer brownies. I use coconut oil. Canola is ok too.)
2 tbsp milk of choice
1 tsp pure vanilla extract
optional: you can throw in some chocolate chips
Combine dry ingredients, and mix very well. In a blender, combine wet ingredients and blend until smooth. (I use a Magic Bullet cup.) Pour wet over dry and stir, then pour into a 4×6 oiled pan (or double the recipe and use an 8×8) for regular brownies, or mini muffin tins for brownie bites. Cook for 12-18 minutes at 325F. I'm not sure why this is the case, but these brownies seem to taste ten times sweeter if you don't eat them for at least an hour after they come out of the oven!
Click for lower-sugar version, as well as Calorie Information.
Notes: If you're expecting these brownies to taste like brownies from a boxed mix, you'll need to use dutch cocoa processed with alkali as your cocoa powder. Also, you can use agave or maple syrup as your sweetener. Reduce applesauce to 1/4 cup, but be aware that your brownies will be a bit denser.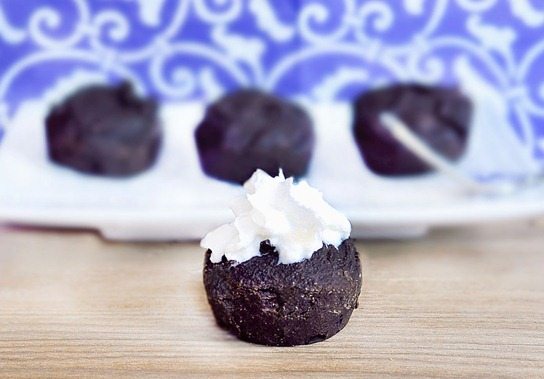 Fudge Daddies
My personal favorite: If you want extreme fudgey brownies—as in "so gooey you need a fork to eat them"—cook the batter in a 4×6 pan (or double the recipe and use an 8×8) for only 10 minutes. Then put the pan in the fridge to cool for at least a few hours. When I make these brownies for myself, I never bother with bites. I want big brownies! (I use my Angry Munchkin variation.)
Question of the Day:
What do you think of the mini dessert trend?
Do you like mini desserts? Or would you rather have giant ones? It seems restaurants are going both ways. On the one hand, you have places like Starbucks and P.F. Changs now offering mini treats. But then restaurants like Cheesecake Factory have desserts as big as my head!
I like giant desserts better, like my Frozen Hot Chocolate.
🙂