These buttery pineapple pancakes might just become your new favorite pancakes: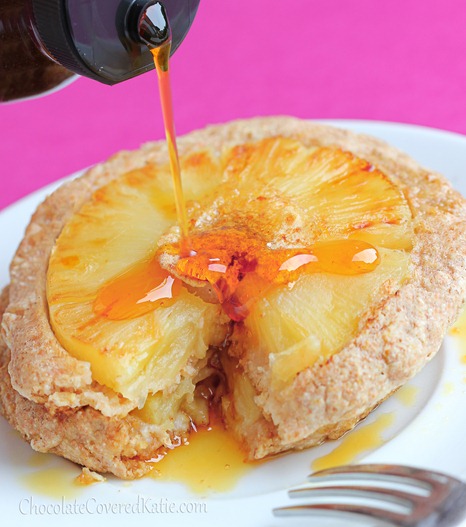 With a base that absolutely melts in your mouth, it's almost more like cake than pancakes.
I've posted many pancakes over the years; a giant list can be found here: 100+ Healthy Pancake Recipes. And these pineapple upside down pancakes are surprisingly my favorite of them all. A friend from high school once taught me how to make a ridiculously-easy pineapple upside down cake that went something like this: pour melted butter into the pan, spread on a layer of crushed pineapple, and top with vanilla cake mix and more butter… maybe it wasn't quite that simple, but it was pretty easy and tasted amazing.
These cake-like pineapple pancakes remind me of that cake… but without all the butter! (Seriously, there was a massive amount of butter in the cake. No wonder it tasted so good!)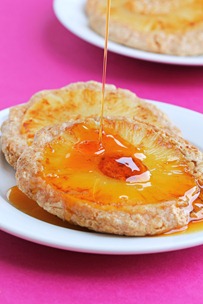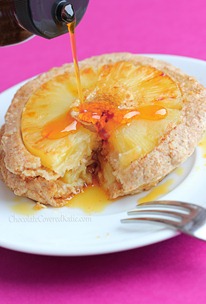 I hope you like the recipe as much as I do!
Pineapple Upside Down Pancakes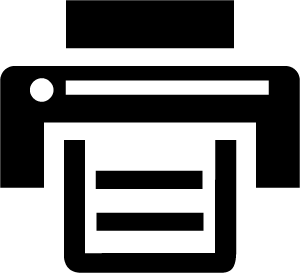 Print This Recipe
[mrp_rating_result show_count="false" show_rich_snippets="false"]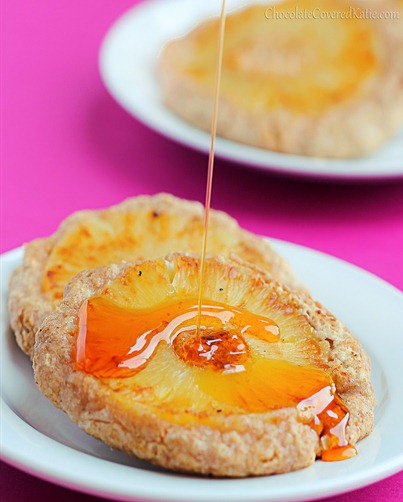 Ingredients
1/3 cup flour (spelt, all-purpose, Bob's gf, or ww pastry all work) (45g)
2 tbsp quick oats or certified-gf quick oats (10g)
1 tsp baking powder
1/8 tsp salt
pinch stevia, or 1 tbsp liquid sweetener of choice (such as pure maple syrup)
1/3 cup milk of choice, warmed slightly (minus 1 tbsp if using liquid sweetener) (80g)
2 tsp melted virgin coconut oil (Can sub veg oil, but coconut oil gives the pancakes an incredible shortbread-y taste. Omit only if you don't mind the taste of fat-free pancakes.)
1/2 tsp pure vanilla extract
4 pineapple rings
Instructions
In a cereal bowl, combine all dry ingredients except pineapple, and stir very well. In a separate bowl, combine all liquid ingredients. (The milk is warmed to prevent the oil from solidifying on contact. This is a good practice for any baked-good recipe that calls for coconut oil.) Pour dry into wet, and stir together to form a batter. Grease a skillet, then turn the heat to medium. Test the heat of your skillet by throwing a few drops of water onto the surface. When the water sizzles, the pan is ready for the pancake batter. Turn skillet to low-medium and drop about 1/4 of the batter onto the skillet, then spread out and lightly place one pineapple round in the middle, pushing down just a little. Repeat with another pancake. (Unless you have a giant skillet, it is best to just do two at a time so as not to crowd the skillet.) Flip pancakes over when the edges become firm and they are able to be flipped without breaking. Continue cooking until desired doneness is reached. I turned the heat up to high at the very end, to fry the pineapple slices a little. Makes 4 super-thick pancakes.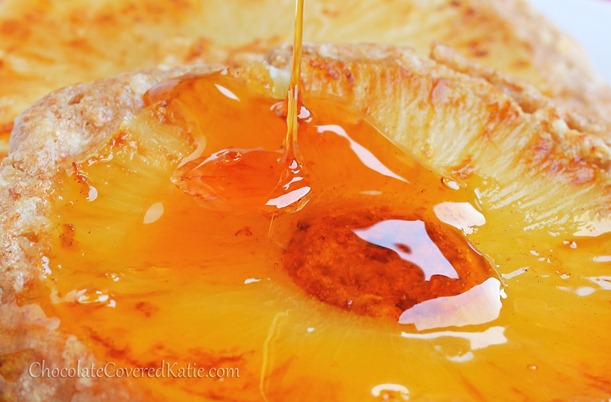 Link of the Day: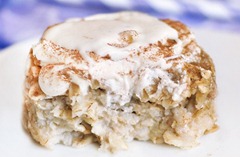 ……Cinnamon Roll Baked Oatmeal