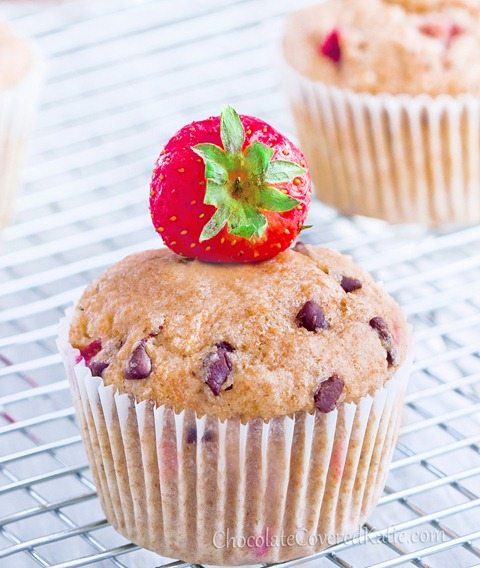 Look! I made you muffins!
Straight from the oven, bursting with strawberries and chocolate chips. Feel free to just take one off the screen.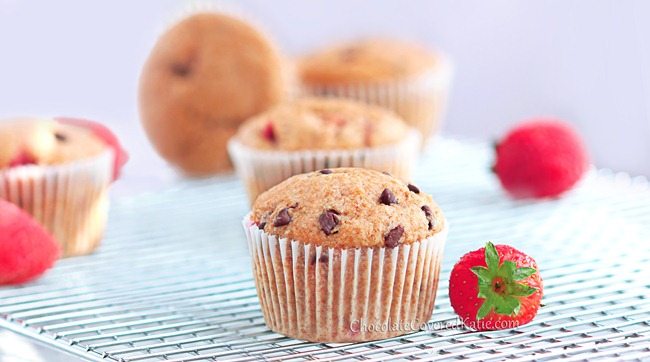 I guess you can't really take one off the screen…. But someday soon we might have the technology to do just that! Even now, companies such as Canon offer a printer with edible ink. When you hit the print button, different colors of icing zoom across the page and create an image you can actually eat.
The edible-ink printer is mostly used by cake-decorating aficionados; but I'd imagine that, maybe even as soon as 100 years from now, people will be able to "print" any item they see on a computer screen—be it clothing, or jewelry, or even food. It might sound impossible, but if you were to go back to the 1800s and tell our ancestors that someday people would sit at a box and communicate with other people halfway around the world, they'd probably think you were crazy.
Even when I try to explain to my little neighbor how I grew up without a cell phone, she looks at me like I have three heads.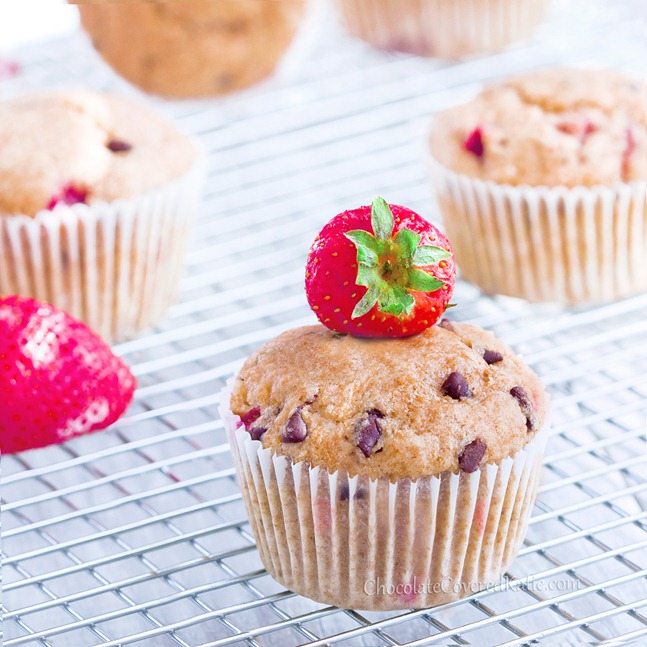 The day when you can snatch a muffin right off the screen might be coming soon… Until that day, you'll just have to make these healthy muffins for yourself!
Strawberry Chocolate Chip Muffins
(makes a baker's dozen)
1 cup milk of choice (240g)
1 tbsp white or apple cider vinegar (15g)
1 1/2 tsp pure vanilla extract (6g)
3 tbsp vegetable or melted coconut oil (30g)
2 cups spelt flour (or all-purpose flour, or gf mix plus 1/2 tsp xantham gum) (250g)
1/2 tsp plus 1/8 tsp salt
2 tsp baking powder
1/2 cup xylitol or sugar of choice (100g)
pinch pure stevia extract, or 1 extra tbsp sugar
1/2 cup mini chocolate chips (80g)
1 loosely-packed cup diced strawberries (120g)
Preheat oven to 350 degrees F, and prepare 13 muffin tins with liners (alternatively, you can skip the liners and just grease 12 muffin tins). In a large measuring cup, whisk together first 4 ingredients. In a large mixing bowl, combine all remaining ingredients except the strawberries and stir very well. Pour wet into dry and stir until just combined. Now add the strawberries (adding them earlier will result in pink muffins). Immediately portion into the liners, then immediately place in the oven to bake 20 minutes. Let the whole-grain muffins sit 10 minutes before removing from the muffin tins.
Click for: Chocolate Chip Muffins Nutrition Facts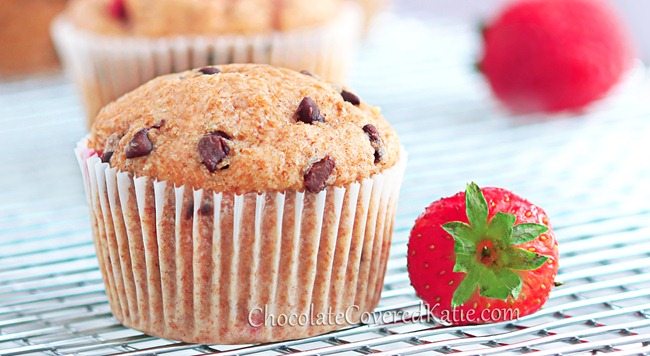 Question of the Day:
What do you think the world will look like in 100 years… or even in 10 years?
It might look like something out of The Jetsons, with robots doing all of our chores (goodbye laundry!) and people flying around in environmentally-friendly capes instead of relying on cars or airplanes. Most likely, even more of our time will be spent looking at a computer screen, which is a scary thought considering how much time most of us already spend on the computer. Our world can change a lot even in just ten years… Facebook didn't exist ten years ago! I kind of miss the days when you actually had to call your friends on the phone or meet in person to find out what was going on in each others' lives.
Link of the Day: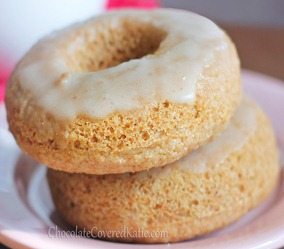 ………………Homemade Donuts
It's National Donut Day!