This summer, my mom and I were lucky enough to spend quite a few perfect days (and one not-so-perfect rainy day) in NYC.  One of these perfect days included a picnic in Central Park.  Then we walked all over town, soaking in the magnificence that is New York City.  But all this "sightseeing" made us hungry. Not to worry—if there's one thing New York City has in abundance, it's top-notch eateries!
I wasn't brave enough to drag my poor mom to a raw restaurant for a meal, but I figured that taking her for a snack was a safe bet.  After all, desserts made out of nuts and fruits aren't as "weird" as live lasagna or cashew-cheese tacos.  And so, we made our way into a quaint little (and I do mean little!) restaurant called Quintessence.  (For some reason, it's not letting me link, so here's the address: www.raw-q.com.) Twas hard to choose… Tiramisu?  Mango Creme Parfait?  Finally, this coconut-lovin' gal decided on a slice of Quintessence's famous Coconut Creme Pie.
Above, Quintessence Coconut Creme Pie, drizzled with raw cacao sauce.
The pie was amazing—so rich and creamy, with just a *hint* of sweetness. (If you like super-sweet cakes, this one might not be up your alley.) Even the crust—made from chopped nuts and dates—was delicious.
Not the least bit intimidated by the all-raw menu, Mom happily ordered a slice of Pecan Pie: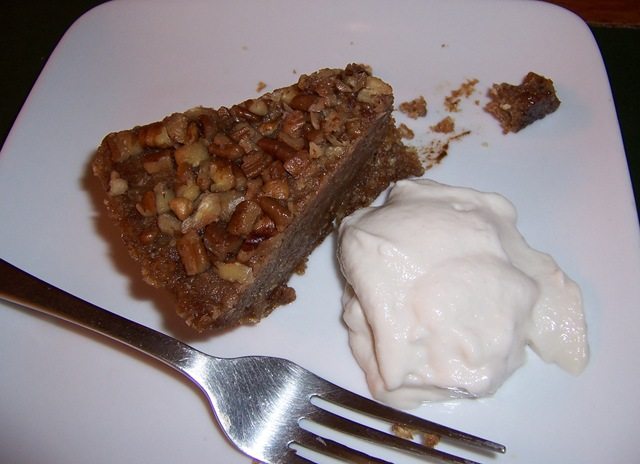 (I tried a bite; the pie was good, but that ugly little blob of cream on the side definitely stole the show!)
Sufficiently satisfied, we rose, preparing to adventure through New York some more.  But a problem presented itself.  The Chia Seed Pudding—what I would've ordered had the pie not been on the menu—started to yell at me.
"Take me with you!  How can you leave me here?!"
Helpless to resist, I ordered a pudding to-go. The next morning, it made for a refreshing post-run breakfast.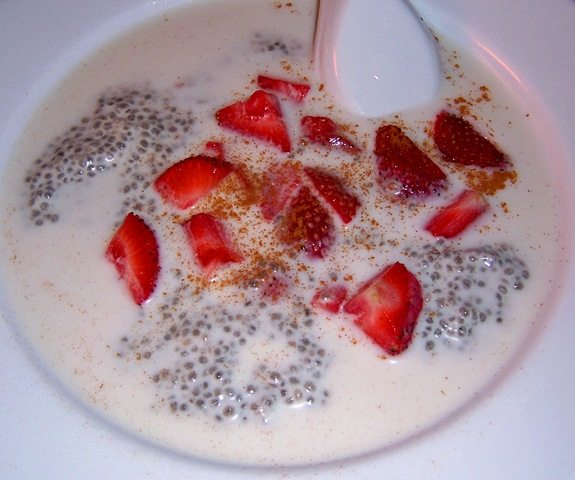 Question of the day:
Have you ever been to a raw restaurant?  Would you be brave enough to take a not-so-adventurous family member or friend?