Lately, I've been on a huge-normous carrot cake kick. You've heard of the Midas Touch? It's become the Bugs Bunny Touch!
One of my most-recent Carrot Cake experiments took place yesterday, with these guys: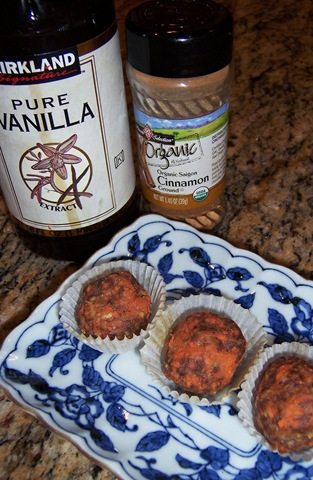 Carrot Cake Macaroons
(Or shape into bars, for Carrot Cake Larabars!)
peeled carrot
dash of cinnamon
ingredients for the original raw macaroons
a few drops of pure vanilla extract
Optional add-in ideas: walnuts, dried pineapple, raisins, coconut shavings…
Follow directions for the original Raw Macaroons, adding in the shredded carrot, vanilla, and cinnamon. Form into balls or bars or whatever you want!
Other foods affected by the so-called "Bugs Bunny" touch include: Carrot Cake Pizza!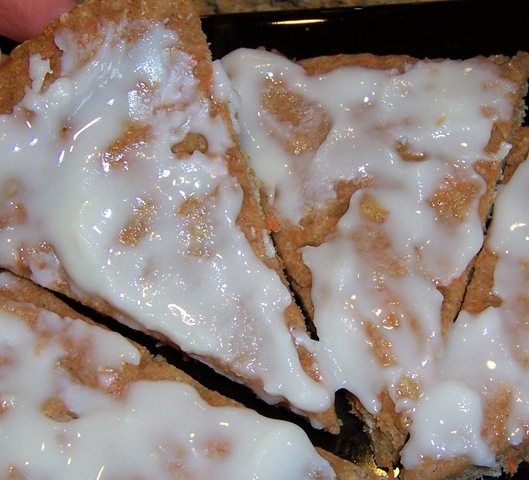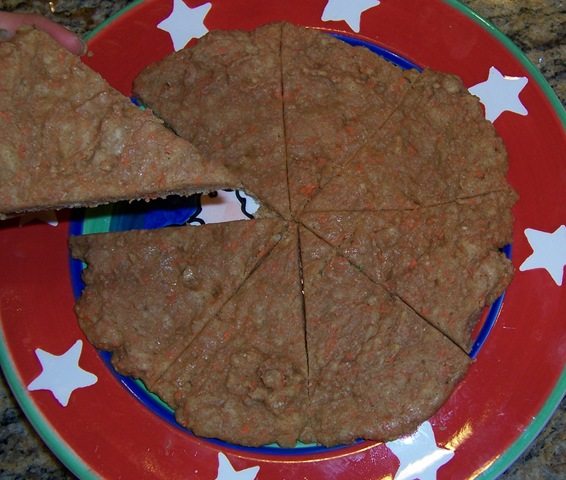 Carrot Cake Pizza:
To make carrot cake pizzert (dessert pizza), use half the "24-Carrot Cupcakes" recipe and bake it in a round pan instead of muffin cups.
Above, iced with coconut butter in the first photo. I also made Carrot Cake Pancakes, and I'll post those recipes shortly.  But I think I've overloaded y'all with enough carrot cake-y foods for one day!
Oh the weather outside is finally delightful…
Remember how, last week, I laughed at those of you who thought it was warm enough here to wear shorts?  Well, I'm excited to say that the idea is no longer laughable!!  I ran in shorts this morning: it was 57 degrees (perfect running weather)!  And the afternoons have been getting into the 70s!  Yeah, it'll probably get cold again.  The saying goes: "Don't like the weather in Dallas?  Wait a day."  It's so true.  The day before Christmas Eve, it was 78.  Next day, it was 20 and we got 3 inches of snow!  But for now,
I'm excited to have no need for those Running-in-the-Cold tips.
Question of the Day: If you could have some type of Midas Touch, what would yours be?  For me, Chocolate Touch is stating the obvious.  But I might opt to go with oatmeal instead.  Would that be too weird?  On a non-food level, I'd choose to have a Scrapbook Supply Touch, because I'm a sucker for cute embellishments, but their costs really add up.  Oh heck, I guess I should probably just go with the Money Touch. Then I could help those in need and still have enough to satisfy my own expensive tastes.