Mushroom Pasta???? No, not really. But the stringiness reminds me of spaghetti. (No, I am not replacing pasta with mushrooms. There is room in my heart—and my belly—for both of these foods, thank you.)
Asian Market, how do I love thee? Let me count the ways. On my most-recent trip, I got a big package of Enoki mushrooms for only $1.50!  I adore Enoki shrooms, but they're so hard to find, and then when you do find 'em, they can be pretty pricey.  Thank goodness for the Asian market.
Enoki mushrooms, meet Stir fry Salad.
In today's stir fry salad: cauliflower, snow peas, shiitake shrooms, red cabbage, broccoli, garlic, tamari, and those silly enoki mushrooms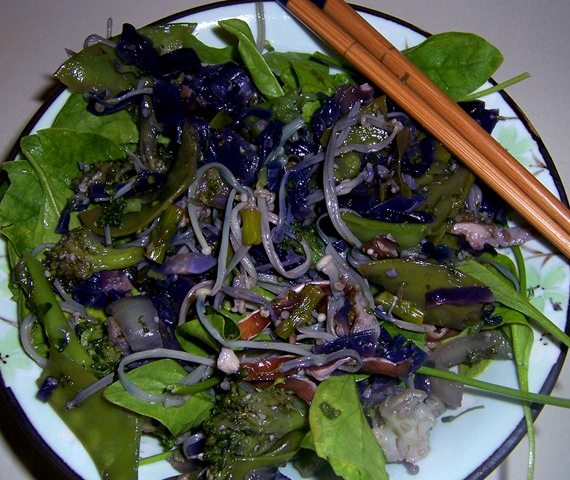 Above, mixed with spinach to become a true Stir Fry Salad.
Have you ever been to an ethnic market?
I could spend all day in an Asian market: the low prices, the exotic foods, the memory-inducing items (I grew up in Japan and China)… it all makes for quite the fun experience. I've just discovered that Indian markets are pretty cool too.  If you've been to one, what's your favorite ethnic-market purchase?  Here's a hint about mine: It starts with a K.