Knowing this is a dessert blog, and reading today's post title, you might have put two and two together and come up with…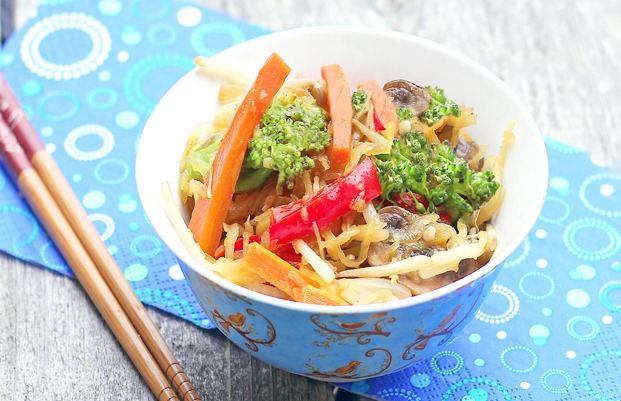 Something really weird. 😕
Actually, I don't want to know what you came up with. Please don't tell me.
Or anyone else. Ever.
Rest assured, today's post is not dessert… well, unless you want to eat a bowl of vegetables for dessert, in which case I can't judge you. I've done it before! (Remember my Chocolate Cauliflower Cake?)
Every now and then, against my better judgment, I'll buy something on a whim at the grocery store, even though I have absolutely no plans for using it. Such was the case with a giant spaghetti squash I picked up a few weeks ago. Last night I decided it had been sitting ignored on the counter for too long. And so I cooked it, making the dish up as I went along.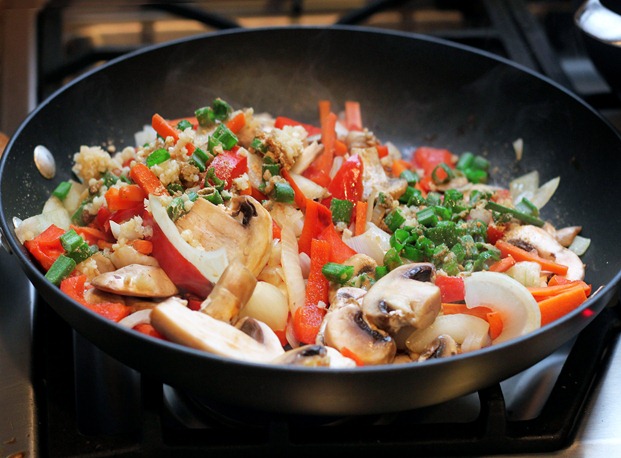 Do you like Spaghetti Squash?
I love spaghetti squash, but I also adore real spaghetti and definitely don't treat spaghetti squash as a substitute for pasta. Normally when I make lo mein, I use soba noodles, and I'll probably do that next time I make this recipe.
Spaghetti squash is a fun food in its own right, but I usually include some other kind of carb in the meal—such as toast—whenever I make it for dinner.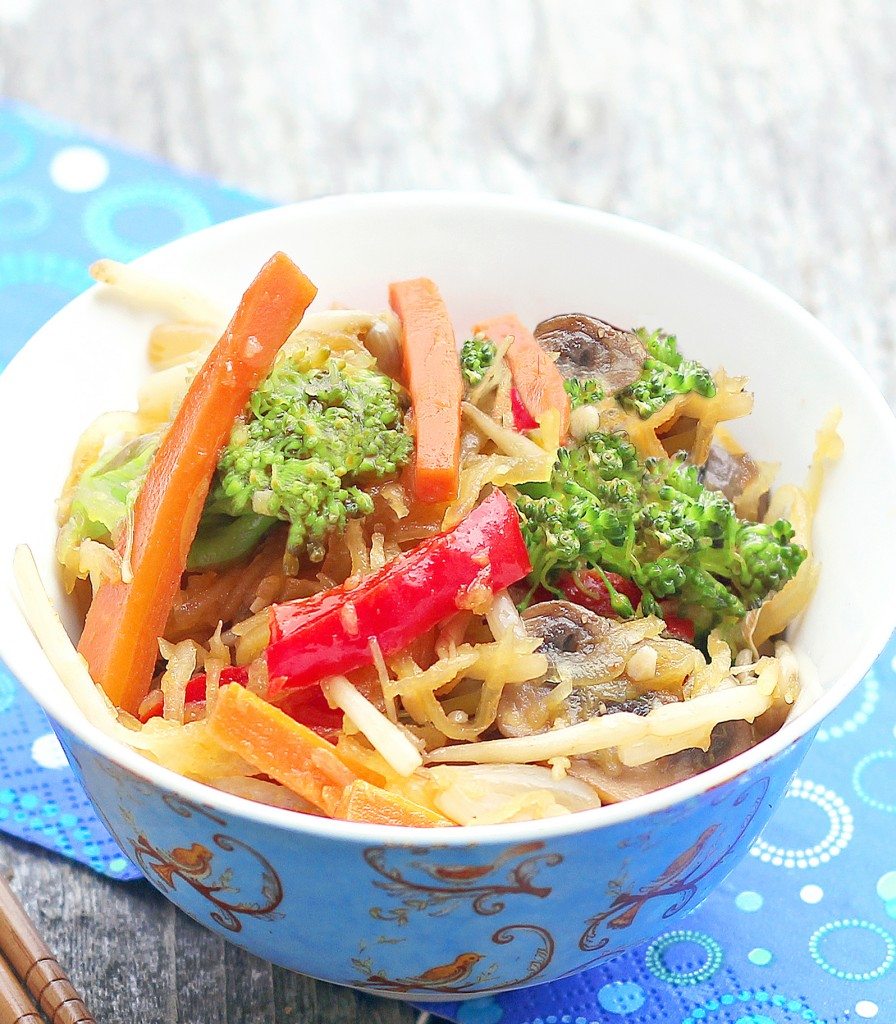 Spaghetti Squash Lo Mein
(makes 5 large servings)
1 cup red pepper, sliced thin (150g)
1 onion, diced (150g)
1 (8oz) package sliced mushrooms
1-2 carrots, sliced into coins or matchsticks (70-140g)
2 cups broccoli florets (230g)
optional: shelled edamame for extra protein
vegetable oil for sautéing (or broth for a fat-free option)
1 tbsp minced garlic
1 tsp ground ginger
1 tsp ground coriander
1/4 tsp salt
6 scallions, sliced thin (and ends removed)
1 large spaghetti squash or 16oz pasta
optional: 1 package bean sprouts (225 g)
1/4 cup vegetable broth
3 tbsp white vinegar or apple cider vinegar
3 tbsp hoisin sauce or vegan Worcestershire sauce
3 tbsp soy sauce (or gluten-free alternative)
Directions:
Cook the pasta or squash (see: How To Cook Spaghetti Squash In The Oven).
In an uncovered dish with a few tbsp water, steam broccoli 2 minutes in the microwave (or stovetop). Heat a large sauté pan to medium, and cook first 4 ingredients in sautéing liquid of choice. Then add the spices, garlic, scallions, salt, bean sprouts, and broccoli, and cook a few more minutes until the broccoli is soft.
Meanwhile, combine the last 4 ingredients in a bowl. Now mix everything together. Depending on the size of your spaghetti squash and your appetite, I'd say this probably makes around 5 main-dish servings.