This restaurant-style sticky pineapple cauliflower tastes so much better than takeout, and it's healthier for you too!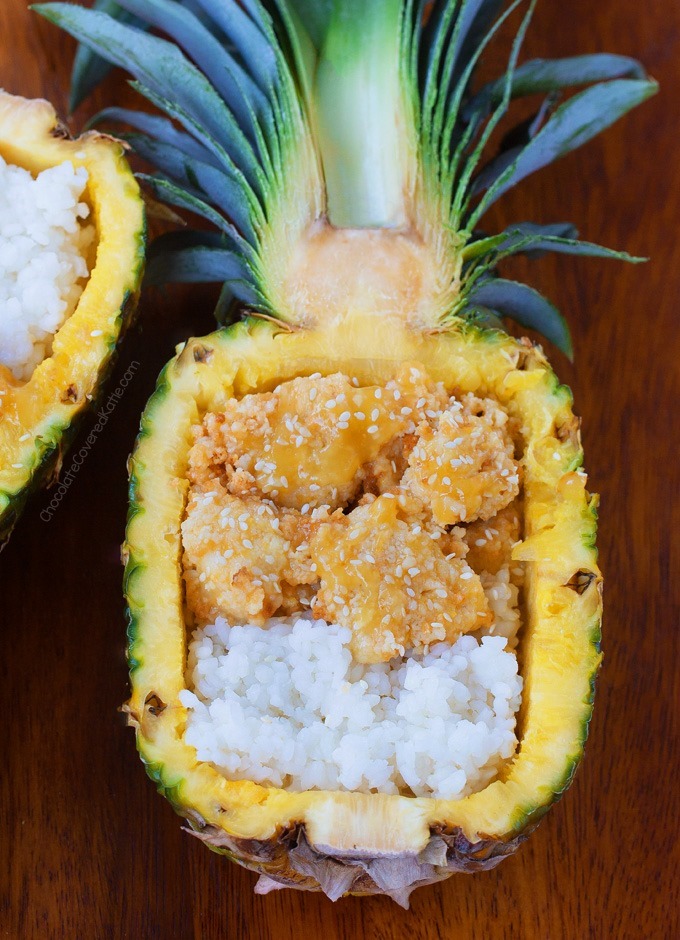 I know… vegan food is so boring, right?
Nothing but iceberg salads and rabbit food around here.
The funny thing is that my diet became much more varied after I stopped eating meat.
While I'd previously eaten the same six or seven meat-based meals on permanent rotation (and a predictable turkey sandwich every day for lunch), changing my diet forced me to branch out, and suddenly I found myself trying new foods I'd never even heard of before.
Becoming a vegetarian really taught me to love not just the cooking process, but also the artistry and creativity that can be involved.
Which brings me to these pineapple cauliflower bowls, inspired by the popular recipe for Sticky Sesame Cauliflower.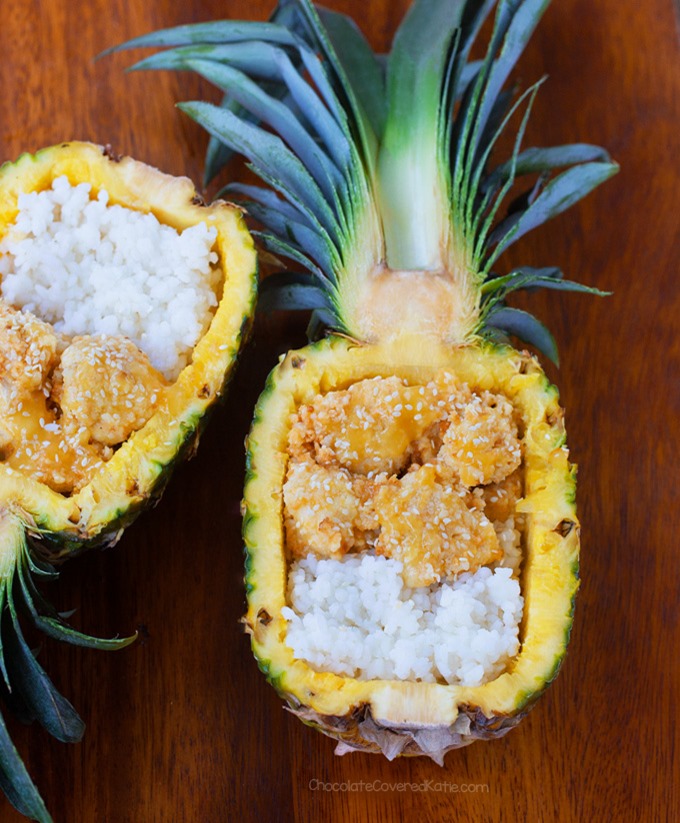 It's like Hawaii in your own kitchen.
I don't know what was more fun, making or eating them!
You know what's boring?
Eating nondescript fast-food chicken from a styrofoam takeout container, when you could be eating this completely plant-based dinner out of a pineapple!
Trending Right Now: Cauliflower Soup Recipe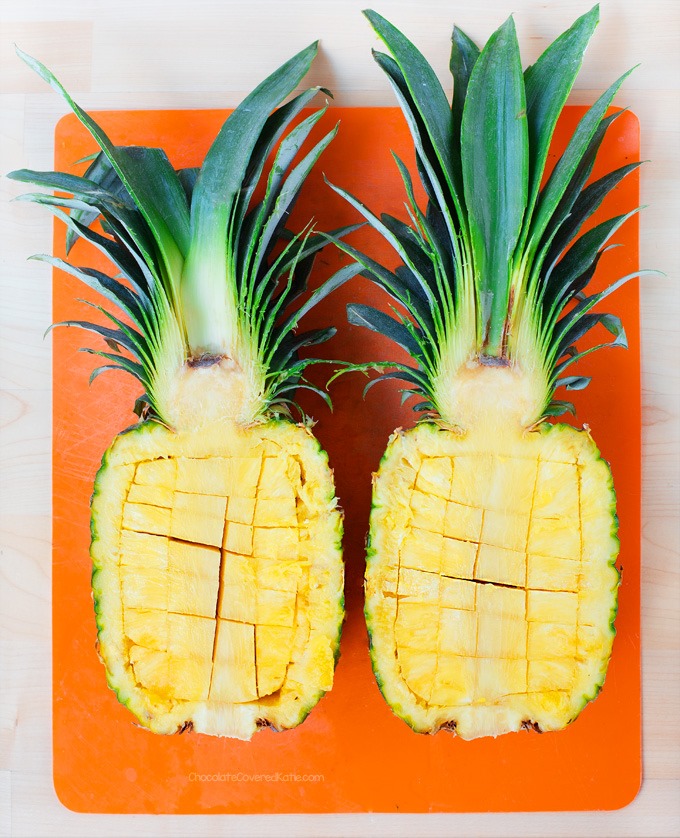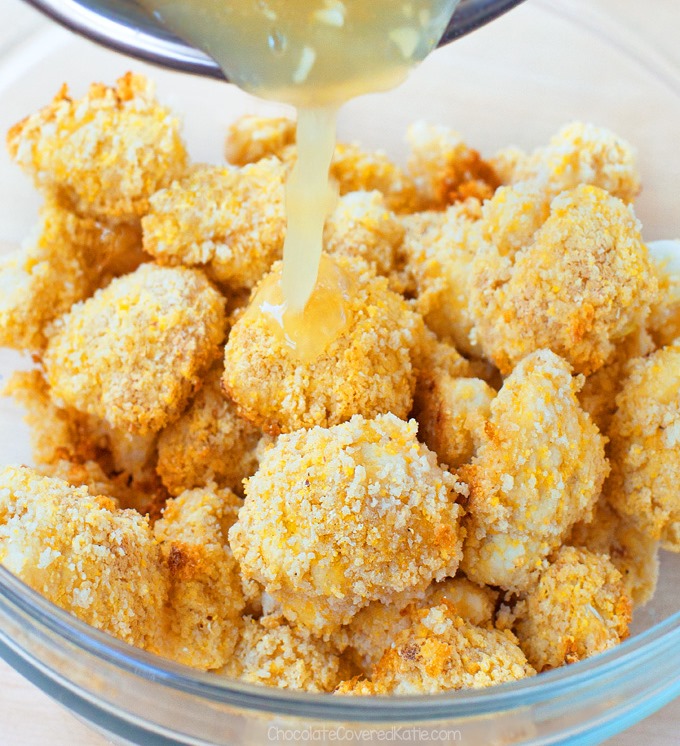 The pineapple bowl is optional of course, and the cauliflower still tastes delicious when served on a plate.
It's also really good with rice to soak up all of the sticky-sweet pineapple sauce – maybe with this Half Calorie Rice Recipe?
One of the best parts about this easy-to-make and healthy pineapple cauliflower is that there's no added sugar in the recipe at all – it's sweetened naturally from the pineapple juice.
Similar recipes made with chicken can often have up to a full cup or more of brown sugar.

If you do opt to make the pineapple boats, simply cut the pineapple in half carefully with a large knife, then go around the edges and cut into squares as shown in the photo above in this post.
As a bonus, you're now left with a ton of fresh and juicy pineapple that you can snack on while you're cooking dinner or save to stir into the finished cauliflower dish.
Or use it for something else entirely, like this summery soft-serve Pineapple Dole Whip Recipe.


Leftover Cauliflower? Make Cauliflower Pizza Crust!
Sticky Pineapple Cauliflower
This sticky pineapple cauliflower recipe is a delicious and totally vegan dinner!
Ingredients
1

small

or 1/2 large cauliflower

1/4

cup

milk of choice

1/4

cup

fine cornmeal or flour

1-3

tsp

oil

1

tsp

salt

1/2

cup

crushed breadcrumbs,

regular or gf

3/4

cup

pineapple juice

2

tbsp

white or cider vinegar

2

tsp

minced garlic

1/4

tsp

powdered ginger

1/4

tsp

salt

1

tbsp

cornstarch or arrowroot

optional 1 pineapple
Instructions
Measure out the 1/2 cup breadcrumbs after crushing (either in a blender or by placing them in a bag and crushing with a rolling pin or heavy object). Preheat oven to 425 F. Cut the cauliflower into florets. Combine cauliflower, milk of choice, cornmeal, oil, and 1 tsp salt, then toss in a large ziploc. (If you want to use oil spray instead of oil, feel free to experiment. I can't say how it would affect taste/texture.)  Put the coated cauliflower in a colander to drain off excess batter. Toss with the breadcrumbs. Arrange in 1 layer on a parchment-lined baking sheet. Bake 40 minutes on the center rack. Meanwhile, make the pineapple sauce by whisking all remaining ingredients except cornstarch in a saucepan. Quickly whisk in cornstarch. Turn heat to medium. Stir frequently; it thickens quickly. Remove cauliflower from oven, combine with the sauce, and serve – in pineapple boats with sesame seeds and sticky rice if you want to be super fancy!

View Nutrition Facts
More Healthy Plant-Based Recipes: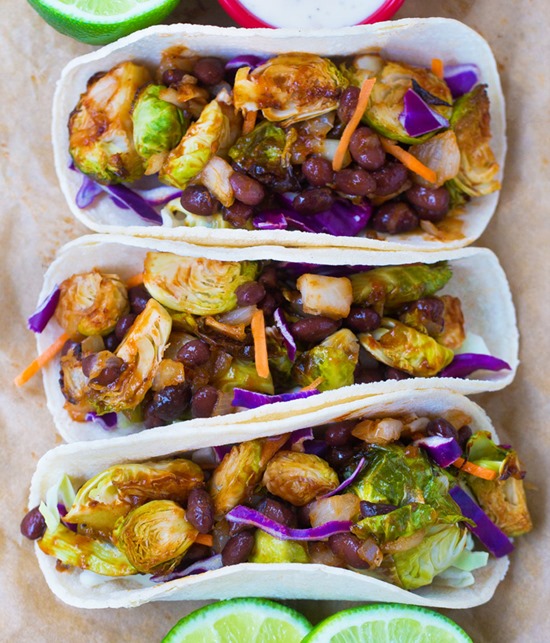 Barbecue Brussels Sprouts Tacos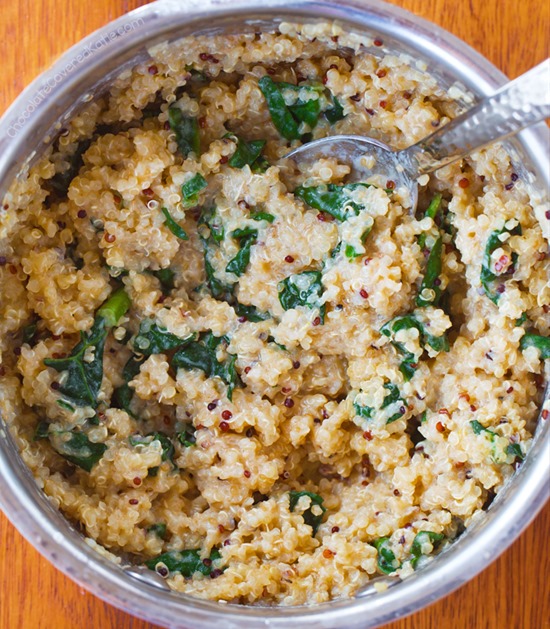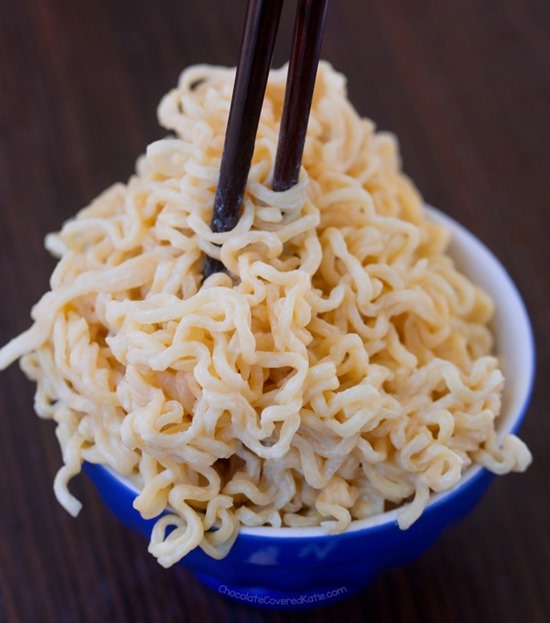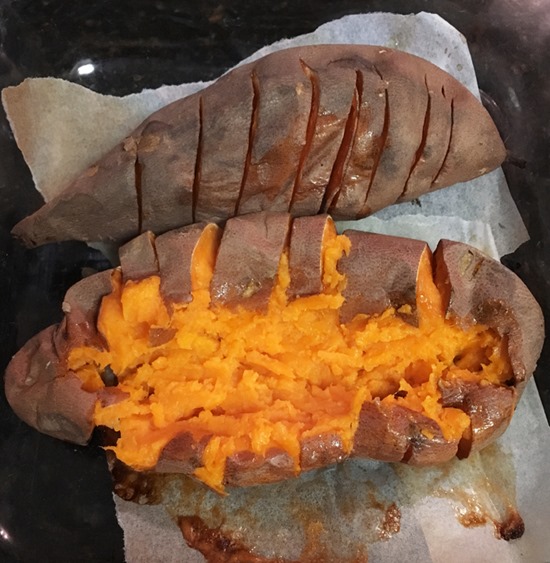 How To Cook Sweet Potatoes – The 3 Secret Tricks