A simple and secretly healthy cauliflower pizza crust recipe that's so surprisingly delicious, you'd never guess it could possibly be so good for you!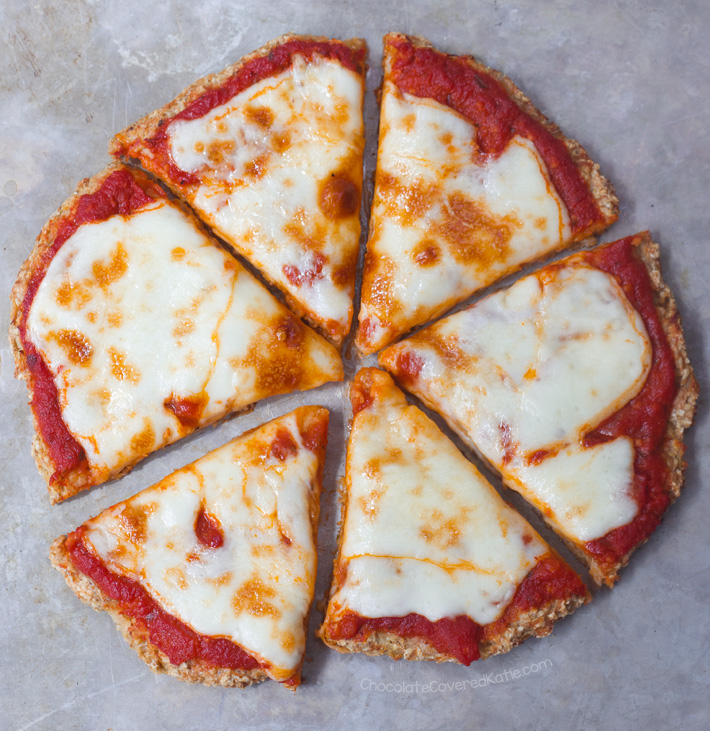 The Best Cauliflower Pizza Crust
Oil Free
Keto
Vegan
Low Carb
Gluten Free
Whole30
Just FIVE Ingredients – Seriously!
If you somehow still haven't tried cauliflower pizza, this simple 5-ingredient recipe is absolutely one to bookmark for later. Or better yet, make it for dinner tonight!
You May Also Like: Overnight Oats – 15 New Recipes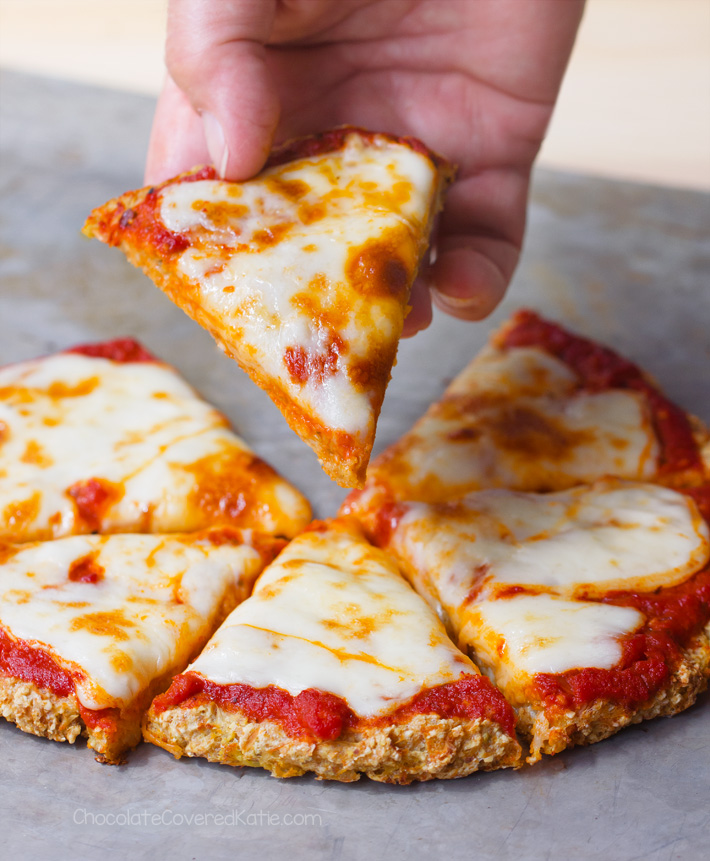 Unlike many other keto pizza crust recipes, this cauliflower pizza crust recipe CAN be picked up without falling apart!

Super Easy Cauliflower Pizza
I am a girl who loves carbs.
Like, ridiculously loves carbs. I'm pretty sure I could survive on an all-carb diet.
So I never thought I'd ever get on the cauliflower pizza crust bandwagon. Taking my beloved doughy Italian pizza crust and replacing it with a vegetable? No thank you; I wanted no part of this.
For months, I completely ignored the cauliflower-for-carbs trend sweeping the internet, tuning out whenever a friend would rave about how she'd made perfect low carb cauliflower rice or cauliflower breadsticks and how they were ohmygosh so good.
But as time went on and the cauliflower trend only seemed to be getting stronger, curiosity finally got the better of me… I had to know what all the hype was about.
I gave in and tried my hand at homemade cauliflower pizza.
And I fell in LOVE.
Also Try This Veggie Burger Recipe – 6 Ingredients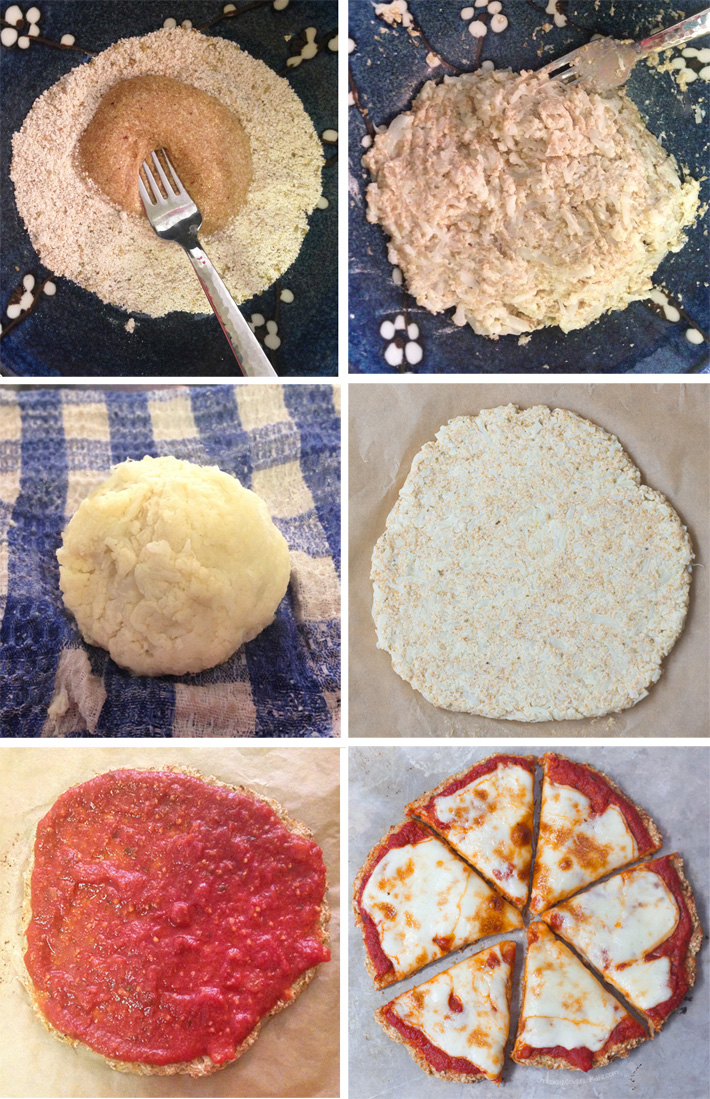 Healthy Pizza Crust Ingredients
The recipe needs just five ingredients—no eggs, and no cheese required.
It can be low calorie, dairy free, plant based, paleo, and completely flourless. And even before you add any toppings whatsoever, the tasty cauliflower crust is packed with nutrition: 3 grams of fiber, 2.5 grams of protein, and over 50% of the RDA for Vitamin C in each slice of pizza.
That's just for one slice…
Who ever stops at just one slice of pizza???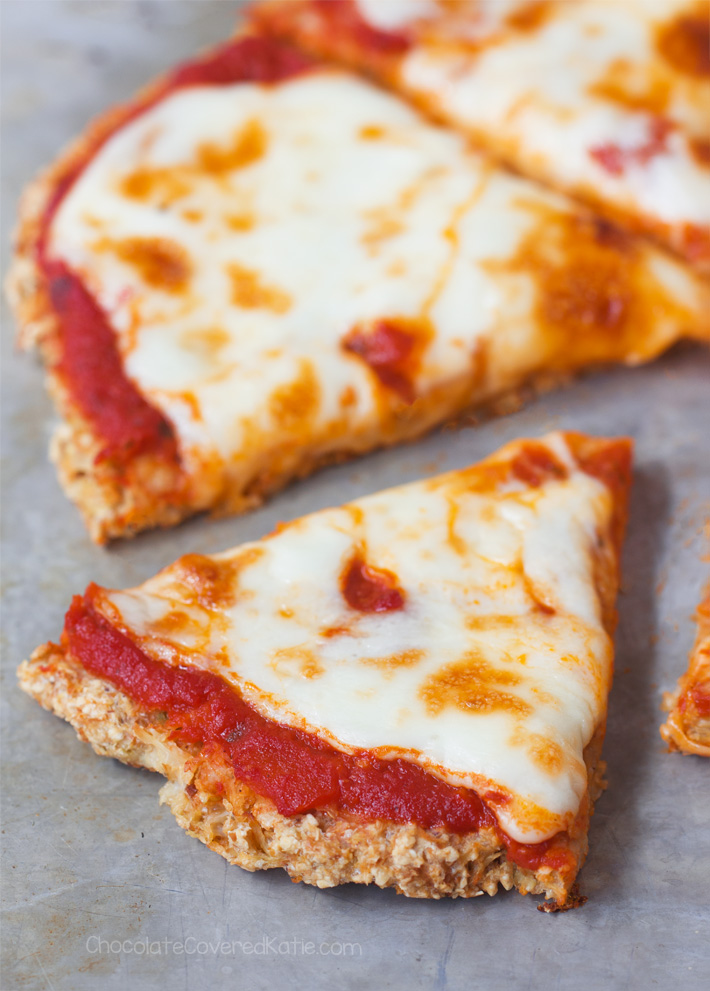 Can I Make Keto Cauliflower Pizza? What About Vegan?
The crust is naturally vegan and sugar free. To make it a keto crust, simply use the almond flour option listed in the recipe… and if you have leftover almond flour, you can make Keto Brownies!
I haven't tried using coconut flour but think it should work; you'd probably just need to use less since it soaks up water like a sponge. If you experiment, be sure to report back!
Where Can I Buy Cauliflower Pizza Crust?
If you don't want to make your own, you can find frozen cauliflower pizza crust at Target, Wal Mart, Aldi, Costco, Wegmans, Whole Foods, most grocery stores, and restaurants such as California Pizza Kitchen.
Brands include Cali'flour Foods, Caulipower, Green Giant (for vegan cauliflower pizza crust, try either their original or Tuscan options), and even Trader Joes.
Trending Right Now: Lentil Soup Recipe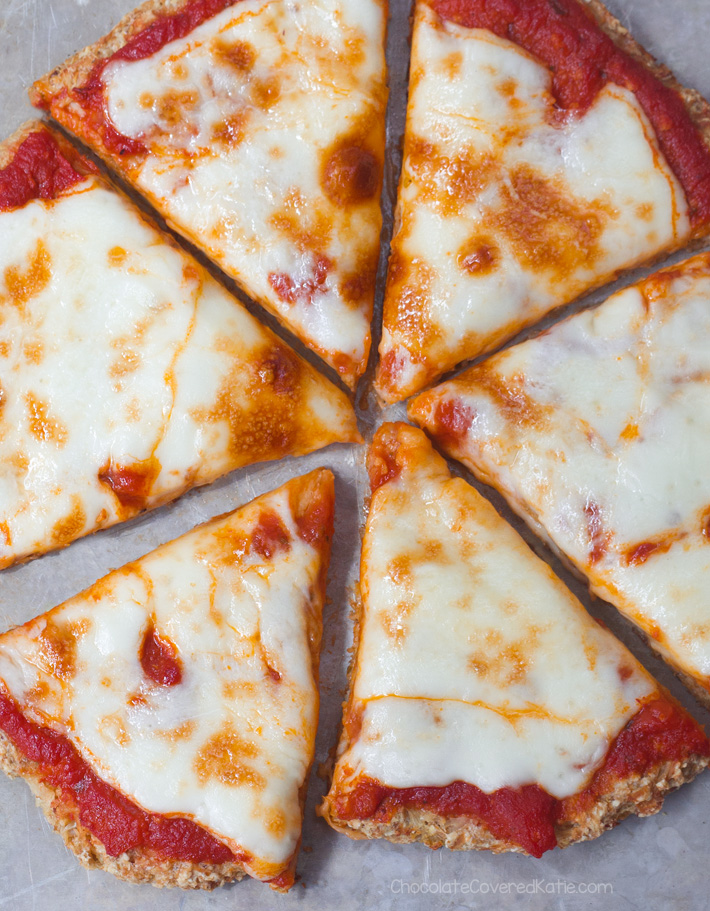 How To Make Cauliflower Pizza
Step One:  Chop the cauliflower into small florets and steam until soft.
Step Two:  Squeeze out as much moisture as possible from the cauliflower with a clean dish towel. Mash it with all other ingredients in a medium bowl, then form into a ball.
Step Three:  Place the ball on a parchment-lined baking sheet, and pat it into a circle about 1/4-inch thick. Bake 25 minutes or until lightly browned with crispy edges.
Step Four: Remove from the oven and add toppings of choice, then bake an additional 8 minutes. Allow the cauliflower crust to cool 5 minutes, then slice and enjoy!
For Dessert, Try These Vegan Brownies
Above – Watch the video of how to make cauliflower pizza crust!


Cauliflower Pizza Crust Recipe
Shown with the Melty Vegan Mozzarella from my Hello Breakfast Cookbook
Cauliflower Pizza Crust
Print This Recipe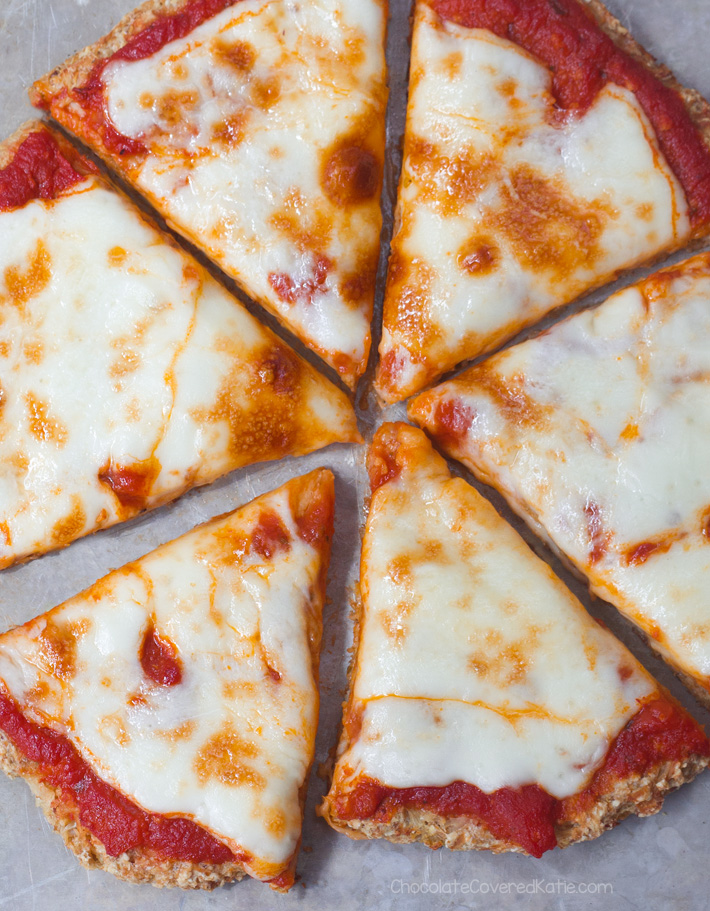 Ingredients
1/2 medium head cauliflower (4 cups small florets)
1 1/2 tsp baking powder OR 2 1/2 tbsp ground flax or chia
1/4 cup water
1/3 cup flour (I've used spelt, white, oat, almond, or sorghum)
1 tsp dried oregano, optional
1/4 tsp garlic powder
1/2 tsp salt
Instructions
Line a baking sheet with parchment, and set aside. If using flax or chia, whisk with the water and refrigerate for at least a half hour. Steam cauliflower florets until fall-apart soft. Drain fully. Stir the flour with the oregano, garlic, salt, and baking powder (if using). Preheat oven to 450 F. Once cauliflower cools a little, place it in a clean dish towel or cheesecloth over a sink or bowl, and squeeze out as much moisture as possible. At least 2/3 cup water should come out – You want it as dry as possible. Place the squeezed-out cauliflower into a bowl and add the 1/4 cup water (or the flax mixture). Mash and stir well. Stir in the flour mixture. Form into a ball. Place on the baking sheet. Pat into a circle, then use another sheet of parchment on top (and a rolling pin, if desired) to spread the circle to about 1/4 inch thick. Take off the top sheet of parchment. Bake 25 minutes, or until lightly browned with crispy edges. Add toppings of choice. Bake an additional 8 minutes. Allow to cool 5 minutes. Slice and enjoy!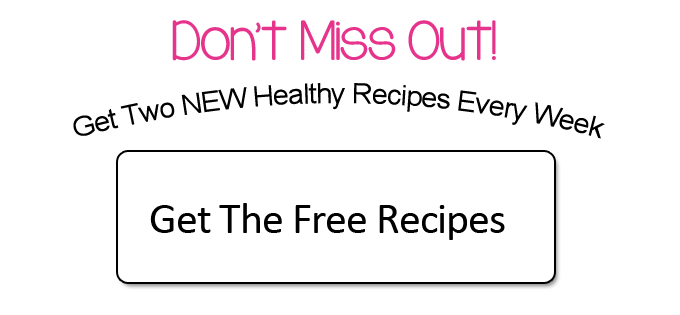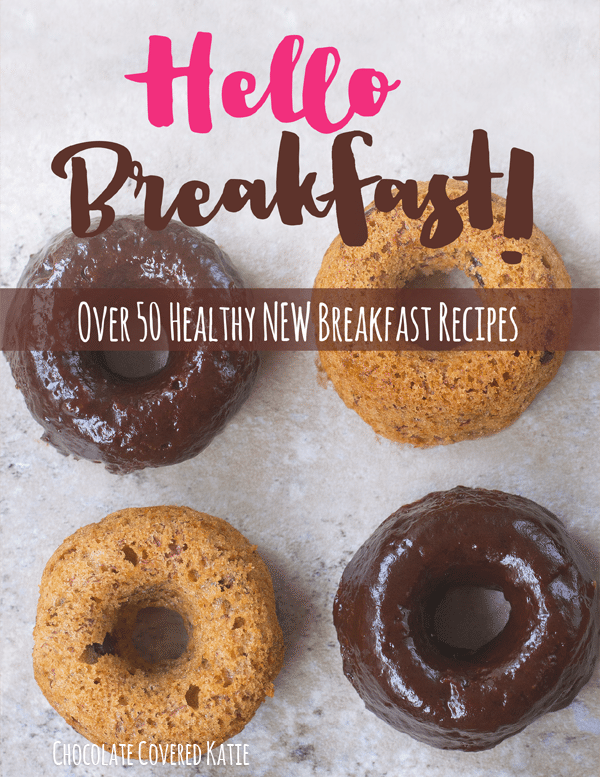 More Easy Cauliflower Recipes