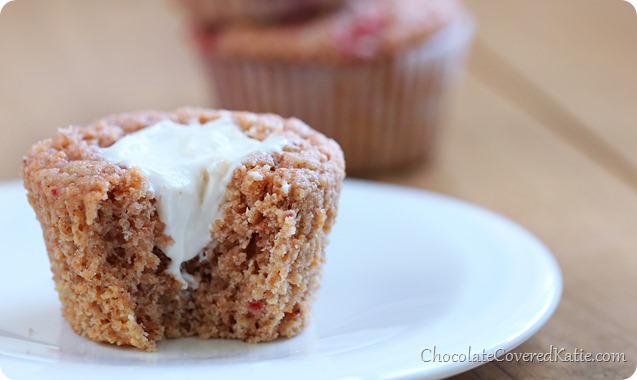 Hello from Upstate New York, where I'm currently up to my ears in chocolate eggs, chocolate candy, and chocolate bunnies (never a bad situation in which to find oneself). With a very large and very Italian extended family, food is always plentiful when we get together.
On Saturday morning, figuring it'd be a good idea to make something light before the onslaught of homemade Easter pies upon out kitchen table, I came up with these simple strawberry cream cheese muffins: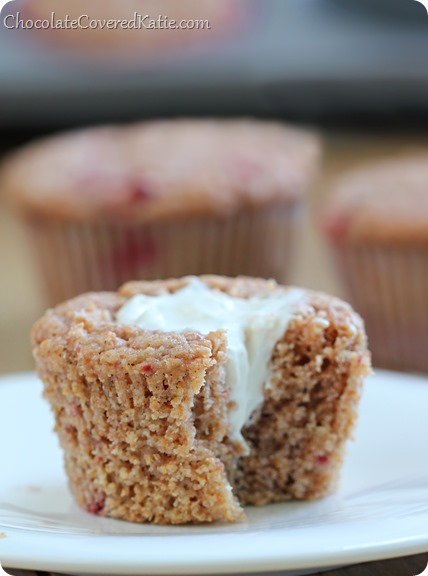 I made a triple batch, and not a single muffin is left. 🙂
Then again, there are a lot of us…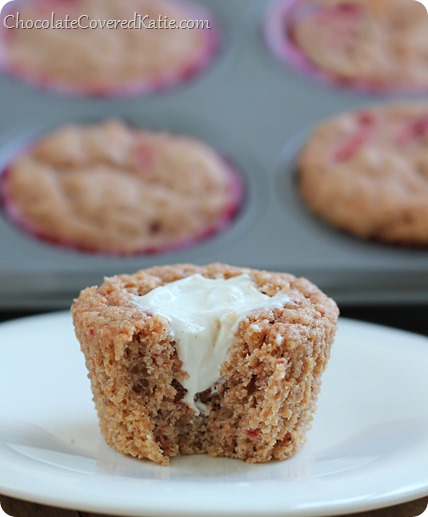 Strawberry Cream Cheese Muffins
Adapted from Chocolate Chip Zucchini Muffins
2 loosely-packed cups diced strawberries (240g)
1/4 cup milk of choice (60g)
1 1/2 tsp pure vanilla extract (6g)
1 tbsp white or apple cider vinegar (15g)
3 tbsp coconut or vegetable oil (30g)
2 cups spelt flour (250g)
1/2 tsp plus 1/8 tsp salt
1/2 cup sugar of choice or xylitol (95g)
2 tsp baking powder
pinch pure stevia, or 2 extra tbsp sugar of choice
1 more loosely-packed cup diced strawberries (120g)
Preheat oven to 250 degrees F, and line a muffin tin with 12 liners. Blend first 5 ingredients in a blender or food processor until completely smooth. Set aside. In a large mixing bowl, combine all remaining ingredients. except the extra cup of strawberries, and stir very well. Pour the contents of the blender into the dry ingredients and stir until evenly mixed (don't over-beat). Finally, add the last cup of strawberries and stir them in gently so that they remain mostly intact. Pour into the 12 cupcake liners and put in the oven. Immediately change the oven temperature to 350 degrees F. Bake 22 minutes, or until muffins have domed and a toothpick comes out clean. Allow to cool 10 minutes before removing from the muffin tin. Using a spoon, hollow out a piece from the center of each muffin, and fill with about a tbsp of Healthy Cream Cheese Frosting  or filling of your choice.
Click for: Cream Cheese Muffins Nutrition Facts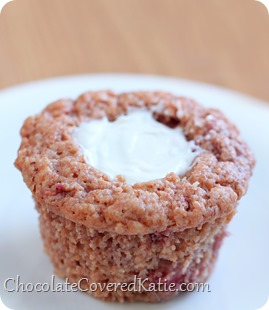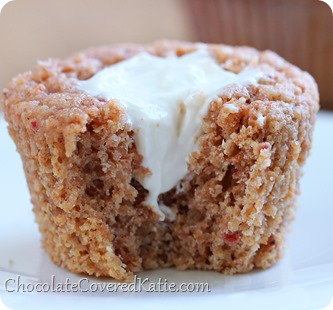 Link of the Day: