See this peach crumble?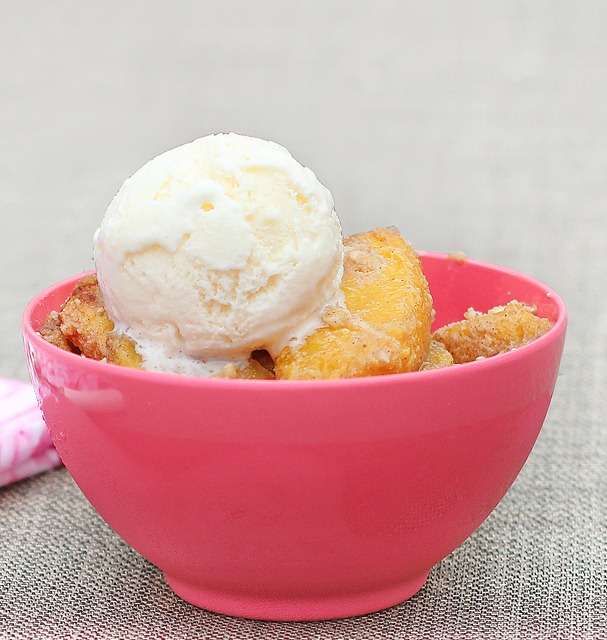 It's not your average peach crumble.
It's more like you are serving yourself a warm bowl of peach pie filling… Every bite bursts with sweet summer peaches, quietly accented by a soft and buttery crumble. This recipe is for anyone who likes their pie with extra filling and very little crust!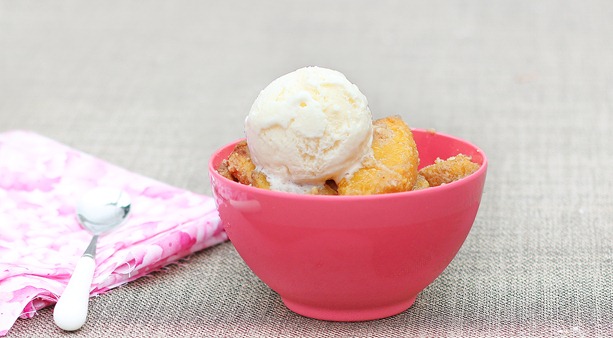 This crumble is really good topped with my ice cream recipe! It also makes a great ice cream topping, and it pairs nicely with coconut sorbet. Or serve it with your favorite plain or vanilla yogurt for a healthy and summery breakfast.
Summer Peach Pie Crumble
(serves 3-4)
1/4 cup rolled oats, gf if desired (25g)
1/2 tsp cinnamon
1/8 tsp plus 1/16 tsp salt
1/4 tsp baking soda
1 1/2 stevia packets or 2 tbsp sugar or agave (or other sweetener of choice)
2 1/2 tbsp coconut flour (I'm working on a version without coconut flour, hopefully to be posted soon.)
6 loosely-packed cups sliced peaches (fresh or frozen) (580g) (or sub another fruit)
optional, for a more buttery flavor: 3 tbsp oil or melted butter-type spread (such as Earth Balance)
1 1/2 tsp pure vanilla extract
Preheat oven to 380 F and grease an 8×8 pan. Combine all dry ingredients in a bowl, and stir very well. Put peaches in a separate (large) bowl, add the vanilla extract and optional fat source, and stir to coat. (If using liquid sweetener, also add it to the bowl of peaches.) Now evenly disperse the crumble on top of the peaches, and stir until it's as evenly coated as possible. Pour into the pan, and cook 50-60 minutes, opening the oven after 30 minutes to turn the peaches (so all sides cook evenly). As mentioned above, this makes a fruit-heavy crumble: perfect for ice cream!
View Peach Crumble Nutrition Facts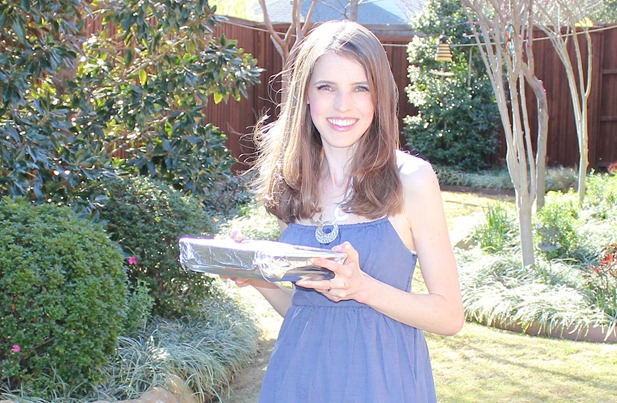 I brought this to a small "going away" lunch for one of my close friends who's moving to Singapore. (She'd been married less than a year when her husband found out he was transferred!) I brought two versions—one with peach and one with strawberry. We all decided we liked the peach better. (Also, I really wanted to show you more shots of the actual crumble, but there were 8 of us at the party, so I couldn't save more than a few pieces of peaches for a photoshoot.)
LINK OF THE DAY: