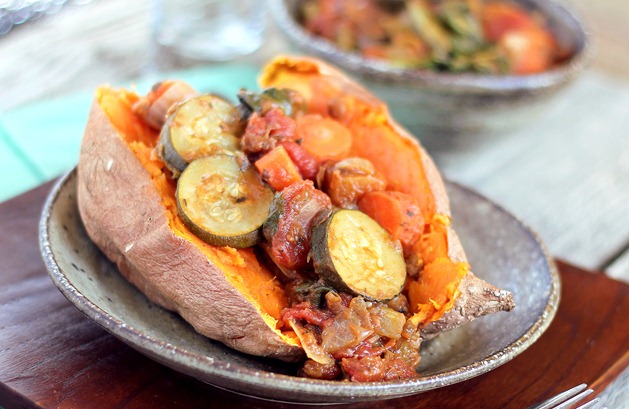 As I mentioned in a previous post, my roommate Emily gave up meat for Lent and we've been taking turns cooking for each other once or twice a week.
I get a lot of requests to show examples of actual meals I eat (as opposed to just the desserts); therefore I thought I'd post about our dinner last night.
For more examples of how I eat, see: My Non-Dessert Recipes.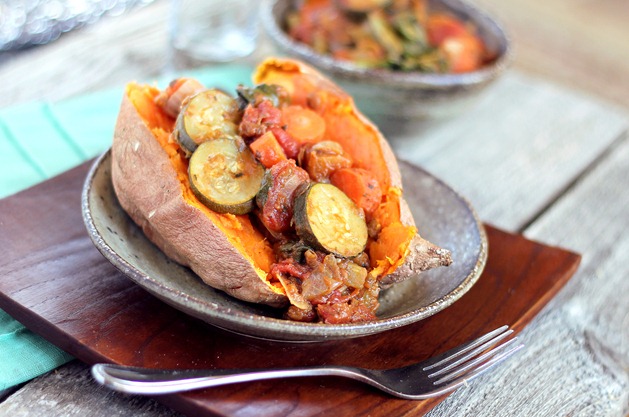 Sweet Potato Shepherd's Pie?
I initially wanted to make a real shepherd's pie, topping my Bread-Free Vegan Stuffing recipe with mashed sweet potato and then baking. But life got busy, and there was no time for the extra baking step. So I settled on a "deconstructed" shepherd's pie. It was so absolutely delicious that now I don't think I'll ever bother trying the longer version!
(Unpictured, I also had Ezekiel toast and a larger serving of the lentil filling.)
Sleepy Sweet Potatoes
(deconstructed Sweet Potato Shepherd's Pie)
1 medium onion, sliced (175g)
1-2 cups spinach (I used 60g)
2-4 carrots, cut into coins (I used 140g, but feel free to use more)
1/2 can diced tomatoes
Optional: 1 zucchini, cut in coins (I used 280g, but I steamed 1/2 separately and mixed them in later.)
1 stalk celery, cut into coins (I used 65g)
1/2 cup to 1 cup cooked lentils, drained and mashed (I used 110g Westbrae)
1 1/2 tsp dry basil
1/2 tsp salt
1/4 to 1/2 cup water
1-2 tbsp olive oil (You can omit this, but you'll lose the yummy, buttery taste!)
Heat oil, then add carrots, zucchini, onion, and celery. Cook a few minutes (like 10), then add spinach, lentils, spices, and tomato. Cook 2 more minutes. Add the water, bring to a boil, then cover and lower to simmer for 45-50 minutes, or until the carrots are soft and stuffing is flavorful. Without the optional ingredients, this makes around 3 cups, or around 2 servings. Serve with rice, polenta, or roasted potatoes or yams.