If you love Girl Scout cookies, these wholesome Thin Mint overnight oats were made with you in mind.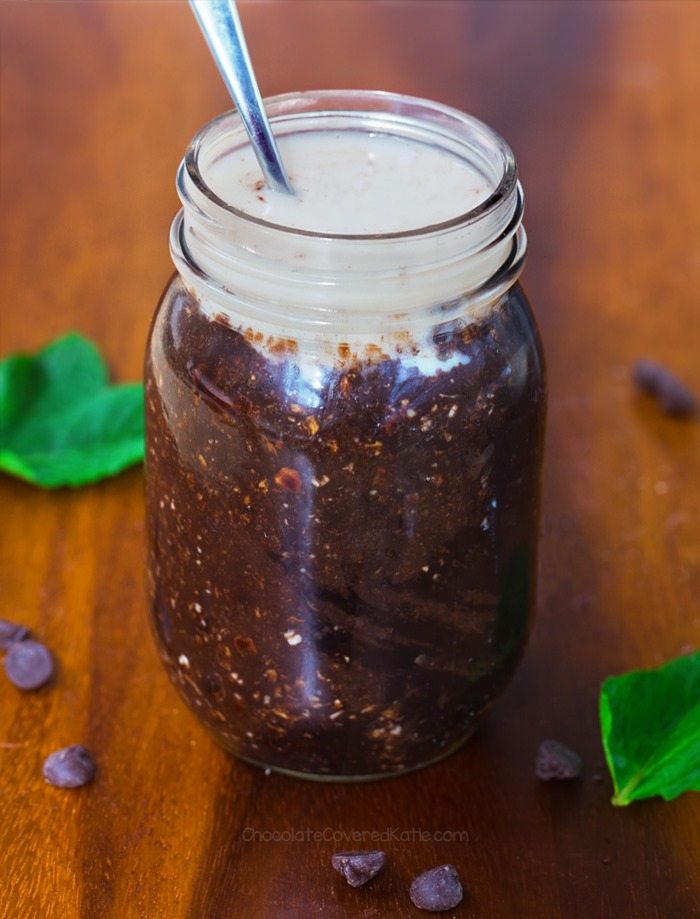 It's Girl Scout Cookie season.
Soon those familiar little boxes of Trefoils, Tagalongs, and Do-si-dos will once again invade the local grocery stores and street corners, calling out to customers with the special powers that only cookies have. And now, thanks to today's recipe, the Girl Scout cookies have invaded something else as well:
Your breakfast table.

Walking up 14th Street in DC this past weekend, I almost ran right into a troop of Girl Scouts who'd set up camp in front of the Trader Joes. (Girl Scouts are smart… they know where the crowds will be!) Later that morning, one of my friends arrived at brunch with two boxes of Samoas in hand.
There is no escaping Girl Scout cookie season. Might as well embrace it!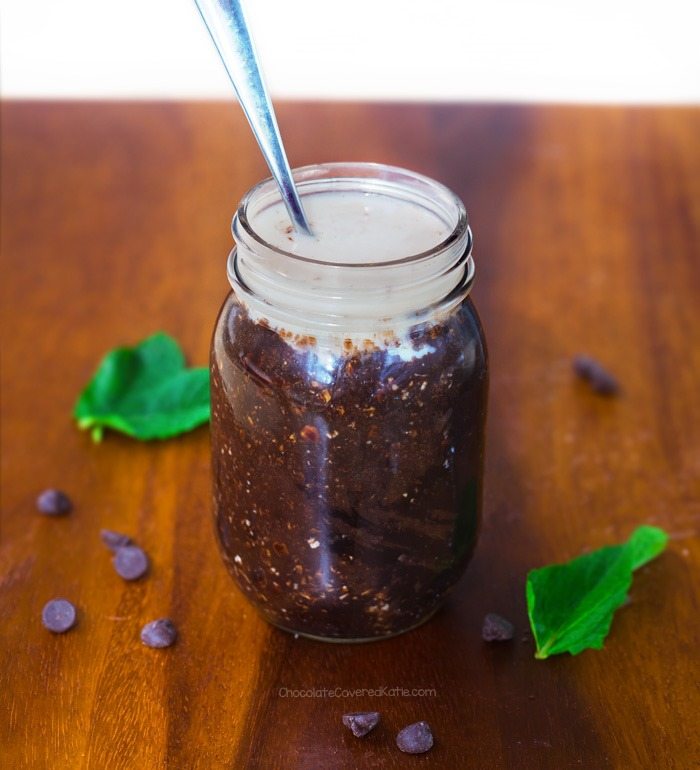 These cookie-esque overnight oats are made up of wholesome oatmeal, pure peppermint, and antioxidant-rich cocoa. They have almost eight grams of fiber, 43% of the RDA for Calcium, and over ten grams of protein!

More Girl Scout Cookie-Inspired Recipes:
Healthy Girl Scout Cookies – Peanut Butter Tagalongs (Reader Favorite)


Thin Mint Cookie Overnight Oats
Adapted from my Brownie Batter Chocolate Overnight Oats
Thin Mint Cookie Overnight Oats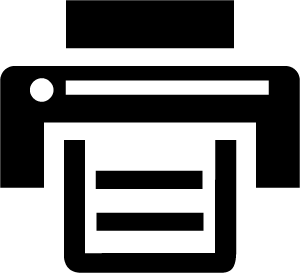 Print This Recipe
[mrp_rating_result show_count="false" show_rich_snippets="false"]
Ingredients
1/2 cup rolled oats
1 tbsp unsweetened cocoa powder
1/2 tbsp dutch or additional unsweetened cocoa powder
1/8 tsp salt
1/2 cup plain yogurt, such as coconut nondairy
1 tbsp nut butter or melted coconut oil, optional
1/4 cup milk of choice
1/4 cup nondairy creamer (for extra creaminess) or additional milk of choice
1/8 tsp to 1/4 tsp pure peppermint extract
2-4 tsp chocolate chips or mini chocolate chips
sweetener of choice, to taste
Instructions
Be sure to use pure peppermint extract, not mint extract or imitation peppermint. I use the full 1/4 tsp for a strong peppermint flavor. In a mason jar or any container with a lid, stir all ingredients very well. Seal the lid tightly, and shake vigorously. Refrigerate overnight. The next day, simply take off the lid and enjoy. (If you prefer hot overnight oats, feel free to heat them up at this time.) Sweeten as desired, either before or after letting sit overnight.
Link of The Day: