Behold, the creamy, minty, unbelievable mint chocolate chip cheesecake to which all other cheesecakes aspire: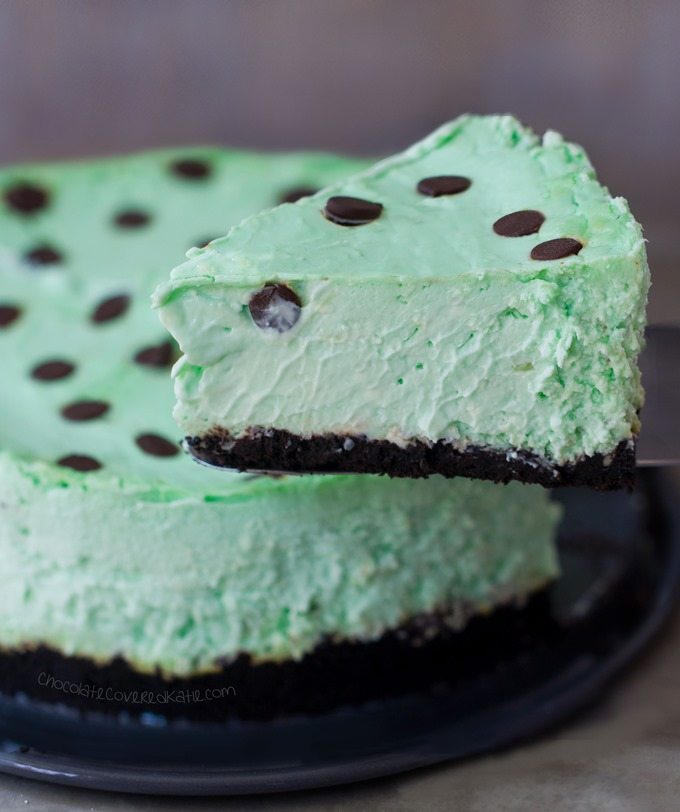 The recipe is adapted from my Healthy Cheesecake Of Dreams (favorite recipe alert!!!).
Imagine taking two of the most delicious foods in the world—Thin Mint Girl Scout cookies and creamy cheesecake—and magically combining them into one incredible dessert – the ultimate treat if you happen to love Girl Scout Cookies and cheesecake.
This cheesecake recipe can be: Vegan / Gluten-Free / Sugar-Free / Low-Calorie / & NO food coloring required!
For the bottom layer, you have options:
You can use your favorite store-bought or homemade crust, or you can use crushed Thin Mints; there's a recipe for homemade Thin Mints in my book, and I'm working on a paleo version to hopefully post soon.

Thin Mints have been on my mind for weeks now, thanks to the recent reappearance of the Girl Scouts and Girl Scout Cookie season.
Or you can keep it super healthy, with my Healthy Chocolate Pie Crust!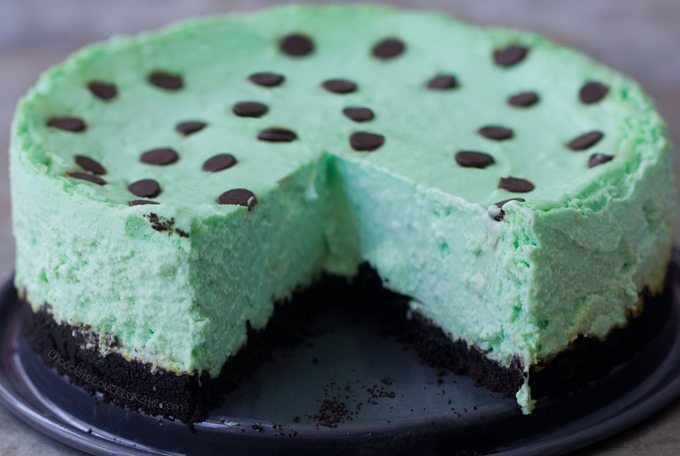 Leftovers—if there are any—can even be frozen and thawed any time you're craving Thin Mints.
So basically, Girl Scout Cookie season never has to end!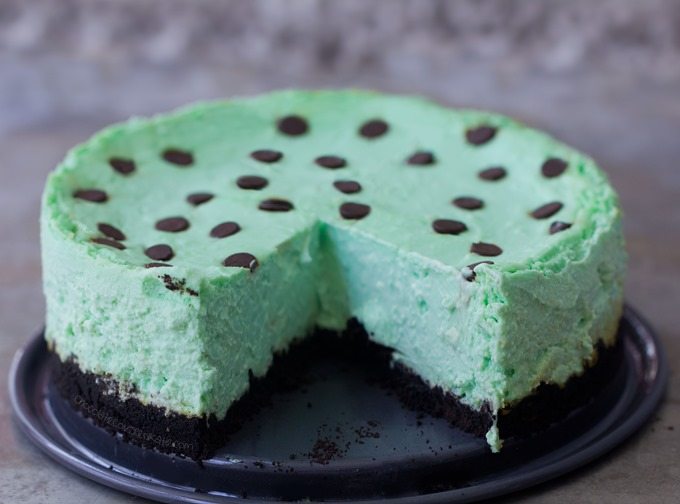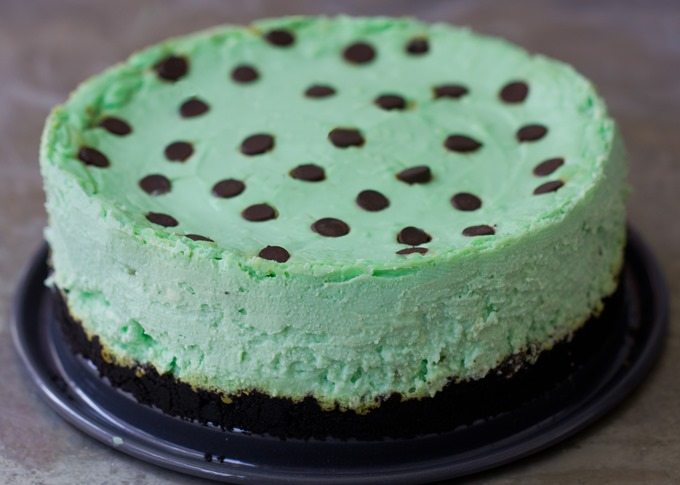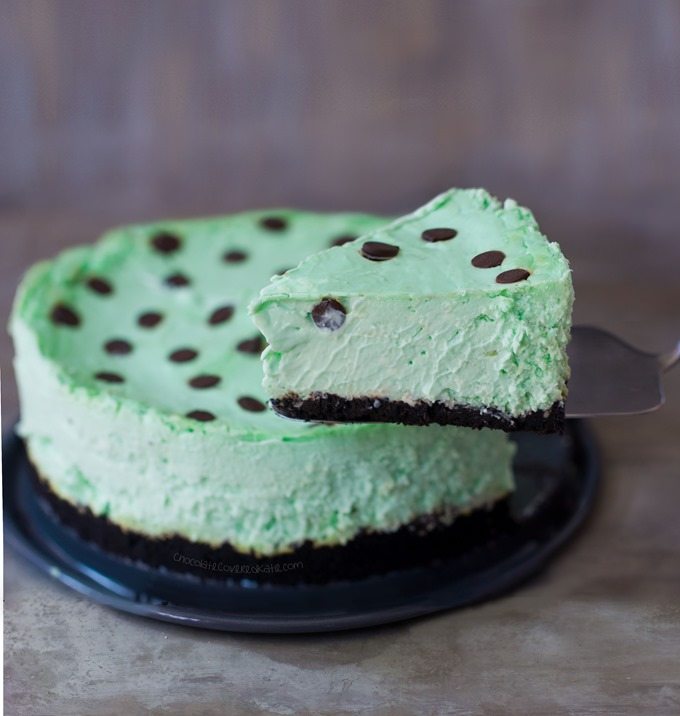 Thin Mint Girl Scout Cookie Cheesecake
Thin Mint Girl Scout Cookie Cheesecake
Print This Recipe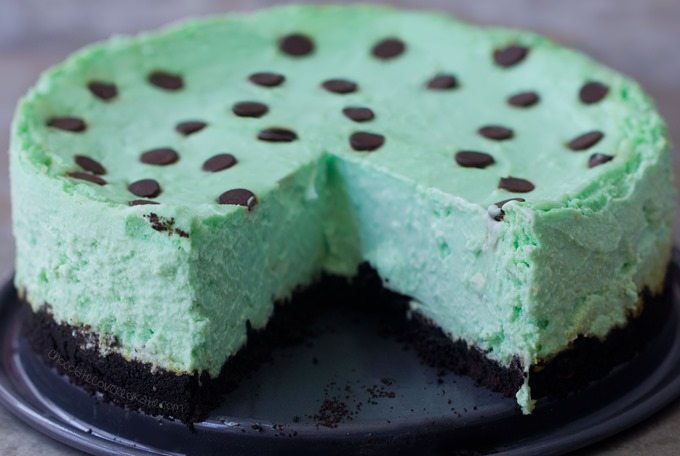 Ingredients
24 oz cream cheese, such as Tofutti
2 cups plain yogurt of choice, such as Silk nondairy
1/2 cup sugar or maple syrup or honey, or xylitol for sugar-free
pinch uncut stevia OR 2 tbsp more sugar
1 tsp pure vanilla extract
1/2 tsp pure peppermint extract (1/4 tsp is slightly minty – be sure to get pure, not immitation)
1 tbsp cornstarch, such as Rapunzel non-GMO
optional scant 1/4 tsp spirulina or natural food coloring
optional 1-2 tbsp chocolate chips for the top, plus more if desired inside
Instructions
Preheat the oven to 350 F. Fill a 9×13 pan halfway with water, and place it on the oven's lower rack. Bring the cream cheese to room temperature. With a blender or hand blender, beat all ingredients except the chocolate chips just until smooth. (Don't overbeat, which would introduce air bubbles that burst while cooking and thus cause cracking.) Add chips if desired. Transfer to an 8-inch or 9-inch springform, lined with a crust if desired – I mention a few crust ideas earlier in this post. Bake on the center rack for 30 minutes (9 inch) or 38 minutes (8 inch), without ever opening the oven. Then still DON'T open the oven door, but turn off the oven. Leave in the closed oven for 15 minutes. Remove—it will still look underdone—and let cool on the counter for 30 minutes before placing the still-underdone cheesecake in the fridge. Cover only very loosely. (Be sure not to put the cheesecake straight from the oven to the fridge, which would cause it to cool too quickly and crack.) Chill at least 6 hours, during which time it will magically firm up to the proper cheesecake texture. Store leftovers covered in the fridge for 3-4 days. You can freeze leftovers too!
Link Of The Day: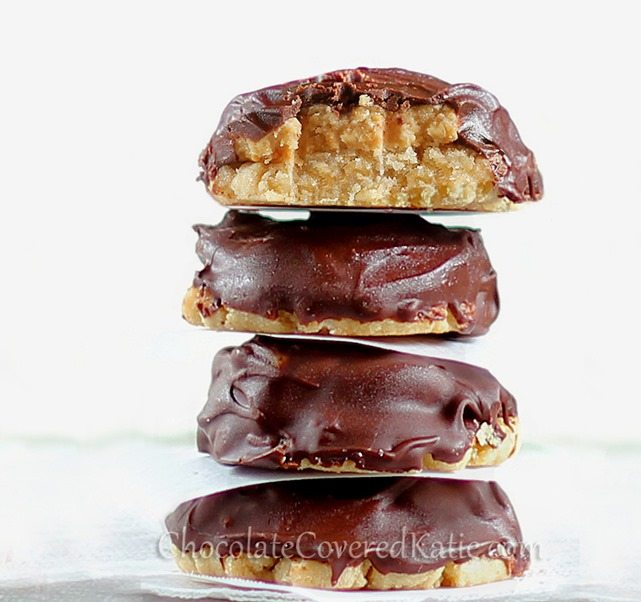 Healthy Girl Scout Cookies – Homemade Peanut Butter Tagalongs