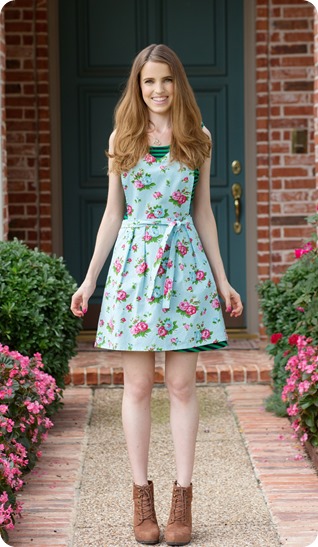 Thank you to everyone who likes The Chocolate-Covered Katie Facebook Page.
On Saturday, it reached 100,000 facebook likes, and I can't even find words for how much your support means to me. THANK YOU!!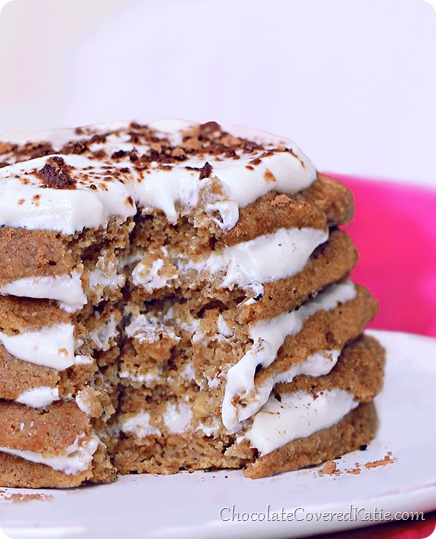 There will be a giant "thank you" giveaway up next week. But today I want to show my appreciation with Tiramisu Pancakes.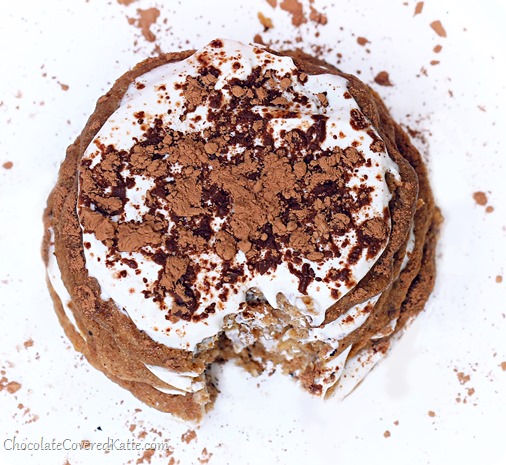 High in protein.
Low in calories.
Cholesterol-free.
With a sugar-free option.
It tastes like eating dessert for breakfast!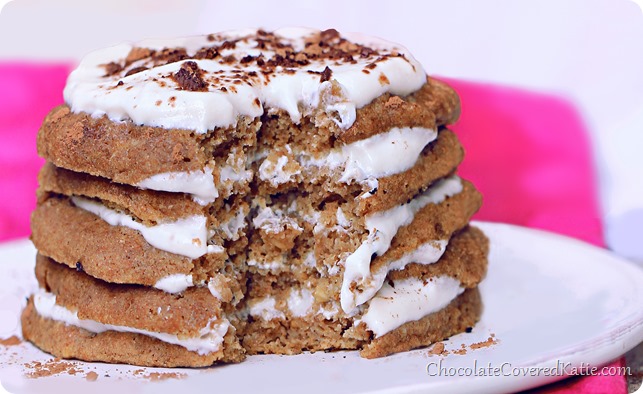 Tiramisu Pancakes
Inspired by my Oatmeal Pancakes
1/2 cup spelt, white, or Bob's gf flour (65g)
3 tbsp rolled oats (15g)
just under 1/4 tsp salt
1 tsp baking powder
1/2 tsp cinnamon
pinch stevia, or 1 1/2 tbsp pure maple syrup
1 tsp instant coffee granules (I like Mt. Hagen)
1/2 cup milk of choice (Decrease by 2 tbsp if using maple syrup) (120g)
1 tsp pure vanilla extract
1 tbsp oil (10g)
optional: Add a little rum extract if desired, or replace 2 tsp of the milk with rum
For the Frosting:
1/4 cup cream cheese (such as Daiya or Tofutti) (60g)
1/4 cup Mori-Nu tofu OR more cream cheese (60g)
2 tbsp milk of choice (30g)
pinch pure stevia, or 2 1/2 tbsp powdered sugar (Or use a liquid sweetener and decrease the milk)
cocoa powder for dusting (important)
Combine all pancake dry ingredients in a bowl, and stir very well. In a separate bowl, whisk together all pancake liquid ingredients. Pour dry into wet, and stir to form a batter. (If the batter is too thin–which might be the case if using cup measurements–just add a little extra flour until you achieve a pancake-esque batter.) Lightly grease a medium skillet, then place over medium heat. When the pan is hot, drop small ladelfuls of batter onto the skillet. Using a spatula, flip the pancakes when the edges begin to look dry. Allow to cook one additional minute, then remove from heat. Makes 10-12 silver-dollar pancakes, or 1-2 servings. For the frosting: Blend all ingredients together until completely smooth. You'll only use about half the frosting… but, for smoothest blending, it's best to make a full batch unless you have a tiny blender. You can always use the extra frosting to top banana bread, baked oatmeal, or my Hummingbird Cupcakes.
Click to see: Tiramisu Pancakes Nutrition Facts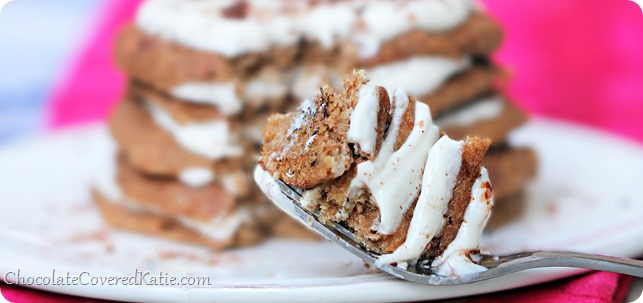 Question of the Day:
Do you have a favorite pancake recipe?
Or any requests for the next flavor pancake recipe I should try? In your comments, please feel free to leave links to your favorite pancake recipes on your own sites if you wish.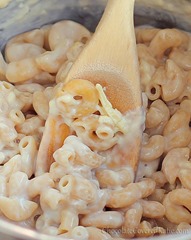 Link of the Day: Cauliflower Mac and Cheese