Creamy vegan coffee ice cream, with no eggs, dairy, or added sugar – made in under 5 minutes!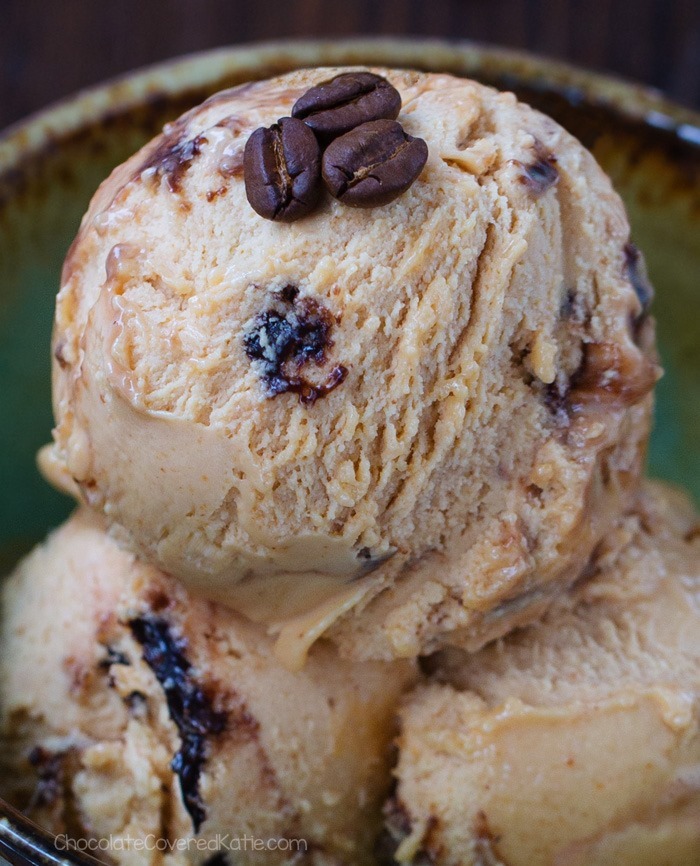 When I first went vegan over ten years ago, one of the things I missed most was being able to just go into a grocery store or a shop like Baskin-Robbins and choose from a dizzying array of ice cream flavors.
Back then, there was no vegan Haagen Dazs or Breyers, and there was definitely no vegan Ben & Jerry's.
Out of necessity, I started coming up with my own ice cream flavors at home—everything from classic flavors like chocolate and vanilla, to cookie dough and coffee fudge, to the truly adventurous cardamom pistachio and amaretto chocolate chip.
I'd use cashews, or coconut, or banana as the base, and soon my kitchen had turned into an ice-cream-making factory. Recipes for some of my favorite flavors are linked below:
Also Try These Healthy Ice Cream Recipes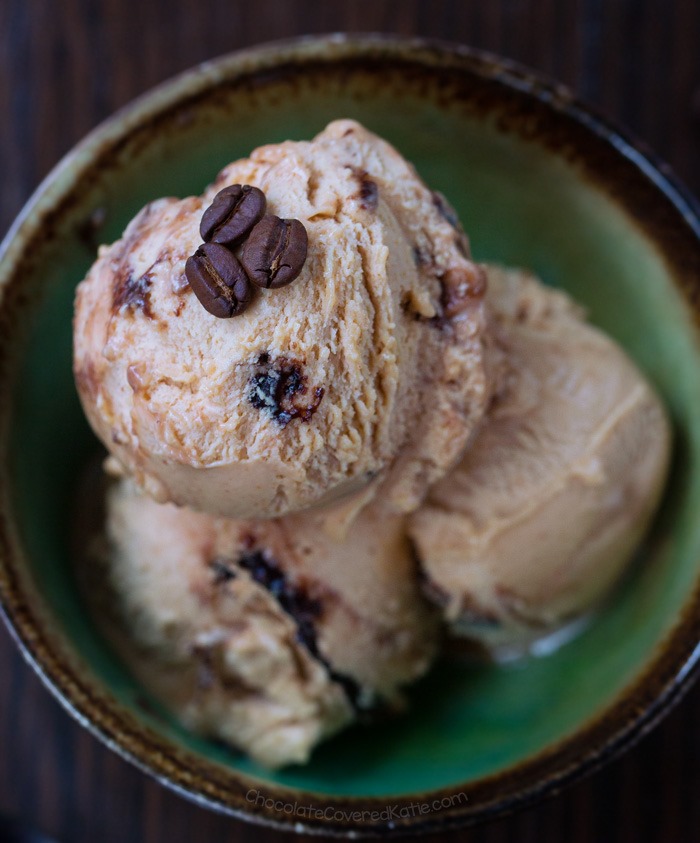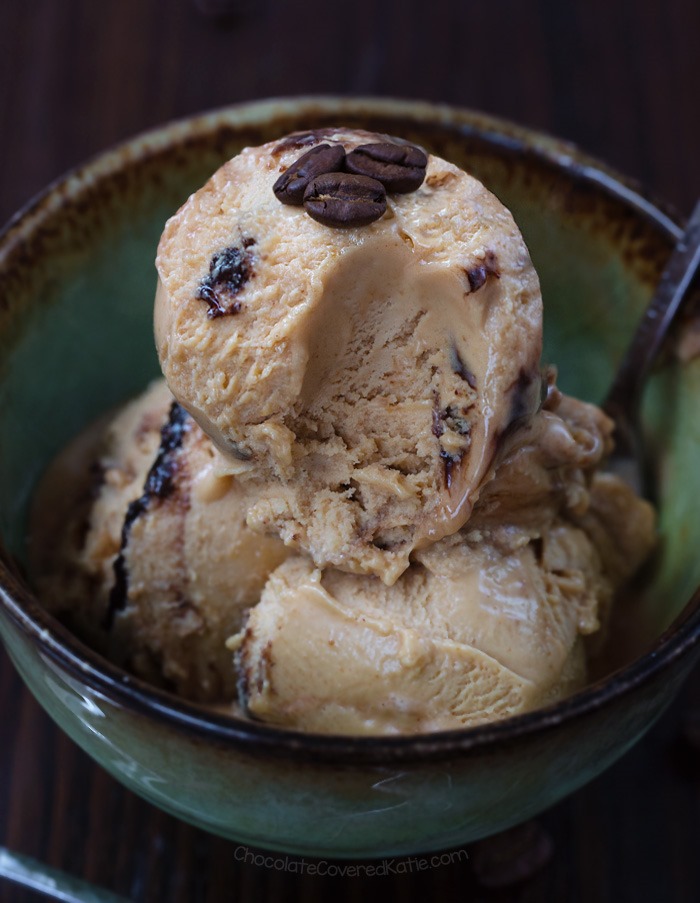 This vegan coffee ice cream can be made with just a few ingredients – no refined sugar, corn syrup, stabilizers, food dyes, or artificial flavors.
While the main version is made with banana, I also link to a banana-free option because I know not everyone is a fan of banana ice cream.
I like to add the optional coconut cream or nut butter for extra richness and to give the final result more of a café latte taste, but you can definitely leave it out for coffee ice cream that is fat-free.
If you want to avoid extra caffeine, go with the just-as-delicious decaf option.
My favorite thing about nice cream is how quick it is to make. You can easily whip up multiple flavors, which is especially great if you're serving a crowd and everyone wants something different.
Or if you're like me and hate making decisions.
Trending Right Now: Keto Ice Cream – 4 Ingredients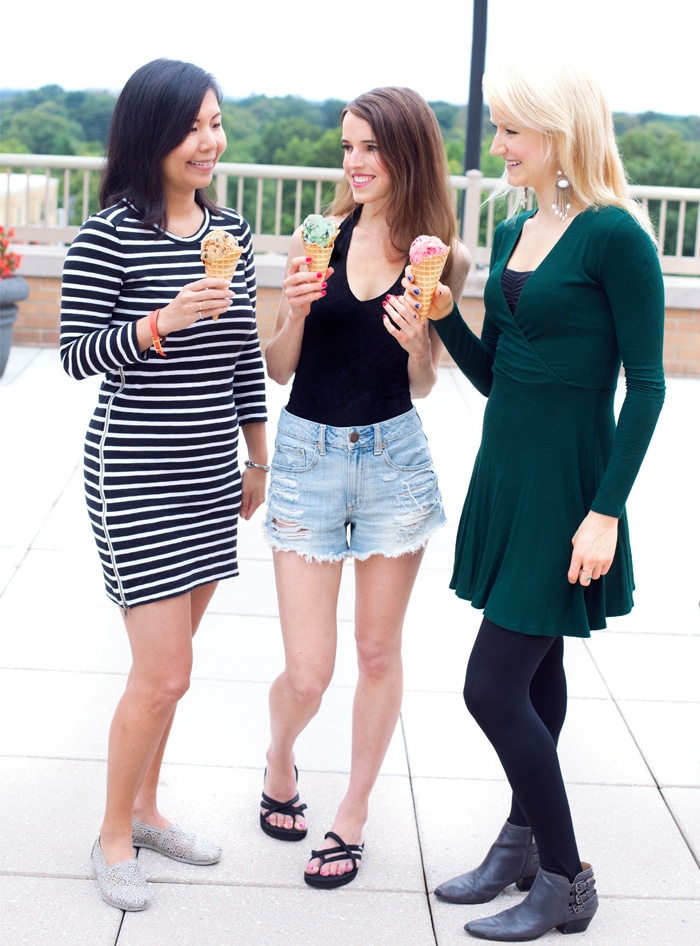 Why not throw a nice cream party with coffee, strawberry, and Mint Chocolate Chip Nice Cream??
When you finally get a warm and sunny day after what felt like an interminable winter, celebrating with ice cream is pretty much a requirement.


Adapted from my Banana Ice Cream Recipe
Vegan Coffee Ice Cream
Creamy vegan coffee ice cream, with no eggs or dairy.
Ingredients
2

large

frozen bananas (For banana-free, use either my Coconut Ice Cream or this Almond Milk Ice Cream)

1/2

tsp

instant coffee,

decaf or regular

1/8

tsp

pure vanilla extract

pinch

of salt

optional 1/4 tsp cinnamon

optional handful chocolate chips

optional for richness,

2 tbsp almond or cashew butter, or 1/4 cup coconut cream
Instructions
*To make mocha coffee nice cream, feel free to blend in a spoonful of cocoa powder. I also opted to stir in homemade hot fudge (stir together equal parts cacao powder and melted coconut oil, sweeten with maple syrup).

Be sure to use bananas whose skin is at least halfway brown before you peel, break into pieces, and freeze them, because unripe bananas will give an earthy taste to the nice cream that you don't want. To make the ice cream, throw the frozen banana pieces (2 large bananas-worth) into a blender with all other ingredients except the chocolate chips. Blend until super smooth. Taste, and add a little sweetener of choice if it's needed (depending on your tastebuds and the ripeness of your bananas). Either serve immediately, or transfer to a container and freeze an additional 30 minutes, then scoop out with an ice cream scoop for authentic presentation.

View Nutrition Facts
Current Popular Recipes: