How to make the best and easiest homemade vegan pizza crust – with just FOUR ingredients!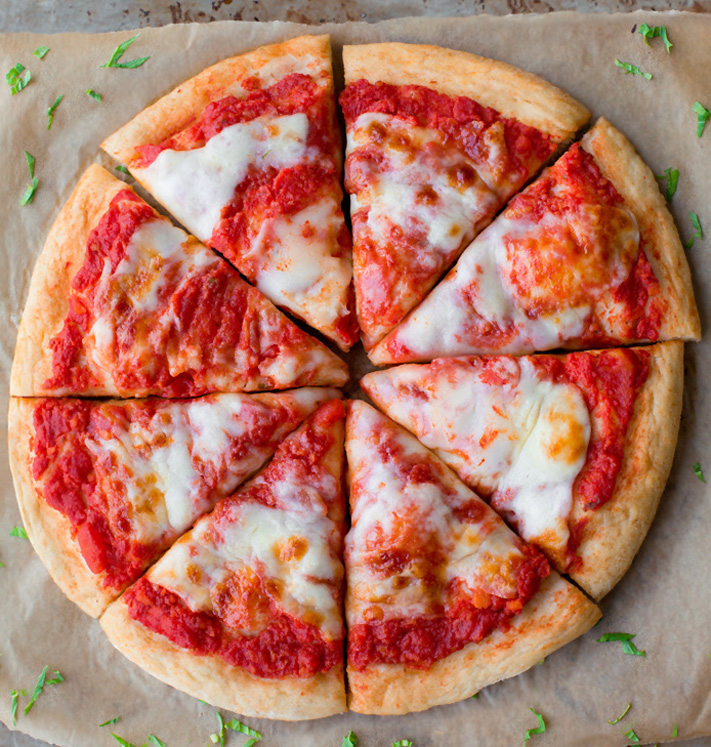 The Best Vegan Pizzas
Think homemade pizza is hard to make?
What if I told you that you can prepare your own easy vegan pizza recipe at home with just a few minutes of work – no fancy equipment, and NO waiting hours for the yeast to rise…
The best part about this pizza is that you get to customize it however you want.
Below is my basic healthy pizza recipe, with 10 different flavor ideas, for endless pizza-making inspiration!
Also Try These Vegan Chocolate Chip Cookies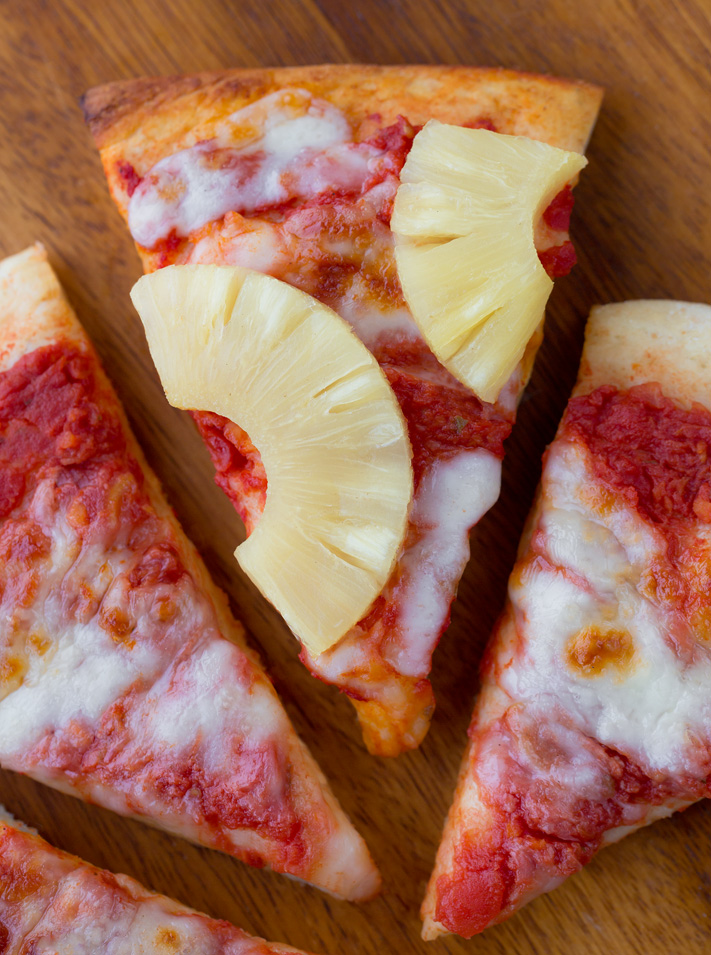 Vegan Pizza Flavors
Hawaiian Pizza: Sliced pineapple, tomato sauce, vegan cheese, optional veg bacon bits
Mac And Cheese Pizza: Top with my Vegan Mac And Cheese sauce, optional roasted broccoli
Mushroom Pizza: Sliced button, shiitake, or portobello mushrooms, sprinkle of thyme or rosemary, vegan mozzarella
Caramelized Onion Pizza: Red or white vegan pizza sauce, caramelized onions, optional sliced figs, nutritional yeast or parmesan
Alfredo Pizza: Top pizza with the Ultimate Vegan Cheese Sauce
Fiesta Mexican Pizza: Vegan cheddar or queso, sautéed bell peppers and onion, tomato sauce
Avocado Pizza: Tomato sauce, sliced avocado, vegan mozzarella, chickpeas, optional kale or spinach
Barbecue Pizza: Grilled zucchini, sweet potato, or other veggies, barbecue sauce, vegan cheese
Vegan Dessert Pizza: Chocolate peanut butter or Healthy Nutella, banana or strawberry slices, optional mini chocolate chips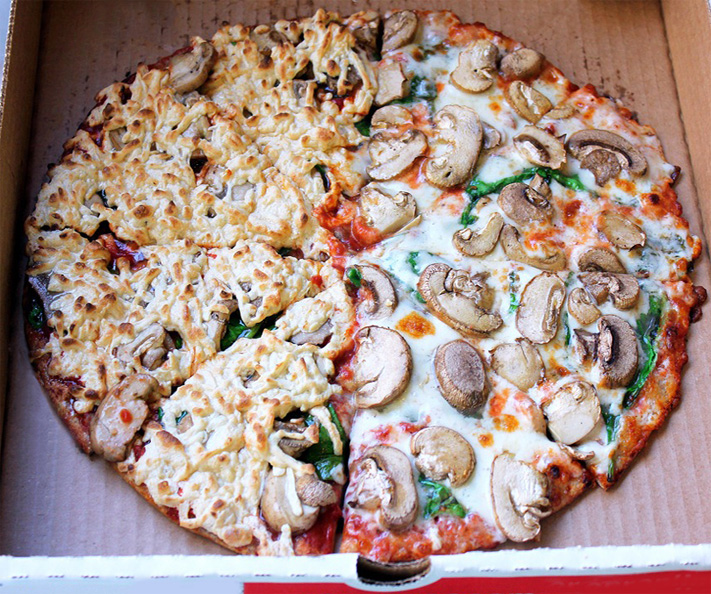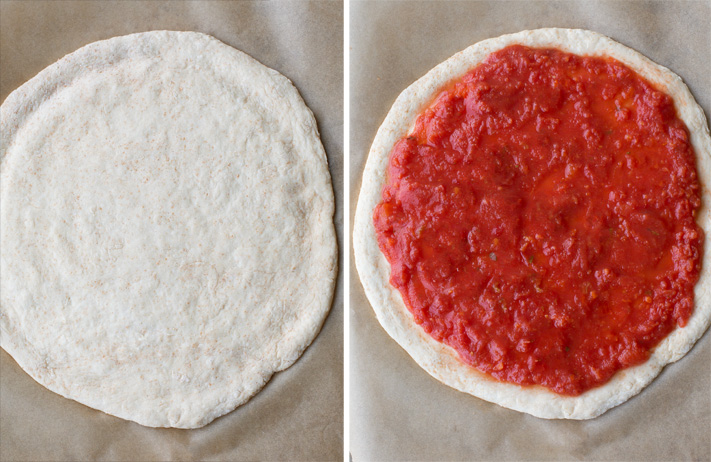 Vegan Cheese Options
Miyokos
Follow Your Heart
Field Roast
Daiya
Parmela Nutcheese
Trader Joes
Violife
Whole Foods 365
So Delicious
For the pizza in the photos, I used the Melty Vegan Mozzarella recipe in my Hello Breakfast ebook.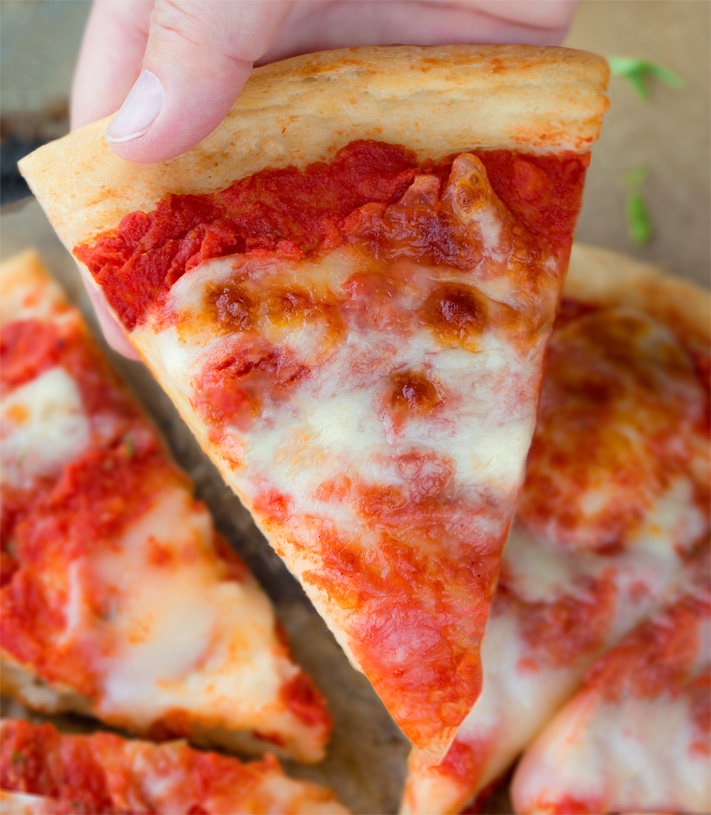 Pizza Making Tips For Success:
You want the water warm but not boiling (which could kill the yeast). If you have a food thermometer, it should be about 110 F.
The 1 tsp sugar is a small amount, but do include it (use real sugar, not stevia or erythritol), because it feeds the yeast.
The crust will rise more if using white flour or bread flour as opposed to spelt or whole wheat, so roll it out extra thin for traditional crust, or leave thick for deep dish or Sicilian pizza (also known as "sfincione," which is Italian for "thick sponge").
You can also make the dough into rolls instead of a pizza crust. Preheat the oven to 400 F, and bake the rolls 10 minutes.
Leftover yeast? Make these Vegan Cinnamon Rolls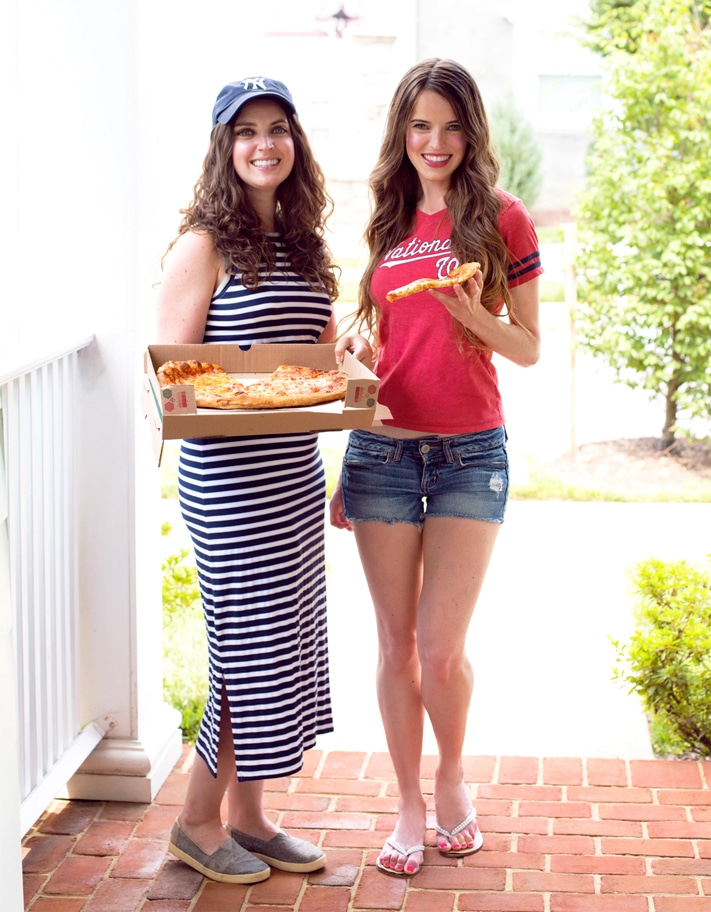 Plant based pizza has come a long way in the past decade.
In addition to homemade, there are so many vegan frozen pizza options now on the market, including brands such as Daiya, Amy's Kitchen, Sweet Earth, and American Flatbread.
And more and more restaurants and chains—such as Mellow Mushroom, &pizza, zpizza, and Blaze Pizza— also offer vegan cheese for their in-house or delivery pies. (Note: Dominos, Pizza Hut, and Papa John's don't carry vegan cheese or meat yet, although they do have vegan options if you specify no cheese on your slice.)
Above – watch the video of how to make vegan pizza dough


*For keto or gluten free pizza, try this Cauliflower Pizza Crust
Vegan Pizza Recipe
The best easy homemade pizza recipe, with unlimited flavor options!
Ingredients
1

packet

active dry yeast

(.25oz)

1-2

tsp

sugar or pure maple syrup

1

cup

water

2 1/2

cups

white, whole wheat, spelt, or bread flour

(300g) (I haven't tried it, but multiple readers have reported success with gluten free all purpose flour)

1

tsp

salt

optional 1 tbsp oil

toppings of choice –

see above for 10 flavor ideas
Instructions
Read the tips for success posted above before starting. Preheat oven to 450 F. Gently heat the water, using a microwave or stove, so it's warm but not boiling – about 110 F if you have a thermometer. Dissolve the yeast and sugar in the water, and let sit until bubbly (about 5 minutes). Stir in all remaining ingredients. Let sit 5 minutes, or you can cover and refrigerate overnight. Roll into a thin round crust, or make multiple crusts for mini pizzas. If dough is too sticky, add a little flour as needed. Add toppings. Bake on a greased or parchment-lined pan or a pizza stone for 20 minutes or until browned as desired.

View Nutrition Facts
More Vegan Recipes: