A savory, creamy, and delicious pumpkin vegan risotto recipe that even meat-eaters will love!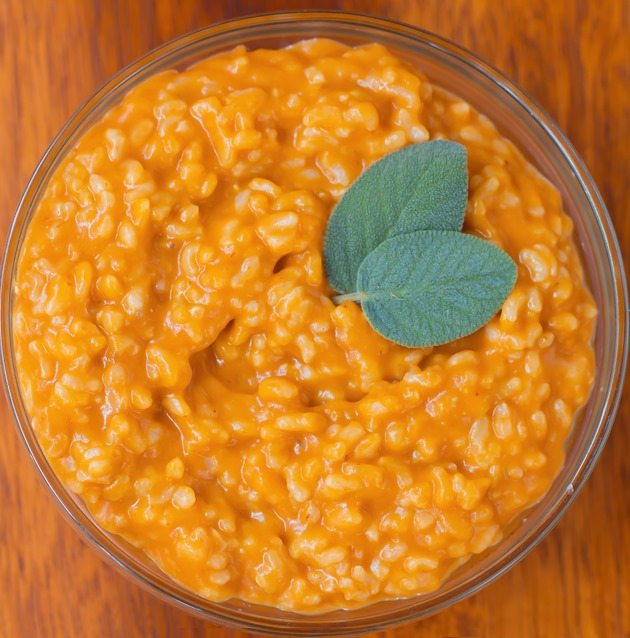 While this would definitely be a good choice for date night, it's also great for a quiet night in with friends.
I find it goes over especially well on Sundays after watching football all day.
The first time I ever had pumpkin risotto, I was on a date.
Except, I didn't actually know if it was a date.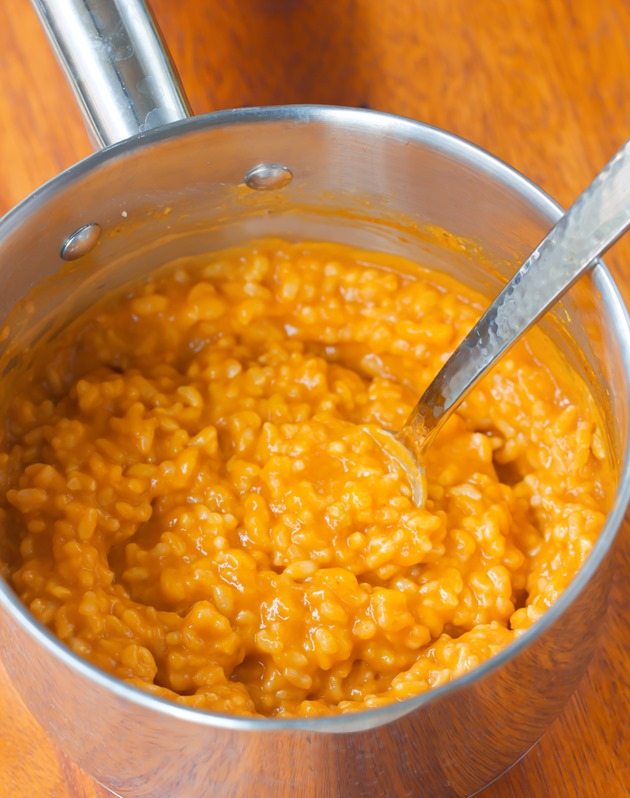 But back to that in a minute.
The pumpkin risotto recipe I'm posting today is something I've been working on for the past few months, adjusting proportions of the ingredients between trials to finally achieve the perfect rich pumpkin flavor and creamy texture in each and every comforting spoonful.
Use a shallow pan if you have one, which helps the rice to cook more evenly so parts of it don't overcook before the rest is done. And if you're pressed for time, canned pumpkin can be subbed for the roasted pumpkin.
It's also fantastic with butternut squash!
While another rice can be substituted if you wish, Arborio is the rice of choice for traditional risotto recipes. Using Arborio rice in this vegan risotto recipe will yield the absolute softest and creamiest risotto.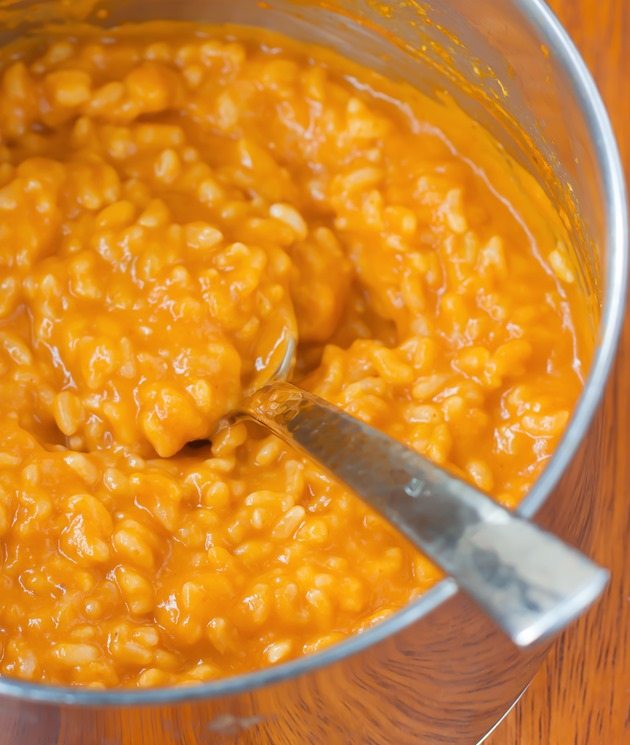 So about the date…
We'd already been friends for two and a half months at the time, and many of my friends are guys. I never want to assume someone likes me if I'm not 100% sure, even if it might be obvious to everyone else.
Our conversations were often about recipes, so when he mentioned making pumpkin risotto and I said I wanted to try it someday and he replied, "Okay, when?" I wasn't going to miss that chance.
Suddenly the hypothetical I should make this for you someday became I'll be over at five this Friday to make you a fancy dinner you will never forget.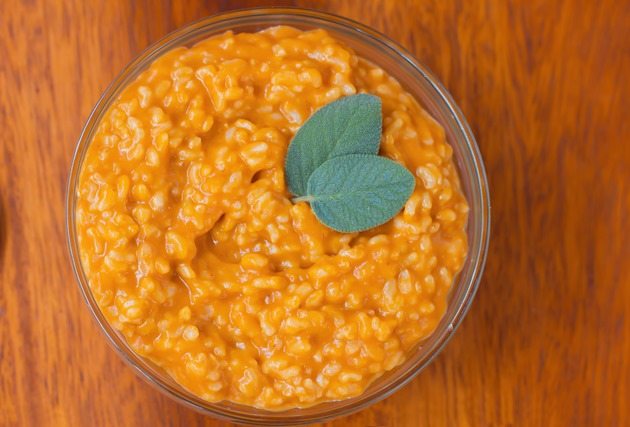 And I never will forget it; not the risotto nor the night when I finally told him how I felt.
I'm a big proponent of girls making the first move… mostly because I am curious, impatient, and hate mysteries.
Not knowing what he was thinking was driving me crazy!


Creamy Pumpkin Vegan Risotto
Creamy Vegan Pumpkin Risotto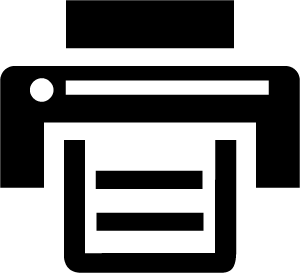 Print This Recipe
[mrp_rating_result show_count="false" show_rich_snippets="false"]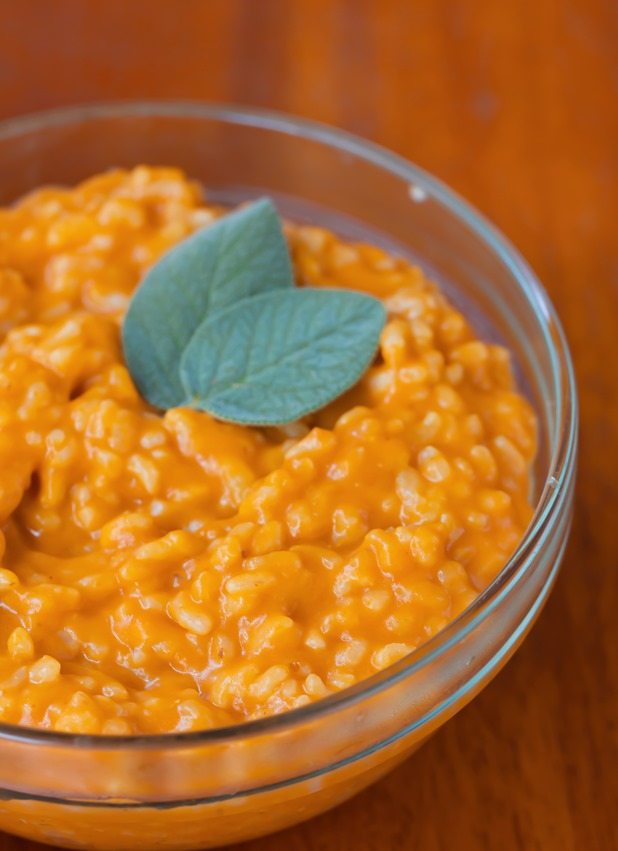 Ingredients
1/2 medium butternut squash or pie pumpkin (or 1 cup pumpkin puree)
1 tbsp olive oil
1/3 cup diced onion
1 cup Arborio rice (brown rice can work, but texture and cooking time will differ)
1/4 cup dry white wine
3 1/2 cups vegetable broth
1/4 cup Parmesan--such as vegan Parma, OR nutritional yeast
salt, to taste
Instructions
For the pumpkin/squash: Preheat oven to 450 F. Slice the squash or pumpkin in half, place on a baking sheet, and bake 40 minutes or until the flesh is soft and tender. (Note: The risotto can be prepared while you're waiting for the pumpkin to bake.) Scoop the flesh into a bowl—removing and discarding the seeds—and mash with a fork. (If you'd prefer a little texture, you can peel and dice 1/4 of the squash/pumpkin instead of mashing it.)
For the risotto:  Heat the oil over medium heat in a shallow saucepan or skillet. Add the onion and cook until it begins to brown. Add all of the rice, and stir for about a minute. Add the wine, and continue cooking over medium heat (stirring often) until the rice absorbs the wine and the pan is mostly dry. Pour in 1 cup of the vegetable broth, and cook until the rice has absorbed the broth, stirring often. Repeat with another cup of stock until the liquid is absorbed. Continue this way until the rice is fluffy and creamy—sometimes not all of the stock will be used before the rice looks creamy, so don't worry if you haven't used it all. Lower to a simmer, stir in the squash or pumpkin, then stir in the nutritional yeast. Add salt to taste. Traditional recipes suggest letting risotto sit for 5-10 minutes before serving.
Links Of The Day: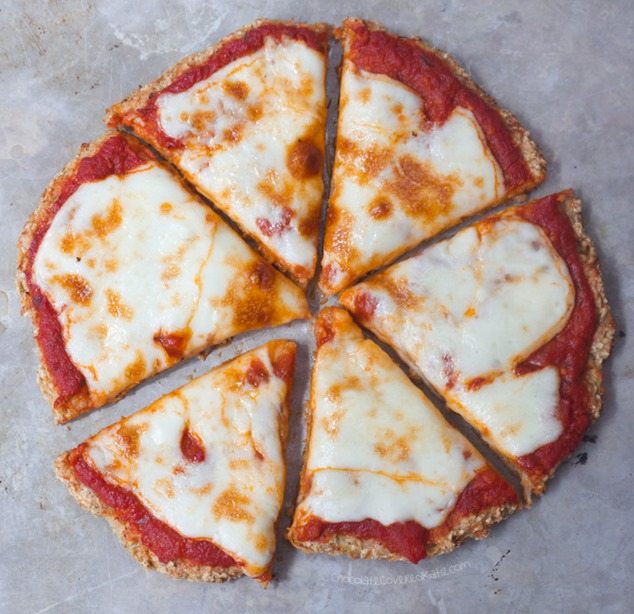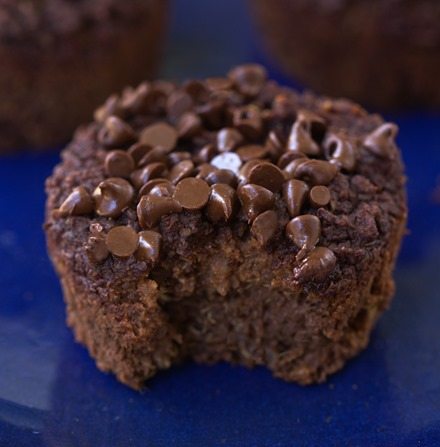 Chocolate Quinoa Breakfast Cups, from the Hello Breakfast Cookbook