This simple homemade crustless pumpkin pie recipe is easy to make and surprisingly healthy. It's an unbelievably delicious pumpkin dessert!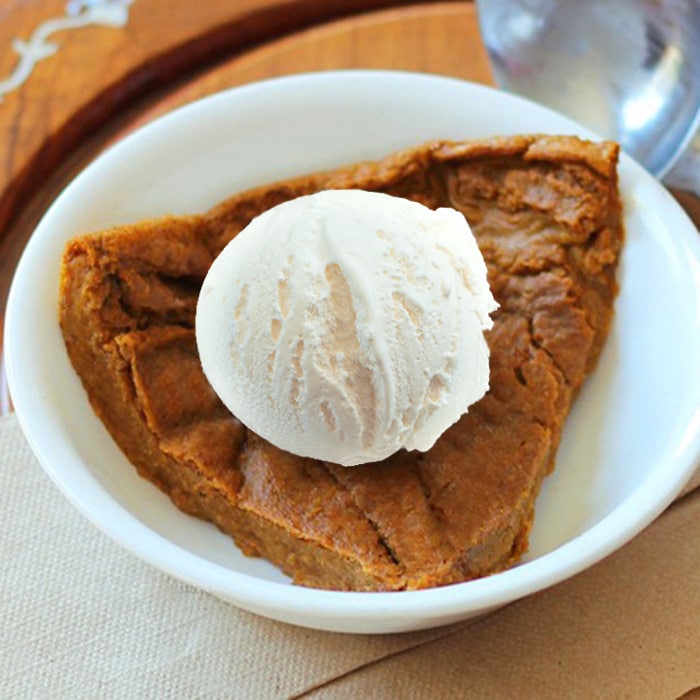 Healthy crustless pumpkin pie
This impossible pumpkin pie recipe is unbelievable.
You could actually eat the entire 8 servings of pumpkin pie and still consume less fat and fewer calories than if you ate just one slice of many traditional pies!
Not that I'd recommend eating an entire pie in one serving… But you could.
And the taste and texture are so rich and decadent that you definitely won't want to stop at just one slice. It's like eating creamy pumpkin custard in the form of a pie.
Also make these Sweet Potato Brownies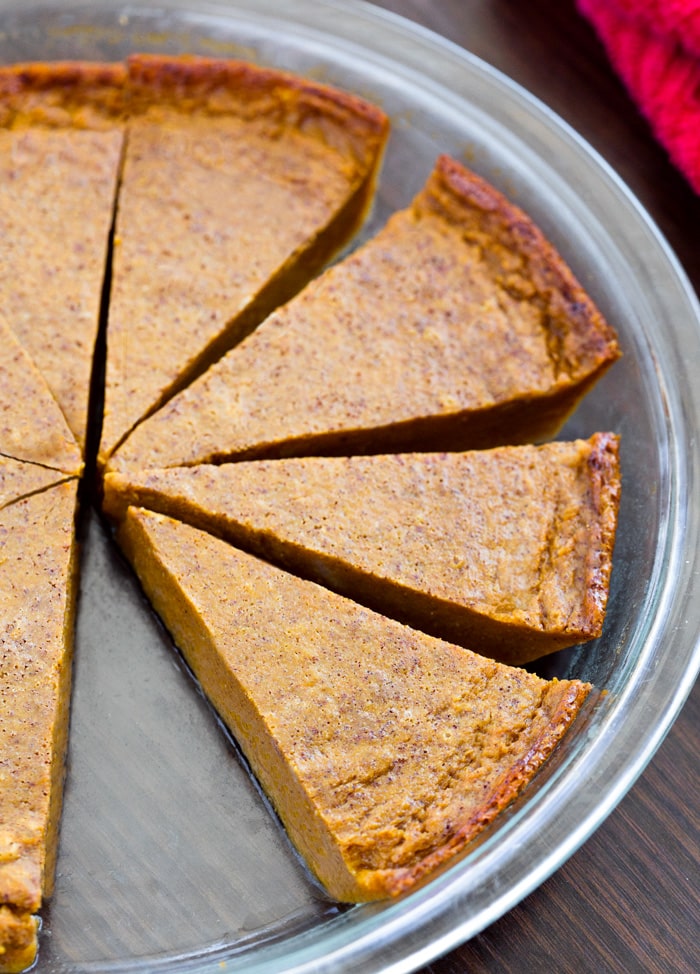 The best low calorie pumpkin pie
It will be love at first bite.
This pumpkin pie recipe has developed something of a cult following over the years, with many commenters writing in to tell me that they make it not just for Thanksgiving dessert, but all year round!
Some readers even eat it for breakfast! And hey, why not??? The pie is low in calories, high fiber, and packed with vitamin A and healthy ingredients.
It's great if you're on a Weight Watchers diet too, because the pie is very low in points and can be made with your favorite sugar substitute if you prefer no sugar baking.
Plus, unlike many other crustless pumpkin pie recipes, this one has absolutely no evaporated or sweetened condensed milk.
The best part? This pie calls for a whole can of pumpkin, which means there's no need to wonder how to use up leftover canned pumpkin when you're done.
Readers also love these Snowball Cookies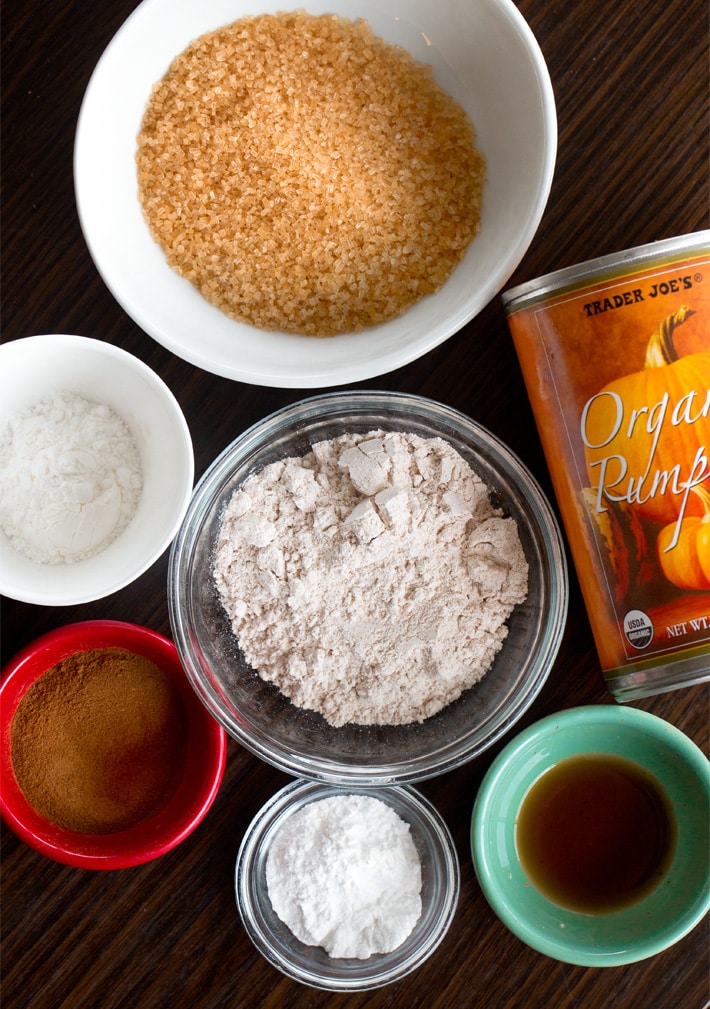 Crustless pumpkin pie ingredients
You will need pumpkin puree, cinnamon and pumpkin pie spice, milk of choice, sweetener, flour or almond meal, baking powder, salt, and pure vanilla extract.
For a thicker pumpkin pie that is easily sliceable, you can add a tablespoon of ground flax, one egg (not for vegans), or two teaspoons of cornstarch.
To make a low carb and keto crustless pumpkin pie, use xylitol or erythritol for a sugar free pumpkin pie. Almond flour or almond meal can be substituted for the flour in an equal amount.
If you prefer to use coconut flour, it needs much less flour to achieve a pumpkin pie filling texture, because coconut flour soaks up liquid like a sponge.
For a vegan crustless pumpkin pie, simply choose your favorite plant based and dairy free milk, such as almond milk or coconut milk. The vegan pumpkin recipe can easily be made with no eggs, no dairy, and no heavy cream.
This crustless pumpkin pie can also be soy free, nut free, gluten free, and oil free.
Trending recipe: Pumpkin Banana Bread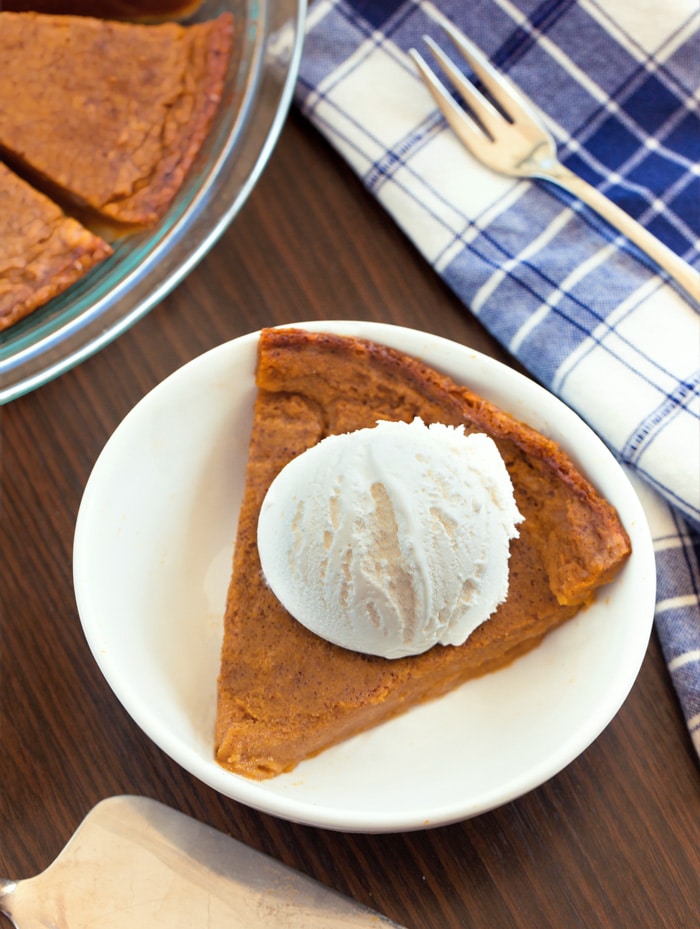 Do you use fresh or canned pumpkin puree?
The recipe calls for canned pumpkin. However, grocery stores are often out of Libby's canned pumpkin, especially around Thanksgiving time.
Look in the organic section, and if there's still no canned pumpkin at the store, you can buy a fresh pumpkin and roast and puree the flesh to make your own pumpkin puree.
Or sub roasted sweet potato for the pumpkin. Here's how to cook sweet potatoes. Roasted or canned butternut squash puree also works well.
Be sure to use pumpkin puree, not pumpkin pie filling, because canned pumpkin pie filling already has extra sugar and spices added. In contrast, the only ingredient in pumpkin puree is cooked pureed pumpkin.
Still craving pumpkin? Whip up a Pumpkin Spice Latte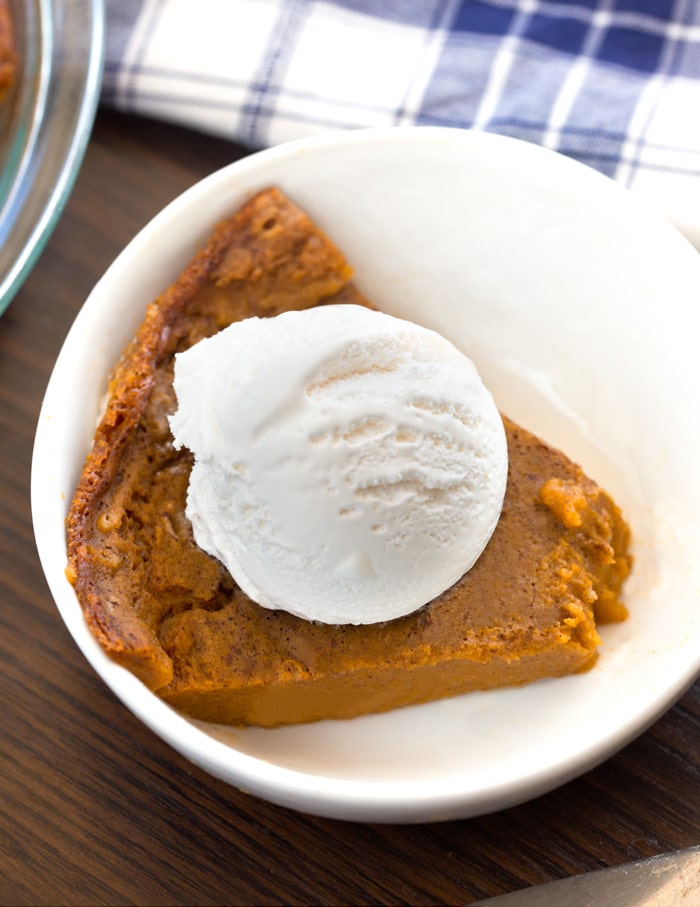 Pumpkin pie topping ideas
Or try topping each slice of pumpkin pie with homemade whip cream, cashew cream, candied pecans, or simply eating it plain and letting the pumpkin spice flavor shine.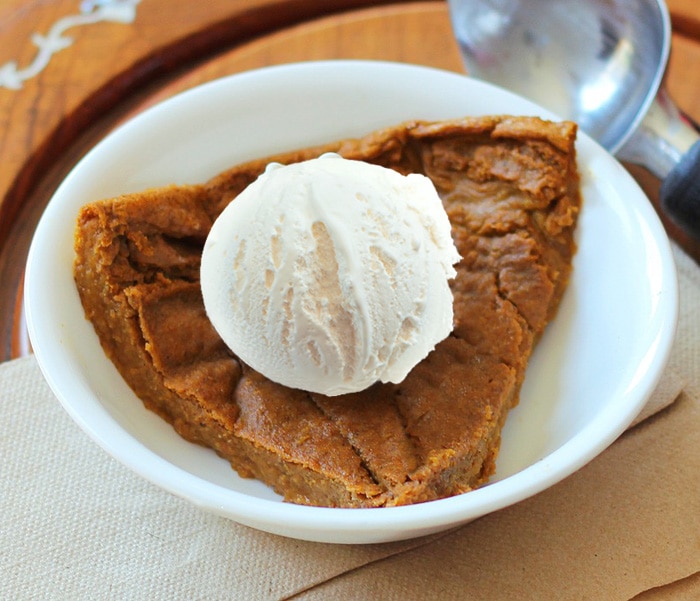 How to make the pumpkin dessert
Preheat the oven to 400 degrees Fahrenheit, and grease a nine or ten inch pan.
In a large mixing bowl, whisk together the can of pumpkin, milk of choice, flaxmeal or egg, pure vanilla extract, and oil, if using. There's no blender required.
Combine the ground cinnamon, pumpkin pie spice, salt, baking powder, flour, and sugar or sugar free sweetener. If using cornstarch, add it here too. If you want a one bowl pumpkin pie, this can be added to the same bowl with the liquid ingredients.
Stir to form a batter, then transfer the pumpkin pie filling to the prepared pan. Bake on the oven's center rack for 35 minutes.
The finished pie will still look gooey after baking, so allow it to cool fully before transferring uncovered to the refrigerator. Let it set for at least six hours, during which time it will firm up. Slice and enjoy.
Store leftover pumpkin pie in the refrigerator, covered with saran wrap or aluminum foil. Or store individual slices in an airtight container in the fridge or freezer.
Many people ask if you can make the recipe into crustless mini pumpkin pies by baking the pumpkin filling in muffin liners instead of a round pan. I have not tried it yet, so be sure to report back if you experiment!
Above, watch the video of how to make crustless pumpkin pie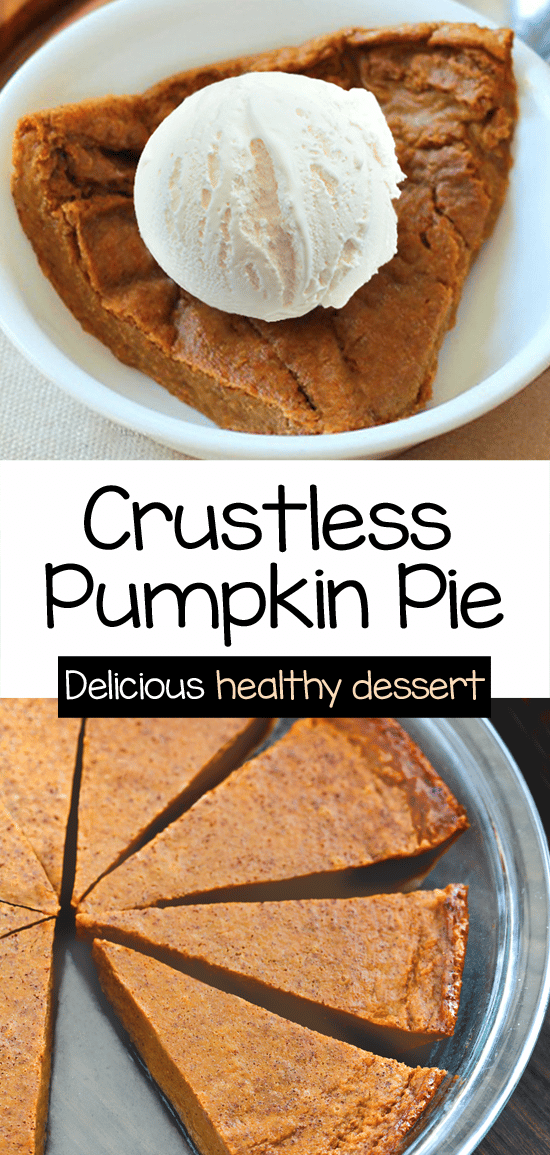 Crustless Pumpkin Pie
This homemade crustless pumpkin pie recipe is so delicious, you'll never miss all the fat and calories!
Ingredients
1

can pumpkin puree

(15 oz)

1

cup

milk of choice

2

1/2 tsp

pure vanilla extract

2

tsp

cinnamon

2

tsp

baking powder

1

tsp

pumpkin pie spice

1/2

tsp

salt

1/3

cup

flour,

such as spelt, oat, white, sorghum, or almond

1/2

cup

sugar, unrefined if desired, or granulated erythritol

1

tbsp

flaxmeal OR 2 tsp cornstarch

(can be omitted if serving pie in a bowl)

optional 2 tbsp oil for richness
Instructions
Preheat oven to 400 F, and grease a 10 or 9-inch round pan. In a large mixing bowl, whisk all ingredients well. Pour into the pan, and bake 35 minutes. It'll still be gooey after baking. Allow to cool completely before transferring uncovered to the fridge to "set" for at least 6 hours before slicing, during which time it will firm up.View Nutrition Facts
More Healthy Thanksgiving Recipes