My Thanksgiving dinner plate: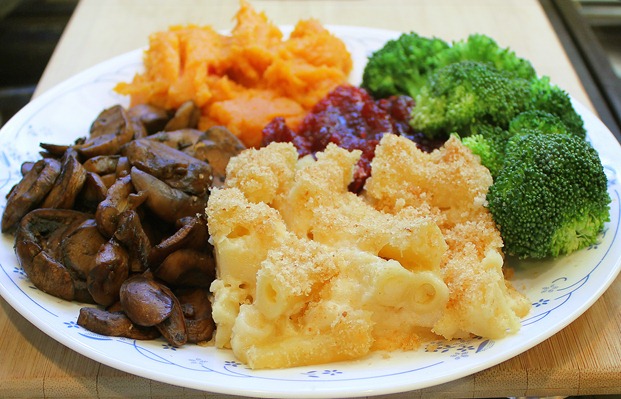 Macaroni and cheese is better than turkey any day.
Chandler Bing would agree :).
I celebrated Thanksgiving with my family and a few friends, and the macaroni (this recipe) was actually the only thing on my plate made by me. Everything else: my mom's broccoli salad (lightly steamed, then tossed with olive oil and lemon juice—so simple but so good), my neighbor's homemade cranberry sauce, mashed sweet potatoes (cooked with orange juice, then some were set aside for me before the marshmallows went on top), and my favorite magic mushrooms.
The "Magic Mushrooms" recipe is from here.
(Warning: it's a very old post!)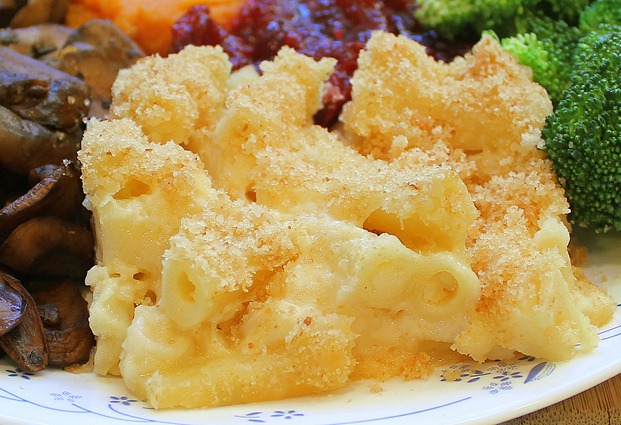 And a close-up shot of the macaroni. Recipe coming soon!
Edit:
For the commenters who asked about appetizers, here is what I ate before the meal: hummus (store-bought) and blue corn chips, a few steamed asparagus from the mostly-raw veggie tray, and quite a few handfuls of roasted pecans, which are one of my favorite things in the world. Oh, and wine! (Beaujolais nouveau, if you're a wine connoisseur. I'm not one.) How our Thanksgiving works is that we pretty much eat for the entire party, not just when we sit down for dinner! 😉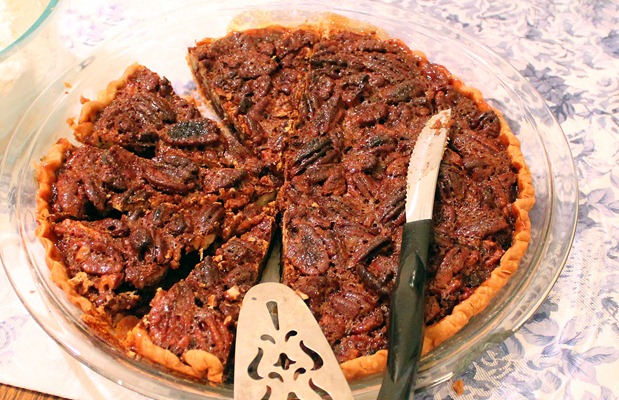 Dessert was my  Healthy Pecan Pie.
I also had a homemade chocolate truffle from the recipe in Sunday's post. No pumpkin pie; I'm pumpkin-ed out this holiday season, at least for awhile. (Sorry for the ugly nighttime lighting and flash photography. It doesn't do the pie–which was a non-chocolate variation of the original recipe–justice at all.)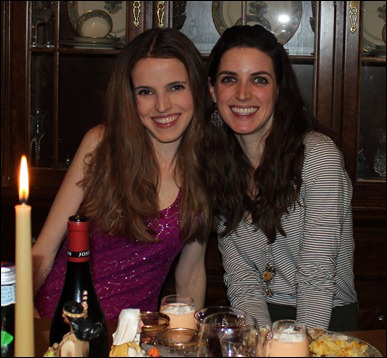 The best part of the night was that my sister was able to fly in, which we weren't sure was going to happen. During the day, she was very useful as a taste-tester. I made a batch of cranberry cookies, and she said, "Please Katie, don't serve these!"
Question of the Day:
What's one thing or person you're thankful for this year?
This year I am thankful for my sister… and for her brutal honesty! I'm also thankful for chocolate-chip cookie dough, chocolate brownies, and chocolate milkshakes. See a pattern?
And I am very thankful for these faces.