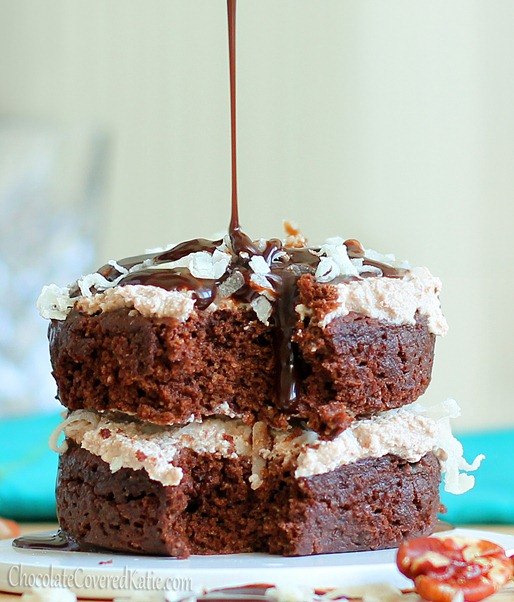 The cake above is meant for just one person.
Yes, you're really supposed to eat the whole thing at once.
Don't argue.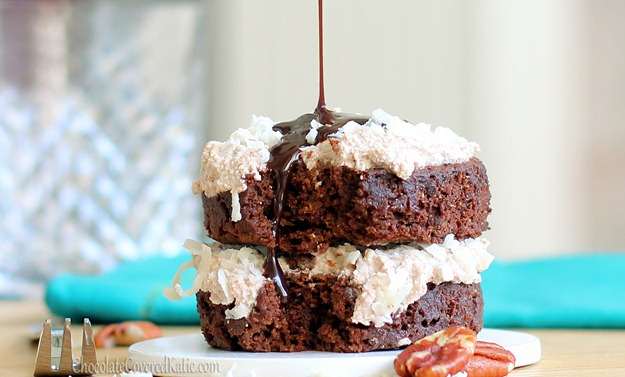 Arguing will get you nowhere.
Whereas not arguing will get you… cake!
Double-layer chocolate cake, with gooey caramel-coconut-pecan frosting in each and every decadent bite. The cake part is just my recipe for One-Minute Chocolate Cake. So today's recipe is really all about the gooey frosting.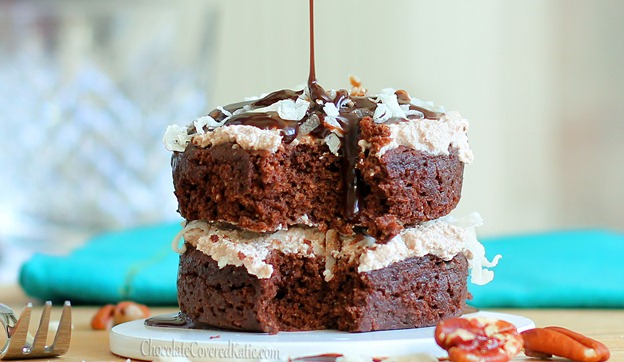 German Chocolate Mug Cake
Cake:
1 tablespoon plus 2 tsp cocoa powder (8g)
3 tablespoons spelt flour (or white, or Arrowhead Mills gf) (See nutrition link below, for substitution notes.) (30g)
1/8 tsp salt
2 tsp sugar or evaporated cane juice (edit: xylitol works as well) (10g)
1/4 tsp baking powder
1 stevia packet (or 1 tablespoon more sugar)
2-3 tsp coconut oil or vegetable oil (10-12g) (Many readers say it still tastes good if you sub applesauce or mashed banana. But I can't personally vouch for the results if you make that substitution.)
3 tablespoons milk of choice (45g) (I used almond milk)
1/2 tsp pure vanilla extract
Frosting:
1 cup pecans (100g)
1/4 cup pitted dates (40g) (If you don't like dates, you can omit this, but it doesn't make the frosting taste like dates; it just gives a caramel taste.)
1/4 cup plus 3 tbsp water (105g)
scant 1/4 tsp salt
1/2 tsp pure vanilla extract
2 tsp maple syrup (10g)
2 nunaturals stevia packets, or 2 tbsp powdered sugar (or omit and simply increase maple syrup to 3 tbsp, while cutting the water back to 1/4 cup)
optional: 3 tbsp coconut butter, for a more buttery taste (45g)
1 tbsp shredded coconut (5g)
For the cake: Combine first 6 ingredients and mix very, very well. Add ingredients 7-9, stir, then transfer to two 1/2-cup ramekins that have been greased well. If using the oven, cook 13-14 at 350F. If using the microwave, heat 30-60 seconds (depending on the type of flour). If you don't want to eat it straight out of the dish, be sure to wait for them to cool before trying to remove.
For the frosting: In a dish, cover the pecans and dates in water (not the measured water listed in the recipe) and let soak at least 8 hours. Drain completely, then combine all frosting ingredients except coconut and blend very well, until it is completely smooth. Frost each cake, sprinkle with coconut, and stack one on top of the other. (Frosting recipe makes about 1 1/4c total. Obviously you won't need all of this for the single-serving cake, but it's important to make the full batch for optimum blending. Besides… when is leftover frosting a bad thing?)
View German Chocolate Cake Nutrition Facts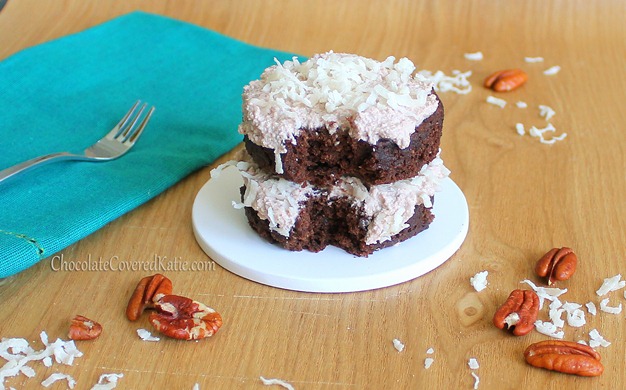 **Side note: I always seem to forget that when one runs a food blog, everything is taken literally. No, I did not have just one small plate of food for Thanksgiving… How our Thanksgiving works is that we pretty much eat for the entire party, not just when we sit down for dinner!
Anyway, I edited the post to avoid confusion.