Creamy peanut butter popsicles, dipped in melted chocolate – It's basically like eating a frozen Reese's peanut butter cup!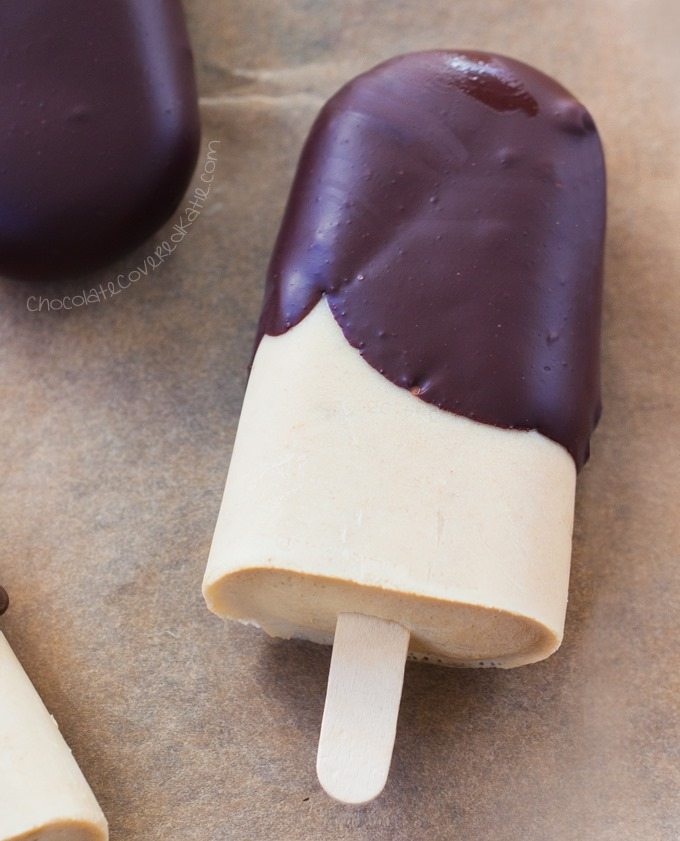 Have I ever told you about the Reeses peanut butter cup phase I went through in middle school?
Many weekends when my friends and I would go to the movies, we'd stop at the grocery store beforehand to stock up on candy.
I was completely obsessed with Reeses peanut butter cups and would usually buy three or four packages, all for myself.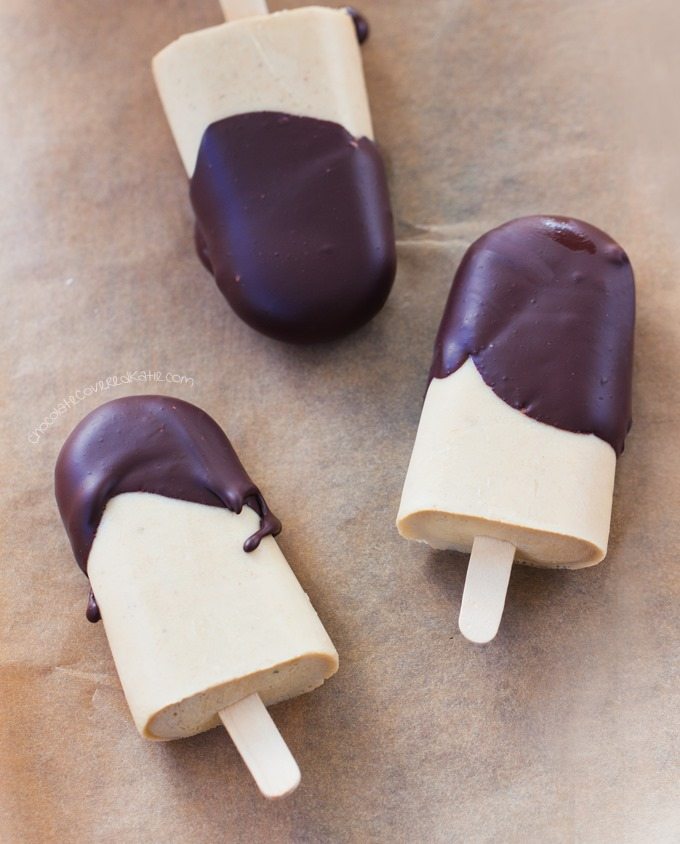 Honestly, I could eat so much sugar back then…
Toaster strudels or Eggos saturated with syrup at breakfast, chocolate bars packed in my lunch, large Baskin-Robbins milkshakes after school with friends…

My mother brought us up on a very healthy and balanced way of eating, with a variety of vegetables at every meal, and I counted broccoli and brussels sprouts among my favorite foods even as a child. But I've always been a person who eats dessert every day.
And any dessert that includes the combination of chocolate and peanut butter is especially difficult for me to resist.
I think I would eat my shoe if you covered it in chocolate and peanut butter.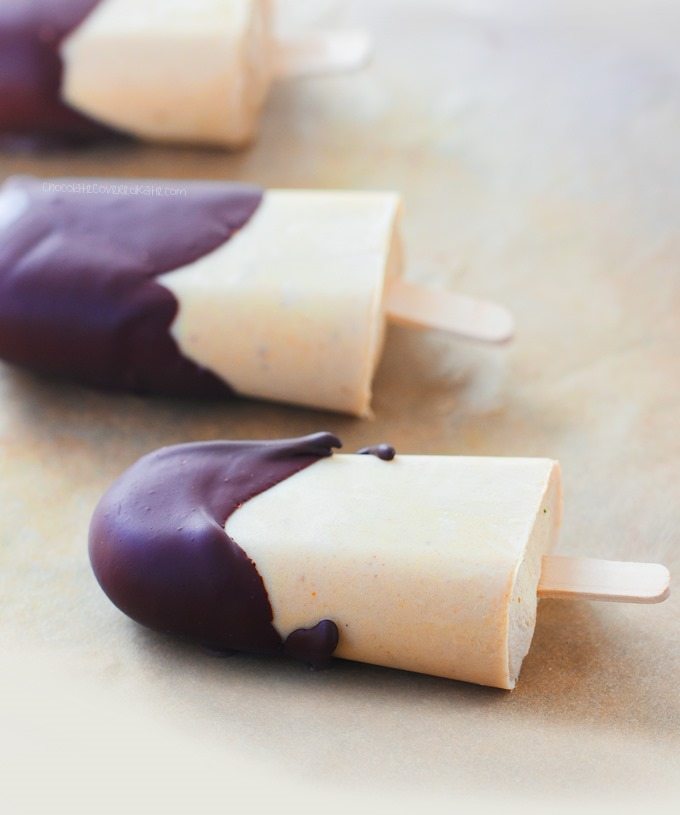 These popsicles are smooth, creamy, rich, chocolatey – basically everything you could ever want in a dessert.

And yet they are also nutritious and filling at the same time, with just a few ingredients and none of the empty calories.


Chocolate Peanut Butter Cup Pops
Adapted from Healthy Chocolate Fudgsicles
Chocolate Peanut Butter Cup Pops – 6 Ingredients
Print This Recipe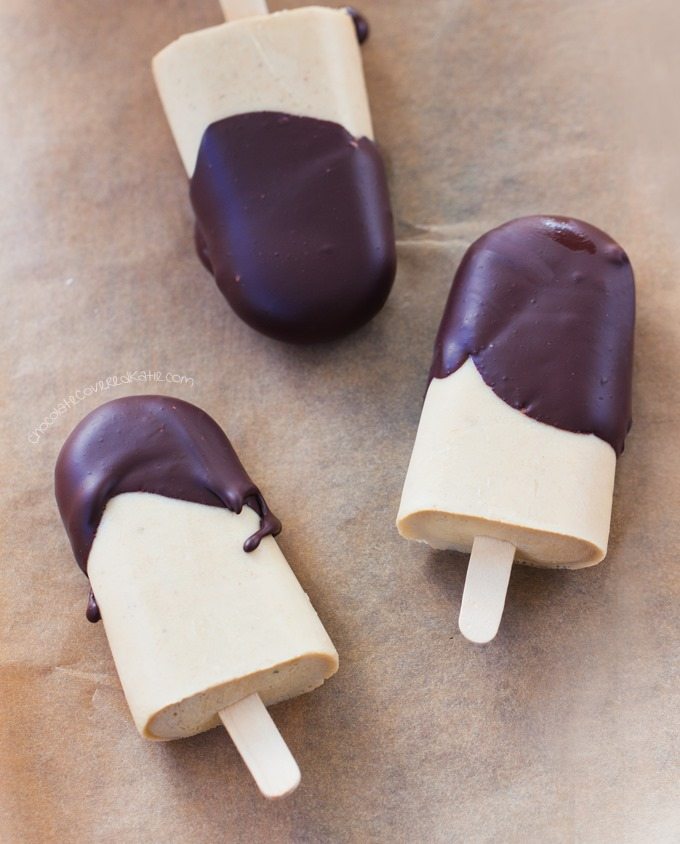 Ingredients
1 cup milk of choice
1 1/2 ripe bananas (for banana-free, see instructions below)
1/4 cup + 2 tbsp peanut butter OR allergy-friendly sub
scant 1/8 tsp salt
stevia or sweetener of choice to taste
chocolate coating, listed below
Instructions
Blend all ingredients together until completely smooth. You want the liquid to taste a little too sweet, as it will become less sweet once frozen. Sweetener amount will depend on your tastebuds, ripeness of the bananas, and type of milk you use. (For banana-free popsicles, simply omit the bananas and use yogurt of choice for 1/2 cup of the milk.) Pour into popsicle molds and freeze.
Chocolate Coating: Either melt chocolate chips to form a thin sauce OR stir together 1 tbsp cacao or cocoa powder, 1 tbsp melted coconut oil, and 1/2 tbsp pure maple syrup or agave to form a sauce. Take one frozen popsicle from the freezer, dip in the sauce, then place on a sheet of wax paper and re-freeze. Repeat for remaining popsicles.
Link Of The Day: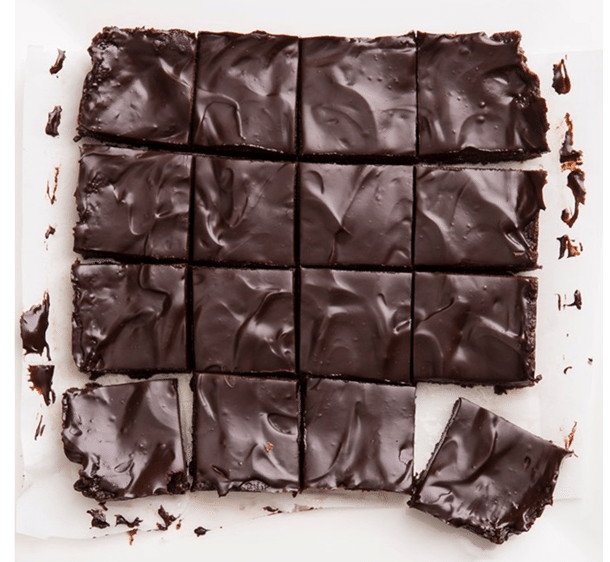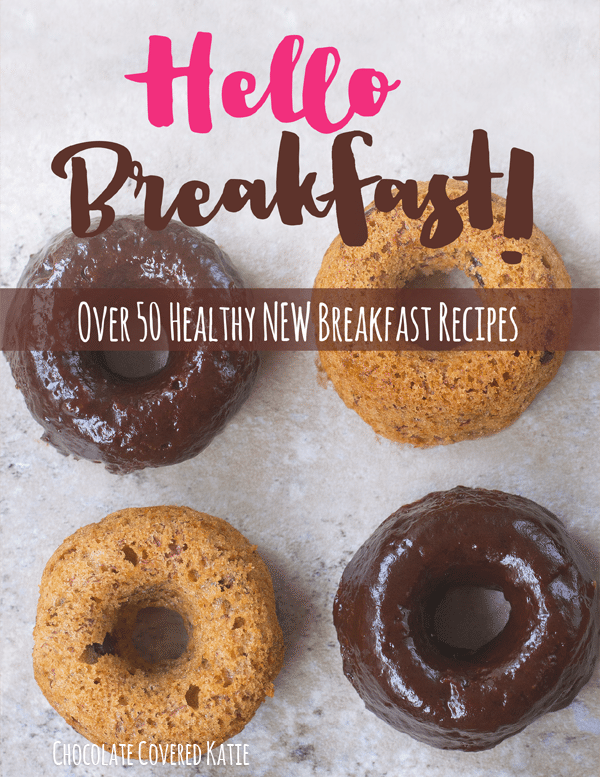 Just Released – my new cookbook: