If you love banana bread and want to be healthy at the same time, this high protein banana bread recipe gives you an unbelievable ten grams of protein per slice!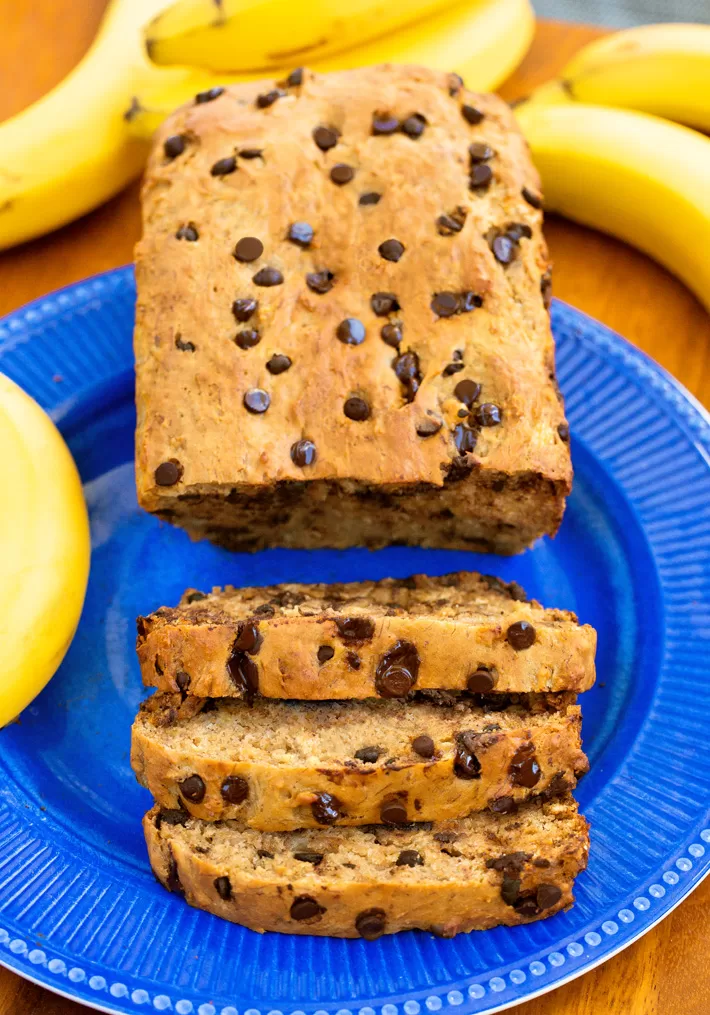 And the best part is that it tastes EXACTLY like regular banana bread.
Seriously, you cannot taste any difference at all.
This sweet, soft, fluffy, and delicious protein banana bread has quickly turned into one of my favorite breakfast or healthy snack recipes.
If you try it, I hope you love the banana bread as much as we do.
Readers also love these Protein Brownies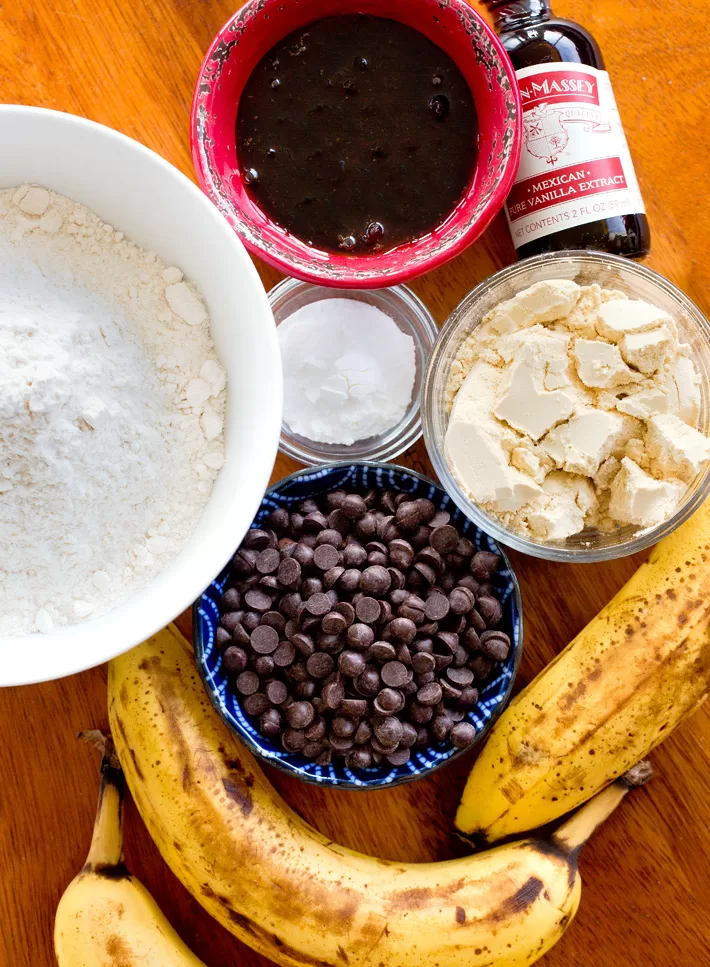 Easy protein banana bread ingredients
You will need ripe bananas, protein powder, baking powder, flour, baking soda, salt, liquid sweetener of choice, pure vanilla extract, and optional regular or Greek yogurt, chocolate chips or walnuts, and ground cinnamon.
The recipe is naturally egg free. To make it vegan, simply use a dairy free yogurt or the yogurt free option. Instead of whey or casein, choose a plant based protein powder, such as pea, soy, or brown rice protein.
Go with a brand and flavor of protein powder that you already know you like. I usually use unflavored and unsweetened pea protein powder (like this protein powder), because I find many flavored protein powders to have an artificial aftertaste.
Flour options that work include white all purpose, whole grain spelt, oat flour, and some gluten free mixes. Whole wheat pastry flour yields a denser result than I prefer, but it technically does also work. I do not recommend coconut flour or almond flour.
If you wish, throw in a handful of chopped pecans, walnuts, almonds, shredded coconut, mini chocolate chips, raisins, hemp hearts, chia seeds, etc.
Here are over 25 more High Protein Desserts
Above – watch the protein banana bread recipe video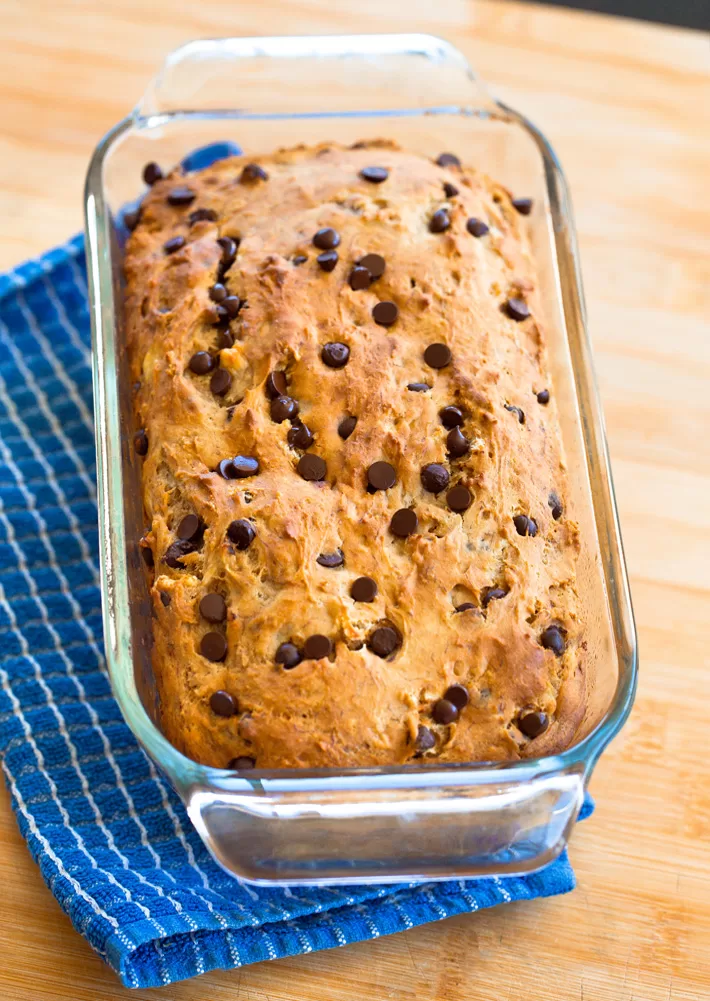 How to make protein banana bread
Start by greasing a 9×5 inch loaf pan. I also like to line the bottom of the pan with parchment paper so the loaf will be easy to pop out after baking.
Preheat the oven to 350 degrees Fahrenheit, and get out a large mixing bowl to combine all of the ingredients. This can easily be a one bowl recipe.
Mash the bananas in the bowl with a fork, then whisk in the remaining wet ingredients. You can either add the dry ingredients straight to this bowl or combine them in a separate bowl ahead of time if you prefer. Do not overmix.
Spread the protein bread batter into the prepared baking pan. Place it on the center rack of the oven, and bake for forty minutes.
Turn the oven off, but do not open the oven door. Leave the banana bread in the turned off oven for an additional five minutes.
After this time, if the top of the bread is golden but a toothpick inserted into the center does not come out mostly clean, you can place a layer of tin foil on top and bake for an additional five to ten minutes, or as needed.
Let the baked good cool completely before going around the sides with a knife and inverting it onto a large serving plate.
Loosely cover with cloth or paper towels, and store on the counter or in the refrigerator overnight. The taste and texture will be ten times better the next day after excess moisture has a chance to escape.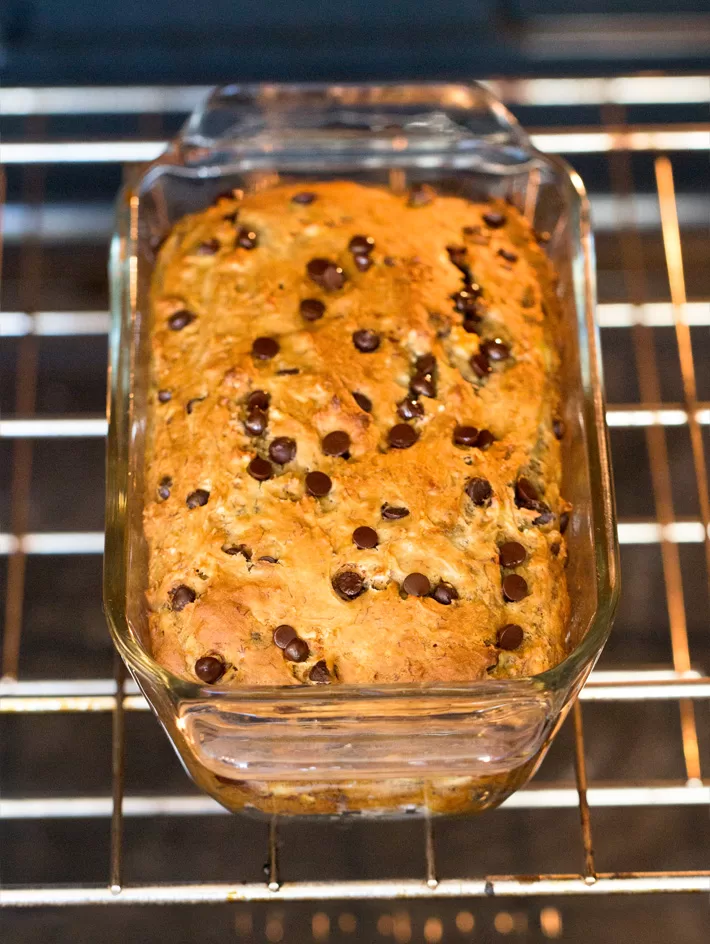 Serving and storing the recipe
The protein banana bread is great on its own. Or serve it topped with almond butter, peanut butter, Vegan Cream Cheese, pumpkin butter, or Homemade Nutella.
One slice banana bread with just a tablespoon of peanut butter will have close to fifteen grams of protein. Talk about a healthy snack!
Due to the perishable ingredients, I recommend refrigerating any leftovers after a day in a covered container. They should last for up to four days.
Or slice leftover banana bread and freeze it in an airtight container for up to three months or so. Add a layer of parchment paper in between each slice so they do not stick together. Thaw before serving.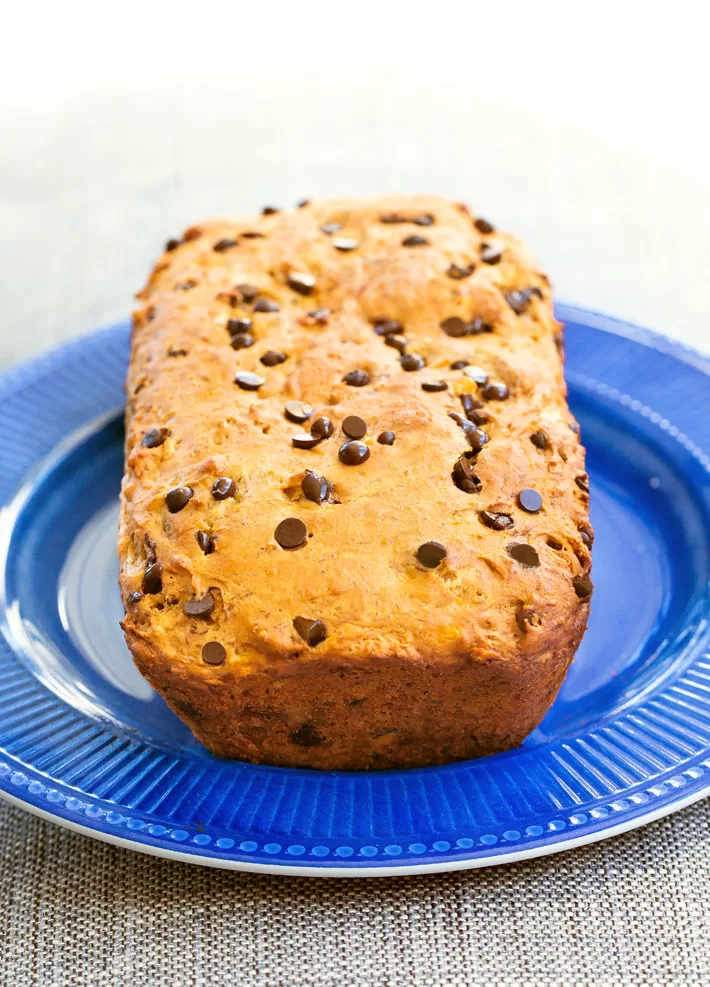 Using gram measurements
If you wish to make the protein quick bread with a food scale instead of the cup measurements below, here are the amounts to measure out:
180 grams of flour, 60 grams of protein powder, 120 grams each of yogurt and pure maple syrup, honey, or agave, 60 grams of oil or water, 10 grams of pure vanilla extract, and 360 grams of mashed banana, which should be about three bananas.
Also remember to add in the ingredients not measured in grams (baking powder, baking soda, salt, and optional cinnamon).
The recipe was adapted from my Healthy Banana Bread and Chocolate Banana Bread.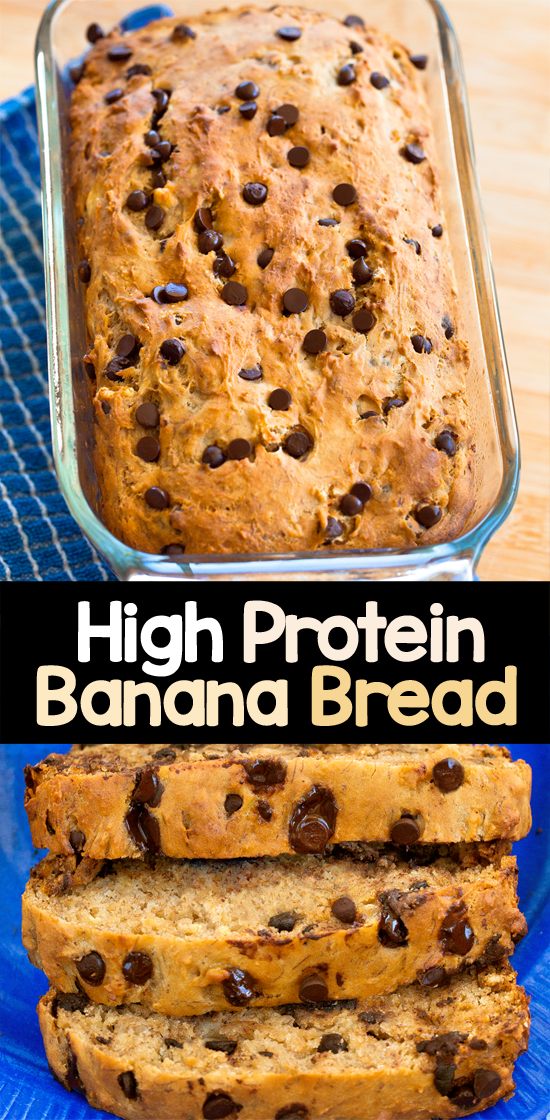 Protein Banana Bread
As a healthy breakfast or snack, this high protein banana bread recipe gives you ten grams of protein per slice.
Ingredients
1

1/2 cup

white,

spelt, or oat flour (or try this Almond Flour Banana Bread)

1/2

cup

protein powder

(60g)

1

tsp

baking soda

3/4

tsp

baking powder

3/4

tsp

salt

1/2

tsp

cinnamon

1 1/2

cup

mashed overripe banana

1/2

cup

yogurt

or additional banana

1/2

cup

pure maple syrup,

honey, or agave

1/3

cup

oil or water

2

tsp

pure vanilla extract

optional

chocolate chips, walnuts, coconut, etc.
Instructions
Grease a 9×5 loaf pan, and line the bottom with parchment paper. Preheat the oven to 350 F. Stir all ingredients together, smooth the batter into the pan, and bake 40 minutes. Turn the oven off, but do not open the door even a crack. Leave the protein banana bread in the closed oven for an additional five minutes. Mine is always done after this time. If yours is still soft in the center for some reason (climate, uncalibrated oven, etc.), cover the top with tin foil and continue baking until a toothpick inserted in the center comes out mostly clean. Let cool, then go around the sides with a knife and invert onto a plate. If you can wait, the taste and texture are even better the next day!View Nutrition Facts
More High Protein Snacks