This delicious smooth and creamy healthy homemade Nutella recipe is one of the most popular recipes I've ever posted, and for good reason!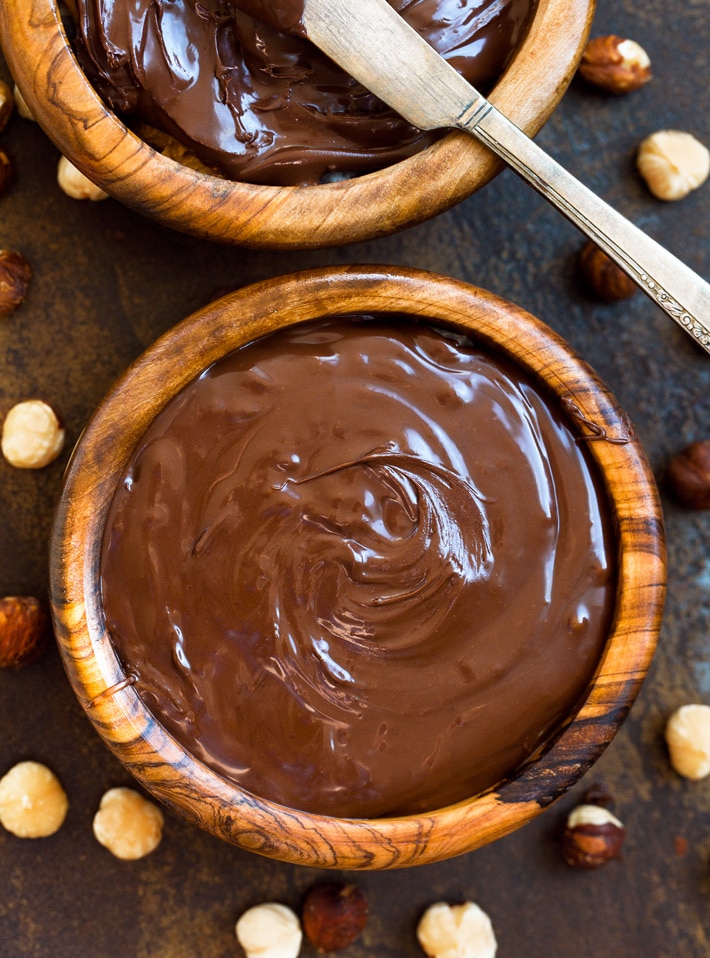 The Best Nutella Recipe
Currently with more than ten thousand positive online reviews, this surprisingly easy Nutella recipe is definitely a huge reader favorite.
Super rich and creamy, it effortlessly holds its own against that famous Ferrero chocolate spread in the iconic red and white plastic jars at the grocery store.
And yet the homemade version also has fewer than half the calories per serving.
It's much healthier than store-bought, without sacrificing any of the kid friendly classic chocolate taste that we all know and love.
Also be sure to try these Black Bean Brownies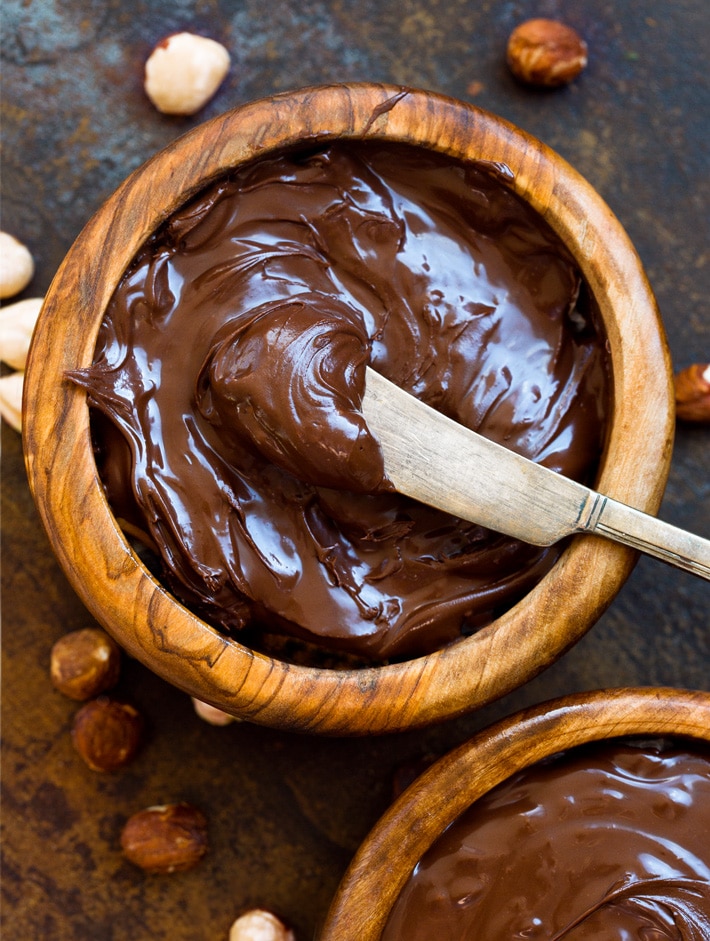 Homemade Nutella
Just one spoonful of the thick chocolate vegan Nutella recipe, and you'll absolutely never want to put the spoon down again.
Yes, it's that good.
Unless, of course, you don't like Nutella… is such a thing even possible?
Is there really a single person in this world who can resist that luxuriously rich and velvety hazelnut chocolate spread?
If true, please send me your spoon so I can happily eat your portion.
I'm nice like that.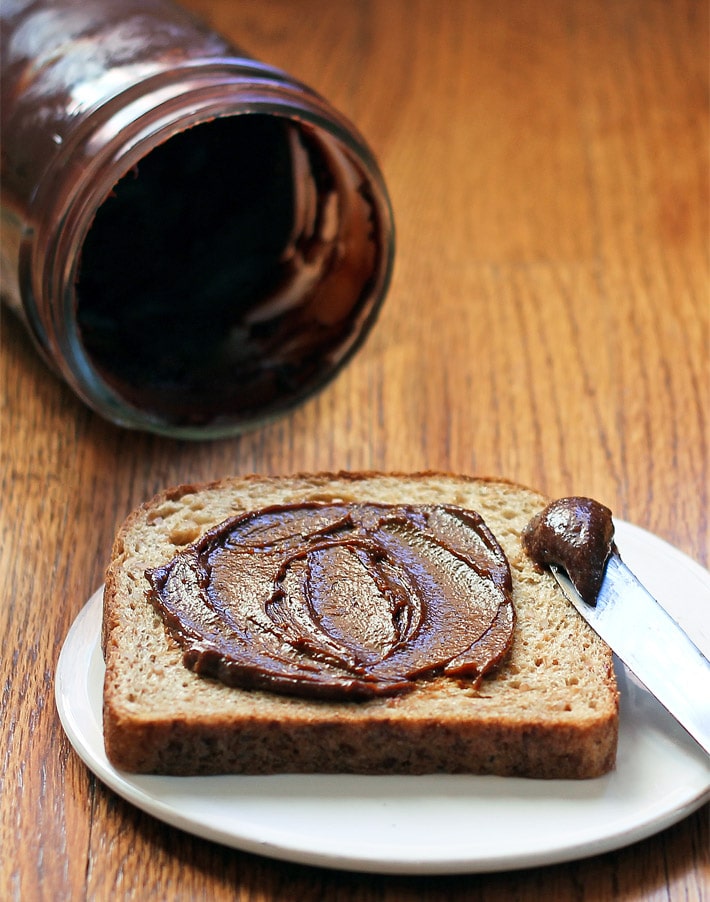 Healthy Chocolate Hazelnut Spread
I didn't specifically set out to make a low calorie Nutella.
It just turned out that way.
Unlike store-bought Nutella, which lists palm oil and sugar as the first two ingredients, this option is suitable for vegans or those with dairy allergies and is lower in sugar or can be a sugar free recipe.
It's also high in Vitamin E, B vitamins, and healthy fats.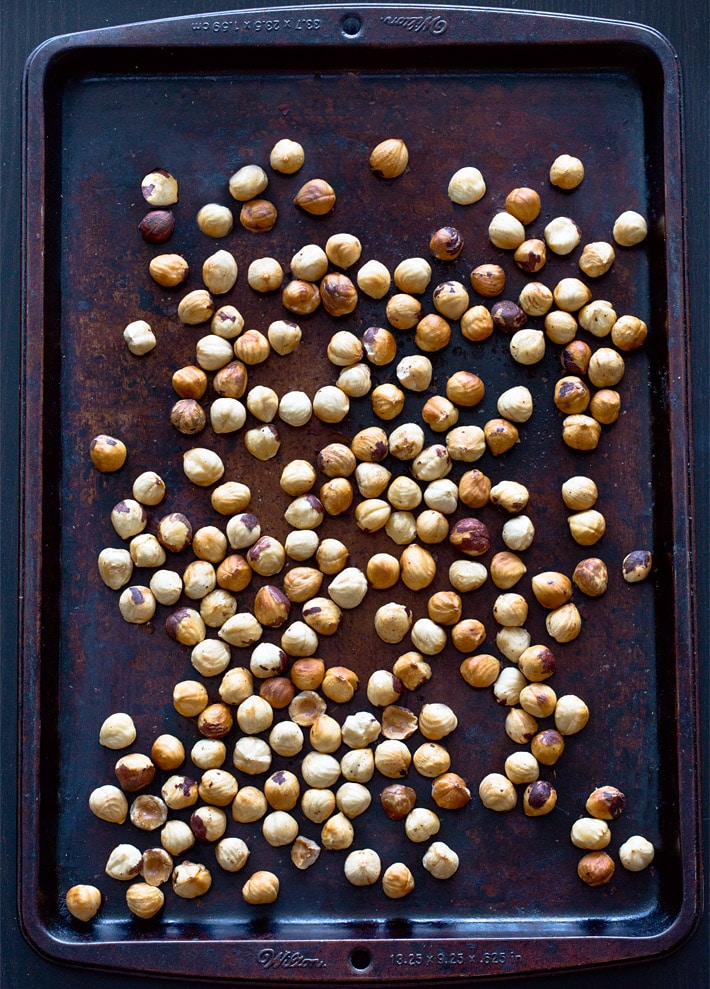 My first introduction to Nutella was in preschool, and it was love at first bite.
Back then, the spread wasn't popular like it is now. All of the other children in my class thought I was so weird for bringing Nutella sandwiches to school, neatly packed into a lunchbox with the crusts cut off.
Day after day, they ate their boring peanut butter and jelly sandwiches, while I blissfully devoured a chocolate sandwich.
Needless to say, in just a few months I'd hooked all of my friends on this miracle hazelnut cocoa spread, and soon everyone was bringing Nutella for lunch, as sandwiches or a dip for fresh apple slices, strawberries, or bananas.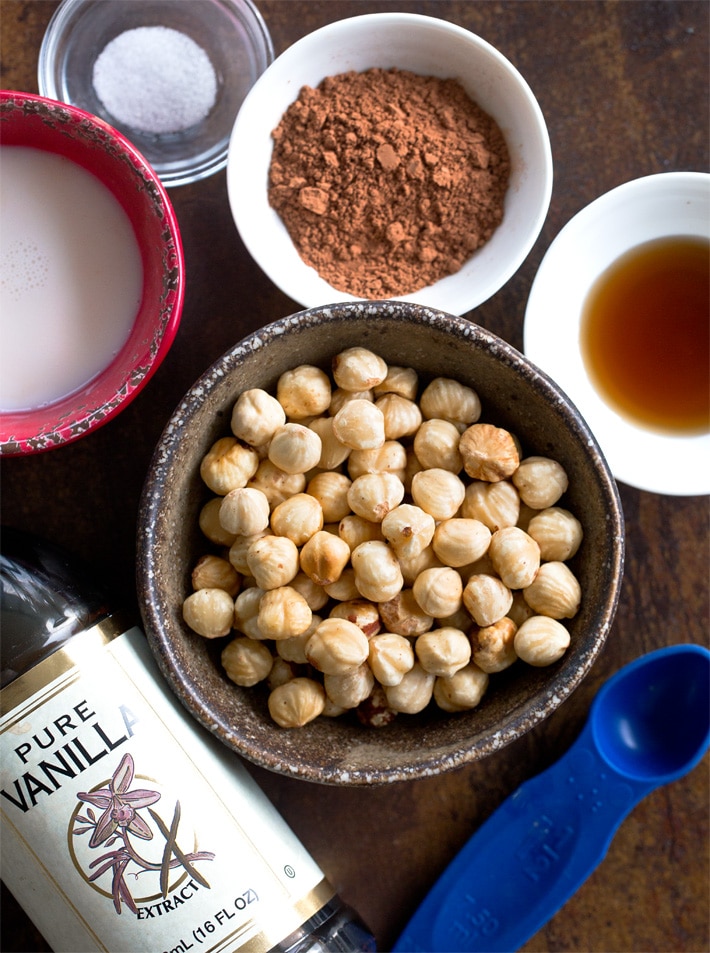 Vegan Nutella Ingredients
I gave up eating Nutella upon going vegan years ago. Vegan Nutella or gianduja brands, including Justin's or Nutiva, do now exist, but buying them can get expensive.
Making your own hazelnut spread at home saves money, and you get to control exactly what ingredients to use.
For the milk: If you choose a nondairy milk such as almondmilk or coconut milk, the recipe can be naturally dairy free, gluten free, egg free, and soy free.
The sweetener: Use your favorite all purpose sweetener, such as date sugar, regular granulated sugar, or coconut sugar. Liquid sweeteners like pure maple syrup, agave, honey, or date syrup also work but will yield a much less creamy and spreadable result.
For a low carb or keto Nutella recipe: Simply use a sugar free sweetener such as xylitol or erythritol instead of the sugar. The low carb version will have just 0.1 net carbs per serving.
I haven't tried sweetening the Nutella with stevia or allulose, so feel free to experiment and be sure to report back with results if you do.
The hazelnuts: Look for raw hazelnuts in the bulk aisle of health food stores or online. I've also seen them sold in bags at Costco. Feel free to sub unsalted roasted hazelnuts and skip the roasting step in the recipe instructions below.
If you can't find hazelnuts at all, the spread can be made with almonds instead. The flavor will be different but it's still tasty.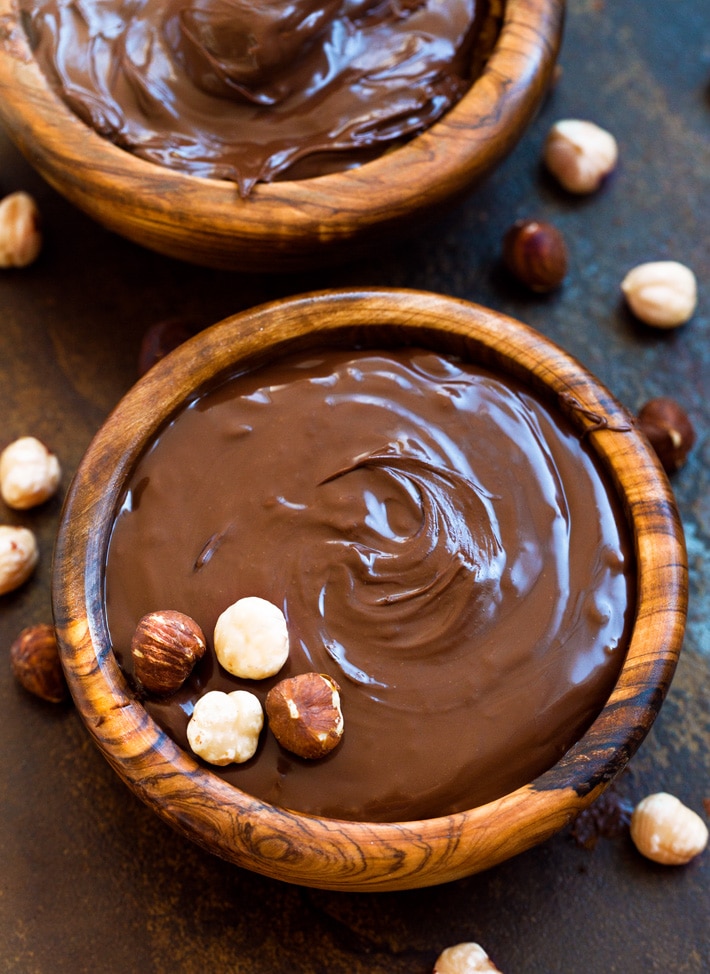 How To Make Nutella At Home
Gather all of the ingredients, and preheat your oven to 400 degrees Fahrenheit.
Line a baking sheet with parchment paper. Roast the two cups of raw hazelnuts on the oven's center rack for about 6 to 8 minutes.
Rub the roasted nuts together in a cloth or paper towel to remove the skins. Don't worry if some of the skins refuse to come off.
In a high speed blender (like a Vitamix) or food processor (like a Cuisinart), blend the hazelnuts until they turn into a smooth butter.
Add all remaining ingredients, and blend on high for a few minutes until the texture resembles real Nutella.
Homemade Nutella Storage Instructions
Is using the oil instead of milk, the homemade Nutella is shelf stable and does not need to be refrigerated. It can be stored in a tightly covered container in your kitchen cabinet for up to two weeks. Or refrigerate for up to two months.
If using the milk, it's best to store the recipe in the refrigerator, where it should stay good for two to three weeks.
After this time, to prevent the nuts from going rancid, you can freeze leftover Nutella. The texture will not be as smooth, but it still tastes great!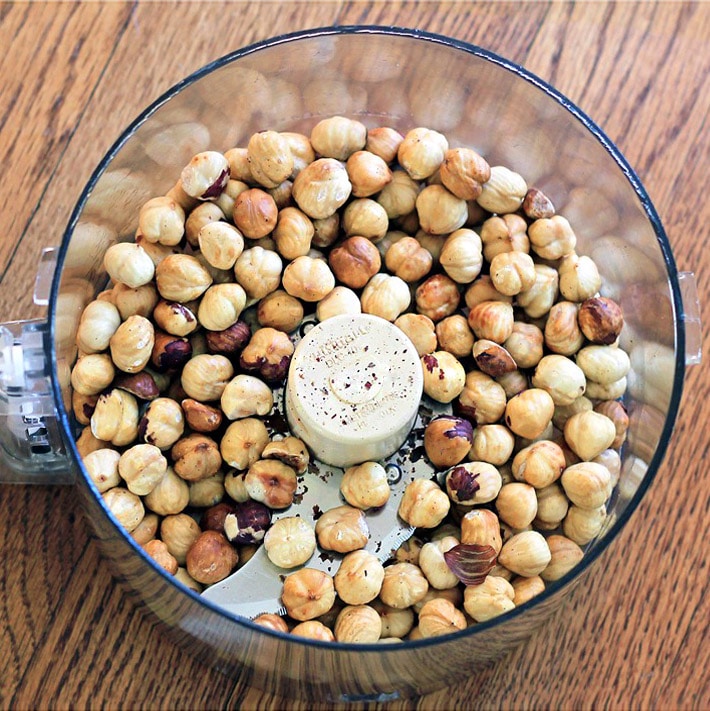 Is Nutella Healthy?
The main ingredient in store-bought Nutella is surprisingly not cocoa powder or hazelnuts. Palm oil and sugar make up more than 50% of the spread, which also includes skim milk, whey, soy lecithin, and vanillin (artificial flavor).
Two tablespoons of the packaged hazelnut spread with cocoa contain 200 calories, 11 grams of fat, 4 grams of saturated fat, and 21 grams of sugar.
Even if you use all regular sugar in the recipe below, it will still only have 70 calories, less than a gram of saturated fat, and under 5 grams of both fat and sugar per two tablespoon serving, making the homemade Nutella a much healthier option.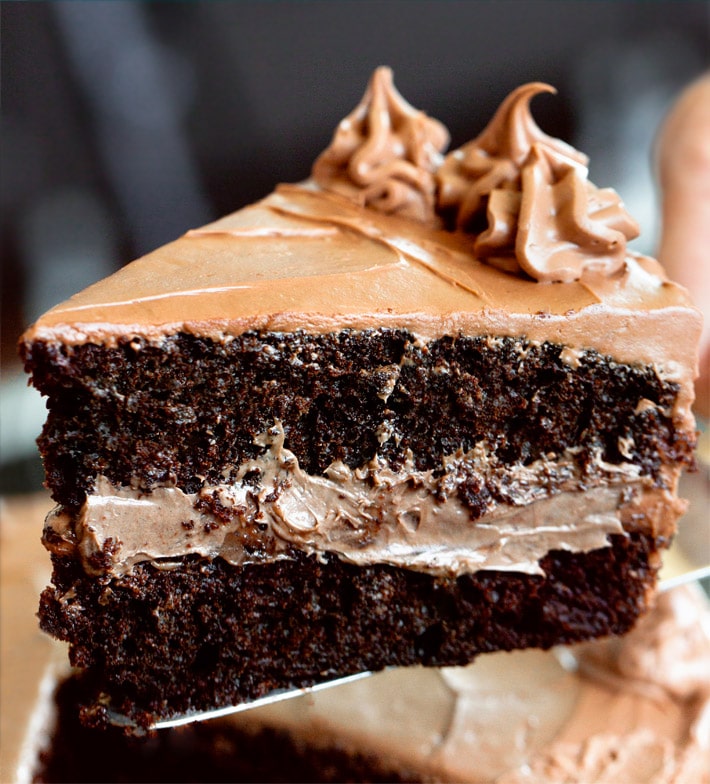 Recipes With Nutella
Other good uses for homemade Nutella include spreading it over toast or Vegan Pancakes, frosting cupcakes or adding a spoonful to hot chocolate, or eating it straight out of the jar with a spoon!
Above, watch the step by step homemade Nutella recipe video

Homemade Nutella Recipe
You will fall in love with this smooth and dreamy healthy and vegan homemade Nutella recipe.
Ingredients
2

cups

hazelnuts

(240g)

1 1/2

tbsp

pure vanilla extract

1/4

cup

cocoa powder

1/3

cup

sweetener of choice

(see above for options)

1/4

tsp

salt

1/2

cup

milk of choice

OR 2 tbsp oil, optional
Instructions
Homemade Nutella Recipe: If hazelnuts are not already roasted, preheat the oven to 400 F and bake for 6-8 minutes or just until they begin to brown. Rub them together in a paper towel to get the skins off. It's okay if a few stubborn skins won't come off. In a Vitamix or food processor, blend the nuts until they've turned to butter, then add all other ingredients except milk or oil and blend a long time until it's smooth like Nutella! If desired, add in the milk or oil. (I think I blended off-and-on for a full two minutes. It's extra-creamy in a Vitamix, but a Cuisinart food processor works as well.) Storage tips are listed above.

View Nutrition Facts
Easy Chocolate Recipes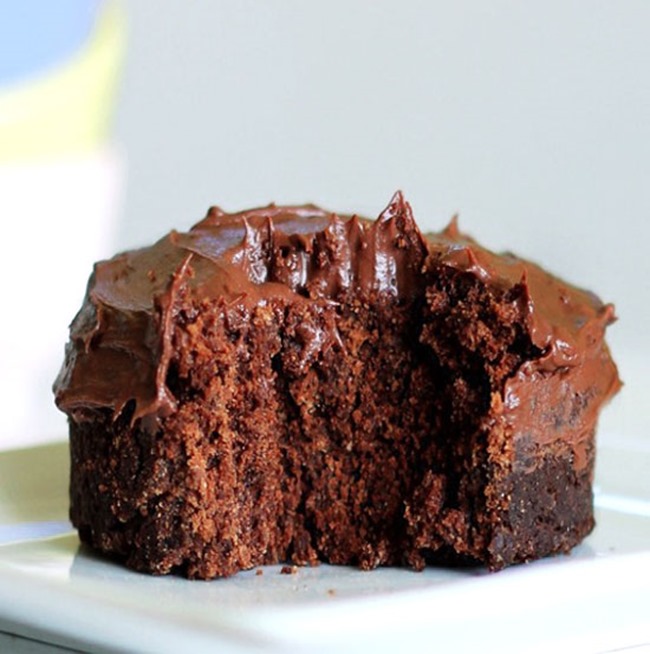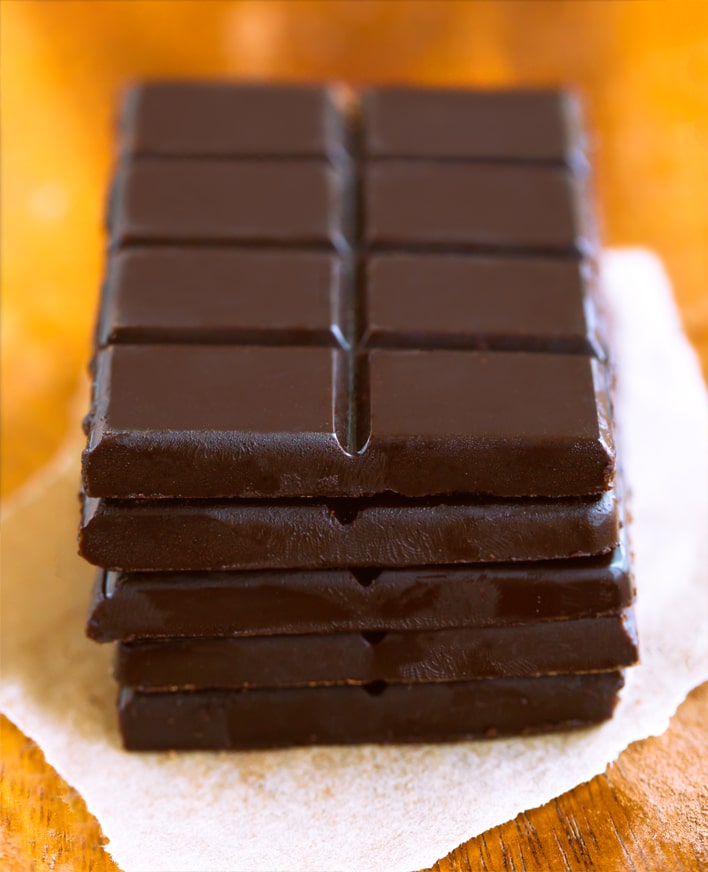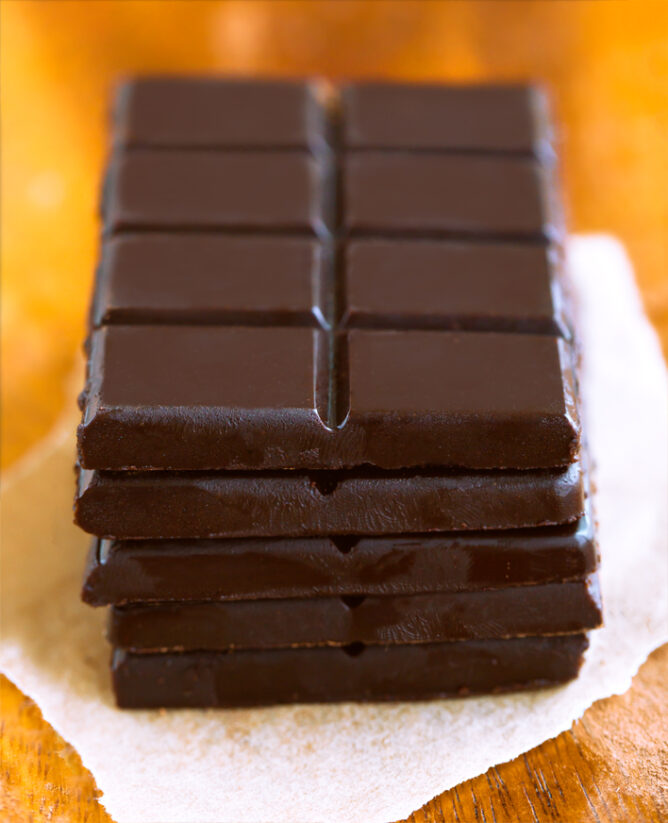 Homemade Chocolate Bars (3 Ingredients)