Homemade almond butter donuts – completely vegan & oil free!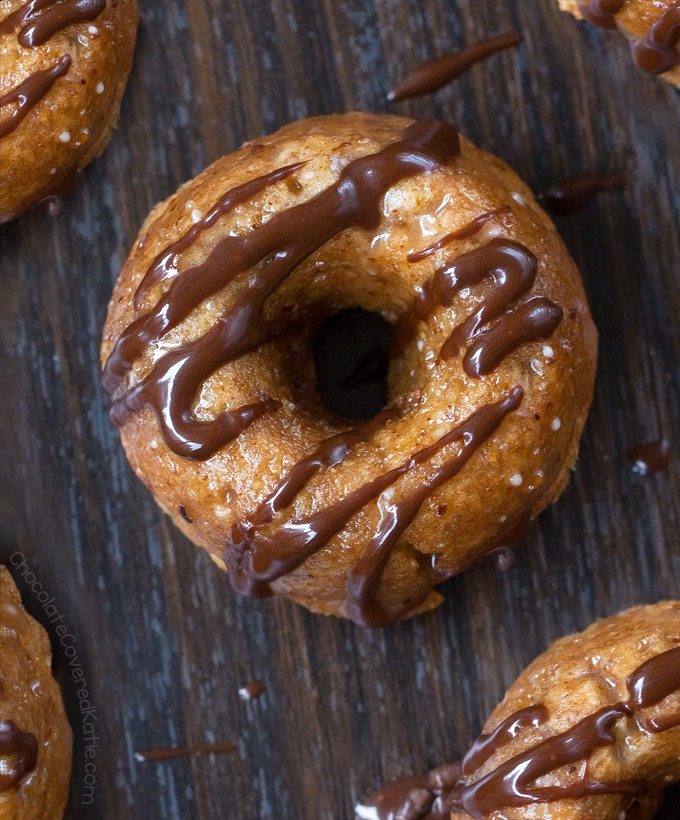 I am suddenly so obsessed with donuts.
If you follow my instagram posts, you might have seen the Cookie Monster Donuts I made last week.
Other flavors I've tried recently include toasted coconut donuts, chocolate peanut butter donuts, mint chocolate chip donuts, and a few more flavors. It's been a month filled with company (parents, relatives, and friends from out of town), and homemade donuts are one of my go-to breakfast recipes to make for company, because donuts are fancy and fun, but at the same time there's very little prep work required to make them.
I had way too much fun making the video for these donuts…
And hopefully my videos are getting better?! At least I sort of know what I'm doing, much more than I did with my first video, for Vegan Cheese Sauce.
Watch that video if you want to laugh at me.
Actually, maybe don't watch that video – maybe I can distract you with donuts instead.
Ooh, look how shiny!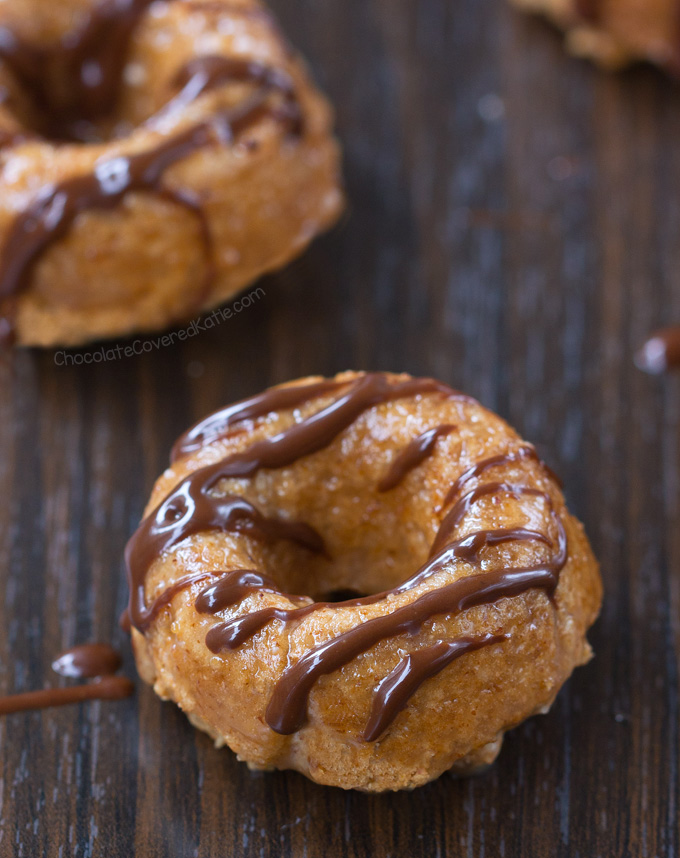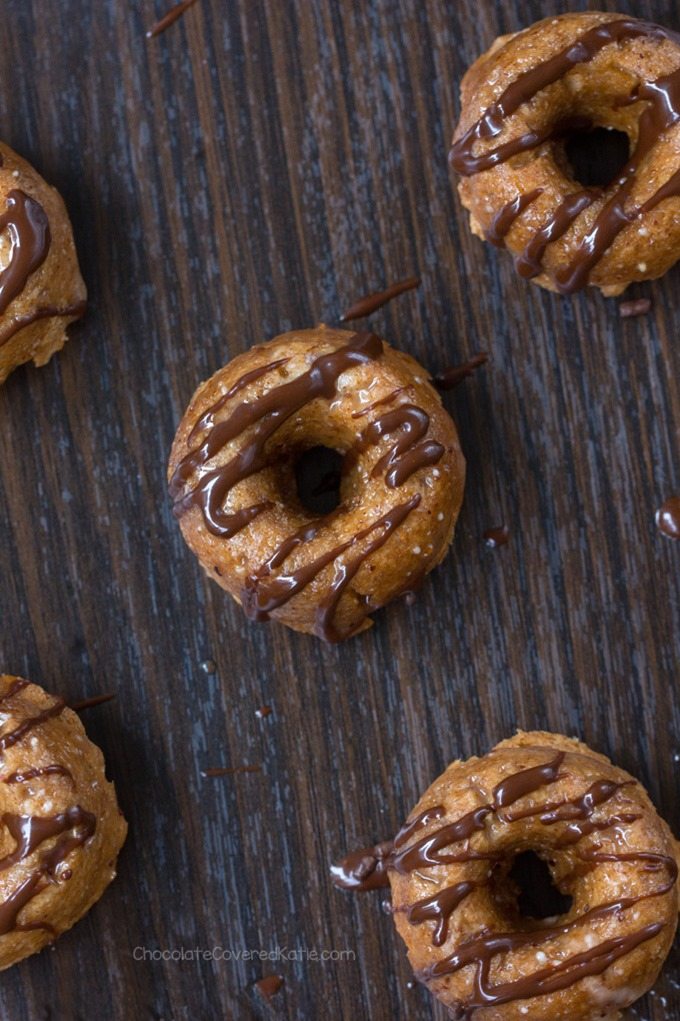 I'm not sure if anyone has said donuts are the new cupcakes, but seriously, donuts are way better than cupcakes.
You can make this almond butter donut recipe without a donut pan if you don't have one; or you can pick up a pan, usually under ten bucks, on Amazon, at Target or Walmart, in craft stores like Michaels, in grocery stores or some department stores, or at World Market or Bed Bath Beyond (my personal preference because I always have a zillion coupons).
The donuts in the photos were made in a mini donut pan, and the ones in the video were made in a regular-sized pan. Both were delicious!


Almond Butter Donuts
Adapted from my Blueberry Baked Donuts Recipe
Almond Butter Donuts
Yield:
6 large, or 20 mini donuts
Print This Recipe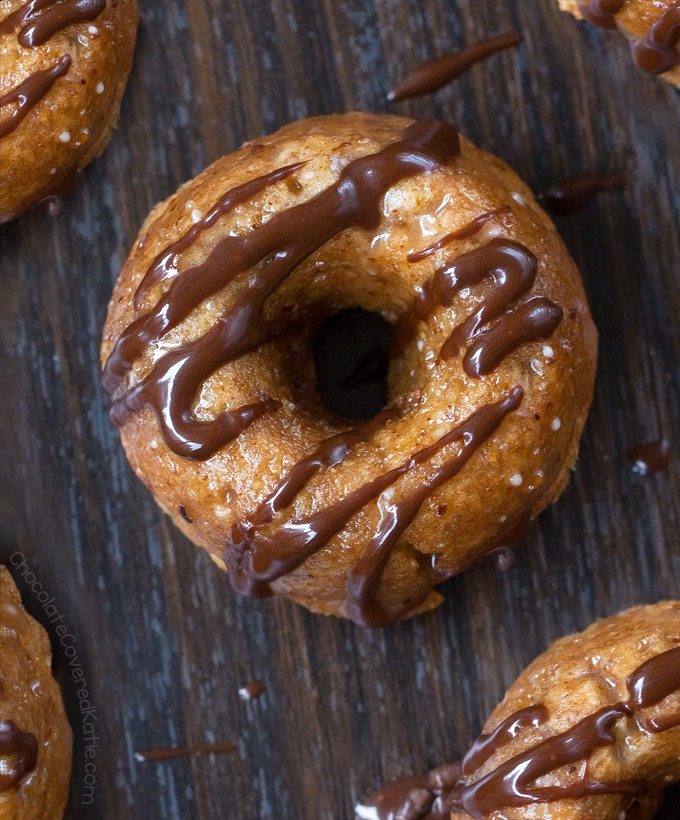 Ingredients
1/4 cup + 2 tbsp milk of choice
1 1/2 tsp white or apple cider vinegar
3 1/2 tbsp almond butter or allergy-friendly sub
1/3 cup pure maple syrup, honey, or agave
1/4 tsp pure vanilla extract
1 cup spelt, white, gf ap, or oat flour
1 tsp baking powder
1/4 tsp salt
1/4 cup mini chocolate chips, optional
Instructions
If you want to glaze them with Almond Butter Glaze: Stir together 1/2 cup powdered sugar or sugar free powdered sugar, 1 tbsp almond butter, 2 tbsp milk of choice, 1/8 tsp pure vanilla extract, and a tiny pinch salt. Glaze makes enough for all the donuts with a little left over.
For the donuts: Preheat oven to 350 F. Grease a donut pan, mini donut pan, or mini muffin pan. If not easily stir-able, gently heat almond butter until soft. Stir together first five ingredients, being sure to completely break up the nut butter so there are no clumps. Stir in dry to form a batter, spread into pan, and bake 8 minutes. Let sit a few minutes before going around the sides with a knife and popping out. Glaze if desired, refrigerate, then drizzle melted chocolate on top if desired. Store loosely covered out overnight – The flavor is even better the next day! Leftover donuts can also be frozen.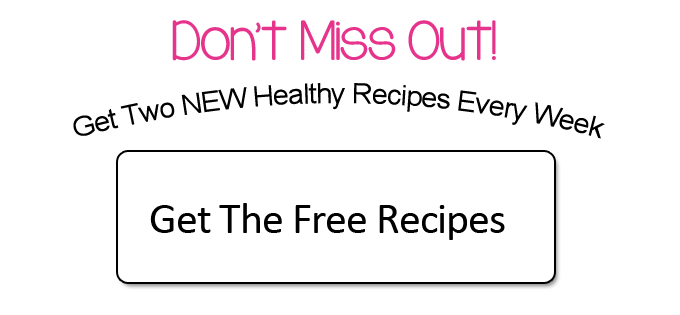 More Healthy Breakfast Recipes: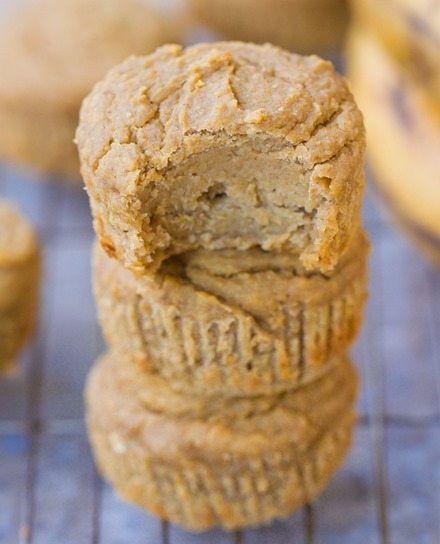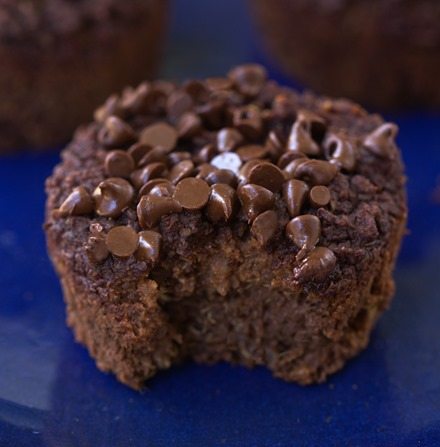 Chocolate Quinoa Breakfast Cups, from the Hello Breakfast Cookbook