Banana Bread Baked Quinoa – a hearty & wholesome breakfast that will nourish your body and fill you up for hours!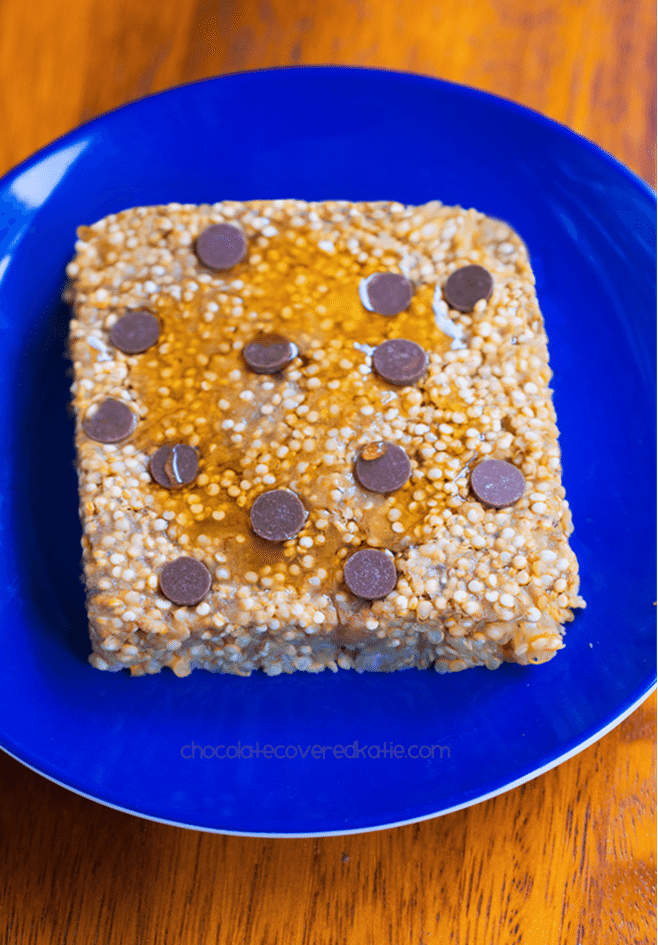 I kind of, sort of, maybe, definitely, really LOVE breakfast foods ♥
And I especially really love breakfast foods that can be made ahead of time. Like this banana bread baked quinoa – It tastes even better the next day!
This recipe is lunchbox-friendly,  makes a great snack, and leftovers can easily be portioned out and frozen for an instant "grab and go" breakfast any time you're in a rush.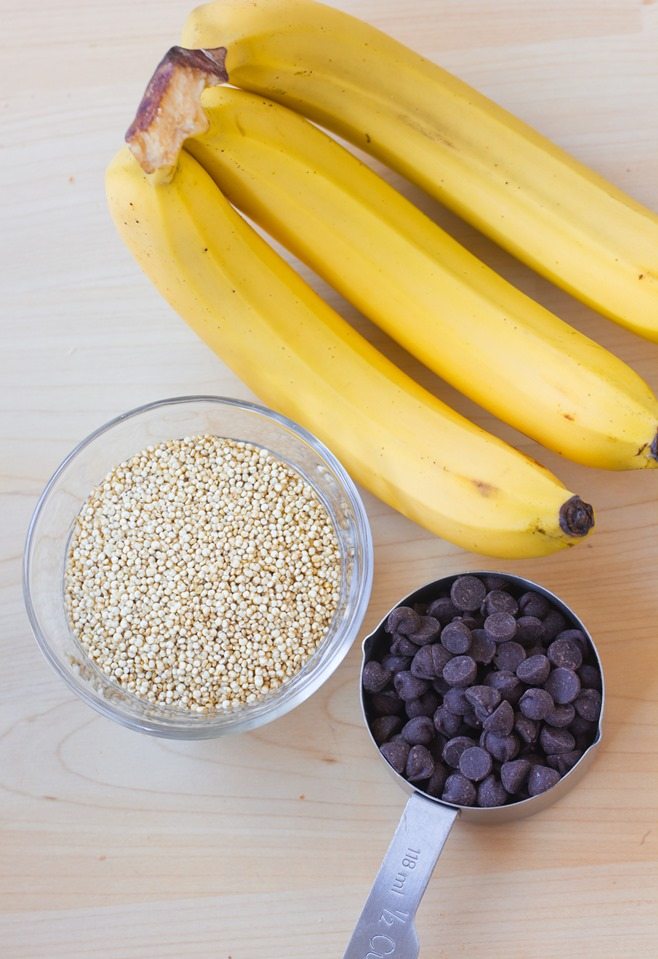 It's pretty impossible to go wrong with bananas, quinoa, and chocolate chips; and this breakfast has the added benefit of being completely free of added sugars!
No white sugar, honey, brown sugar, corn syrup, or even maple syrup are needed to make the recipe, which gets its sweetness naturally from the caramelized banana and cinnamon. Of course, I am not going to stop you if you wish to add chocolate chips like I did… but they are not required if you'd prefer to leave them out.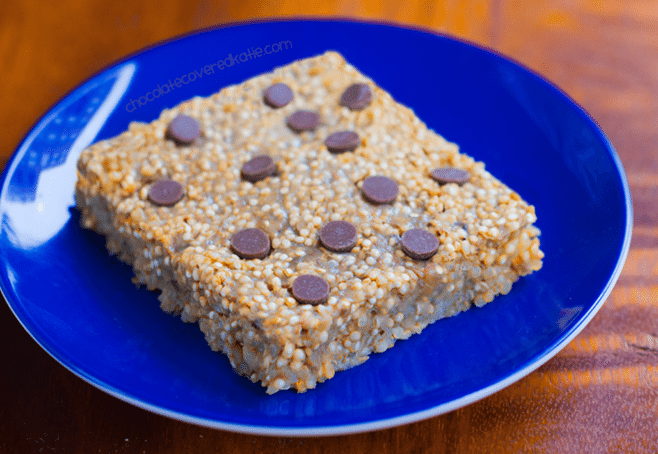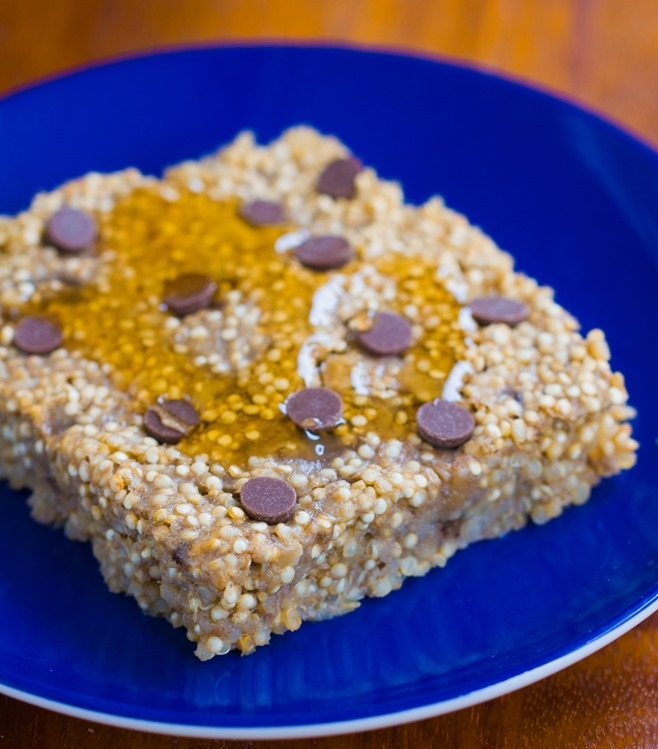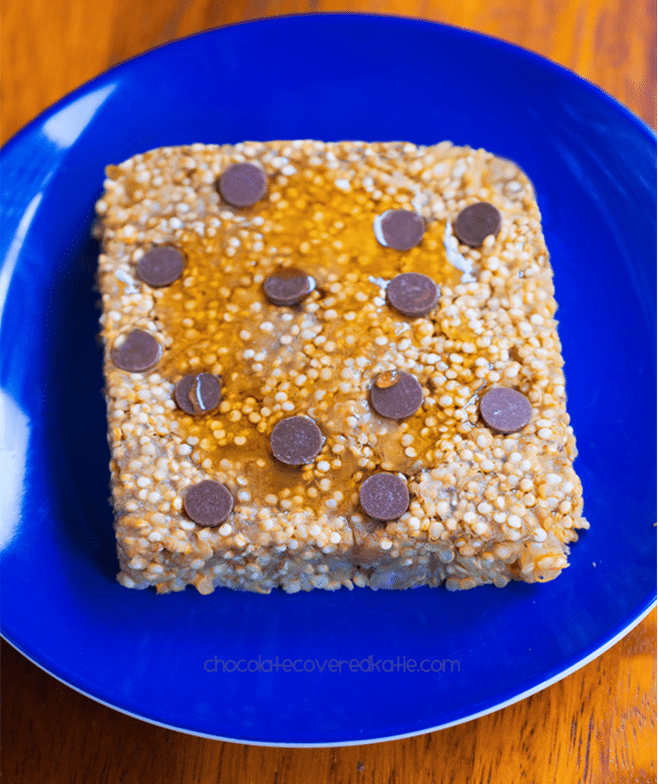 Banana Bread Baked Quinoa
Banana Bread Baked Quinoa Breakfast Bars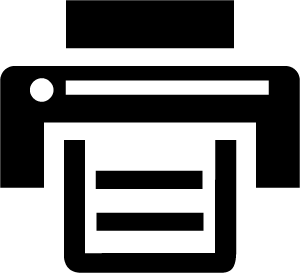 Print This Recipe
[mrp_rating_result show_count="false" show_rich_snippets="false"]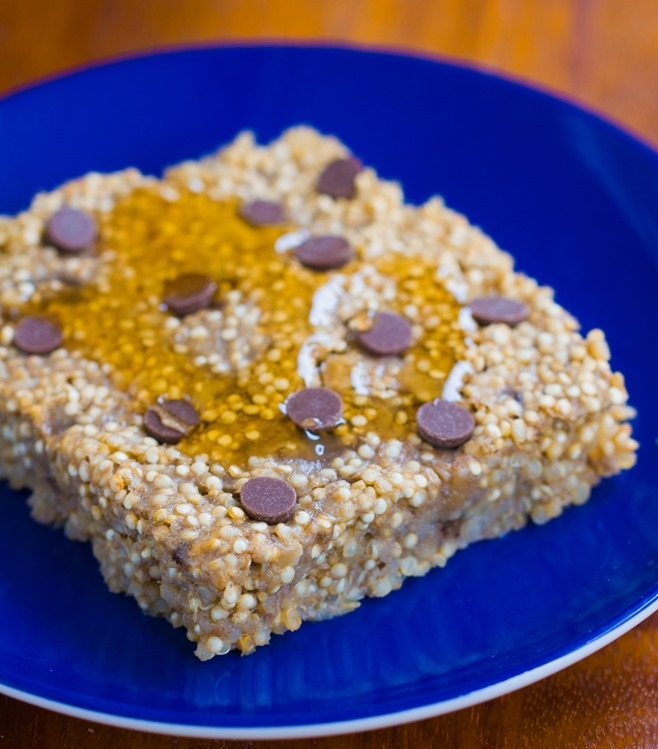 Ingredients
1 cup uncooked quinoa (155g)
1/2 tsp cinnamon
handful chocolate chips or carob chips
1/4 tsp salt
1 1/3 cup mashed overripe banana
1 cup milk of choice
2 tbsp nut butter OR more milk of choice
1 tsp pure vanilla extract
optional handful crushed walnuts, shredded coconut, raisins, etc.
Instructions
Grease an 8-inch pan, and set aside. Preheat oven to 350F. Stir together all dry ingredients in a large mixing bowl, including a handful of mini or regular chocolate chips if desired. Add all remaining ingredients, and stir to evenly combine. Transfer to the pan. I pressed some chocolate chips into the top as well. Bake 28 minutes. Keeping the oven door CLOSED, turn off the heat. Leave the pan in the closed oven for another 25 minutes. When this time is up, remove from the oven and cut into bars or scoop out of the pan. It will also firm up more overnight and be easier to cut without breaking. Top with pure maple syrup or coconut butter if desired, and store leftovers covered in the fridge or freezer.
Link Of The Day: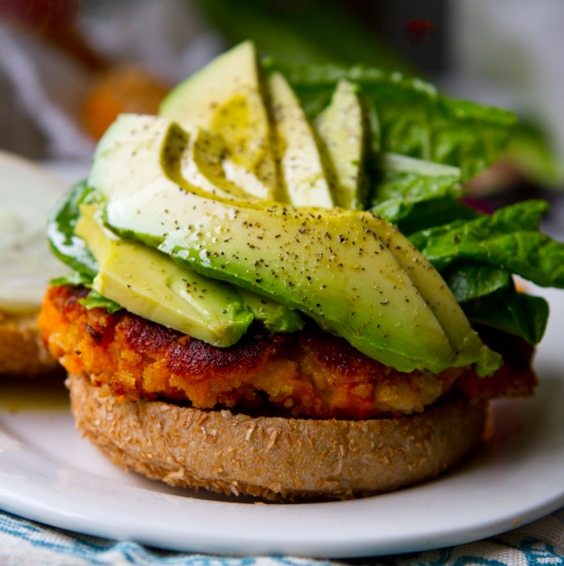 Sweet Potato Burgers – From Kathy Patalsky @ Healthy Happy Life