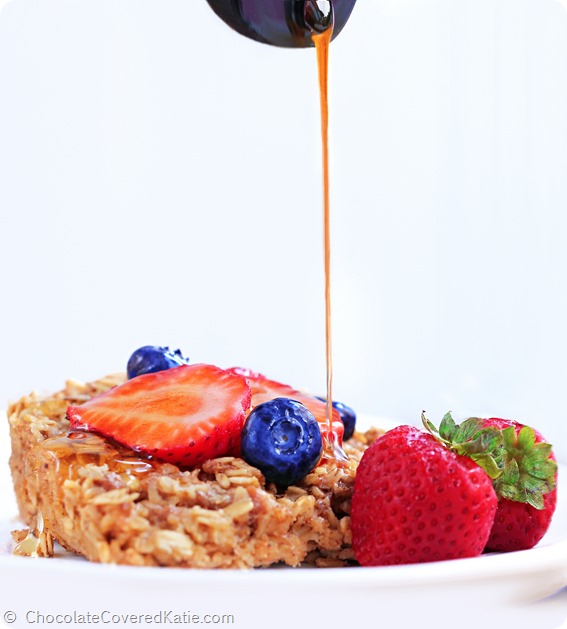 After publishing the Single Serving Baked Oatmeal recipe almost three years ago, I've received many inquiries about a possible family-friendly version that yields more than one serving.
Since simply multiplying every ingredient in a recipe for a larger serving doesn't always work, I had to play around with this one for a while. But I love the final results. And even if you're a single lady, you can still make today's baked oatmeal recipe.
Leftover oatmeal servings freeze really well… so you'll never again have to worry about breakfast on rushed mornings!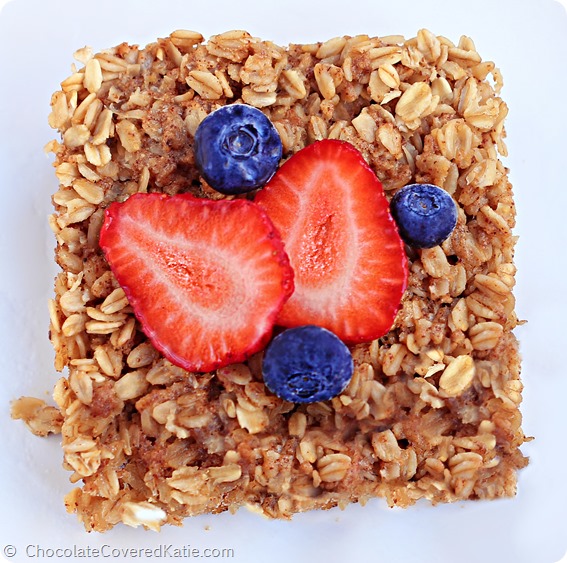 The convenience of knowing you can have leftover baked oatmeal whenever you want is so fantastic I'm not sure I'll ever make the single-serving version again!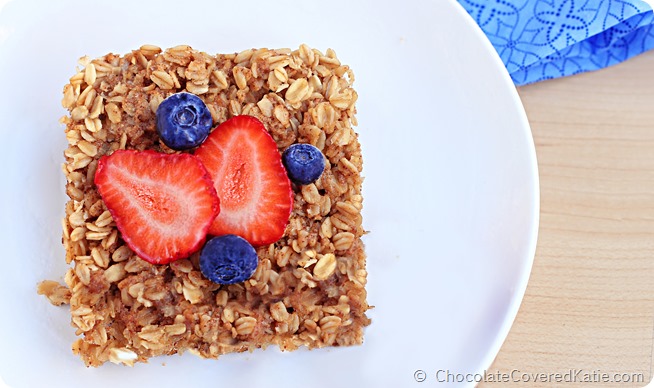 Baked Oatmeal Recipe – Family Size
Baked Oatmeal Recipe – Family Size
Yield:
Makes 8 rectangles or 16 squares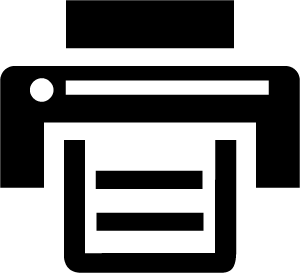 Print This Recipe
[mrp_rating_result show_count="false" show_rich_snippets="false"]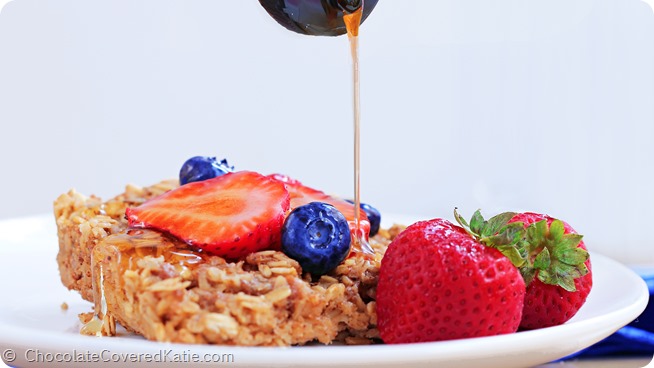 Ingredients
4 cups rolled oats (320g)
1 tsp salt
1/4 tsp uncut stevia OR 1/2 cup pure maple syrup
2 2/3 cups applesauce (640g)
1 1/4 cups milk of choice or water (reduce by 1/2 cup if using liquid sweetener above)
1/4 cup oil OR more milk of choice or water
2 tsp pure vanilla extract
optional cinnamon, mini chocolate chips, shredded coconut, raisins…
Instructions
Baked oatmeal recipe: Grease a 9×13 rectangular pan and set aside. Preheat oven to 380F. In a very large mixing bowl, fully stir together all dry ingredients, then add all remaining ingredients. Transfer to the pan, smooth down with a spatula, and bake 28 minutes, broiling the final minute if desired. Then, keeping the oven door CLOSED, turn off the heat. Leave the pan in the closed oven for another 25 minutes. When the time is up, remove from the oven. Cut into bars or squares, and top with syrup or coconut butter or whatever you wish! Leftovers should be stored in the fridge, or freeze for up to a month. They freeze really well! I like to take one from the freezer and put it (covered) in the fridge the night before I want to eat it for breakfast.
Question of the Day:
Are you a fan of leftovers?
I love leftovers and will often double or triple a recipe just to have extras to put in the freezer for a rainy lazy day. Soups, stews, chili, and even cookies… they are all portioned out and placed in the freezer. The only problem is that the freezer is barely big enough to hold it all!
Link Of The Day: Chocolate Brownie Cheesecake Ball
Stay tuned… Next week will reveal an exciting new CCK blog feature. It's something else that readers have been requesting for a long time!