Stuck in a breakfast rut? Bored of eating the same bowl of oatmeal every single day? Breakfast quinoa might just be the perfect solution!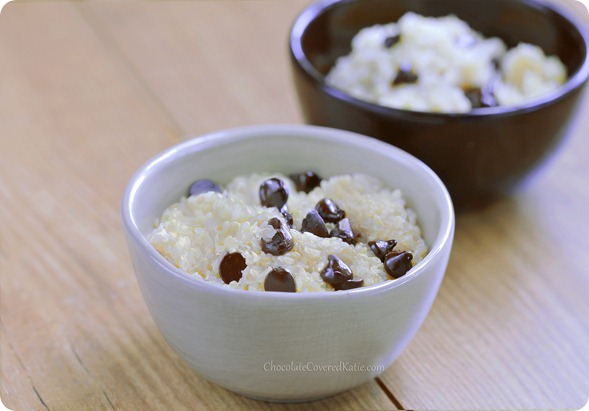 Make it even more delicious by adding chocolate chips and letting them slowly melt into the hot quinoa porridge…
Seriously, when do chocolate chips not make a recipe better???
You could also add raisins, shredded coconut, chopped apple, mashed banana, cinnamon, fresh strawberries, almond butter, or chopped walnuts. Heck, you could even add all of these ingredients all at the same time!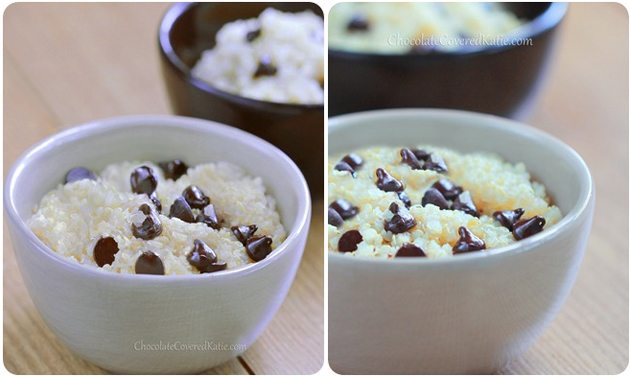 Or go the savory route and chop up some veggies–diced carrots, peas, and/or broccoli might be really nice.
Add some nutritional yeast, and maybe some black beans or chickpeas, and you have a breakfast quinoa bowl that could easily be dinner instead.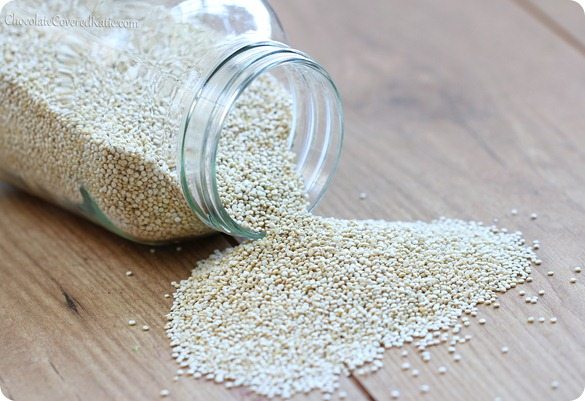 The sky is not the limit with this healthy quinoa recipe!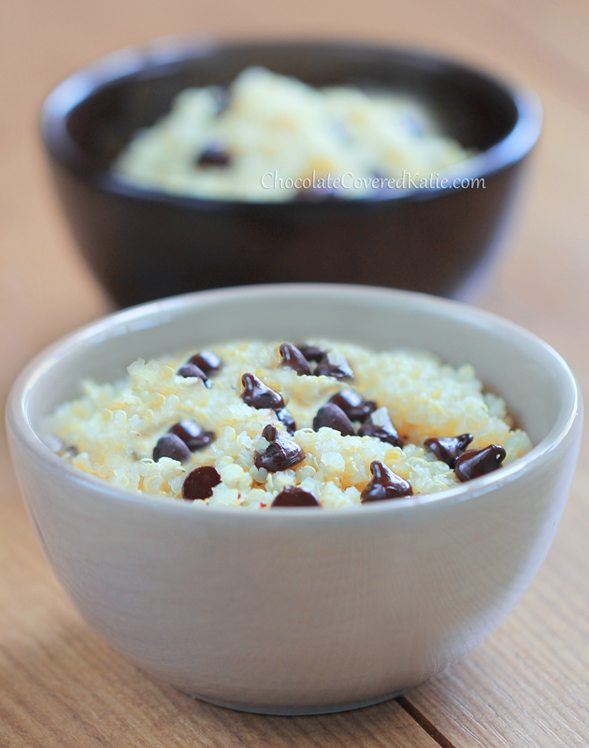 Breakfast Quinoa Bowls
Breakfast Quinoa Bowls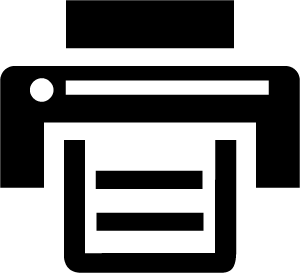 Print This Recipe
[mrp_rating_result show_count="false" show_rich_snippets="false"]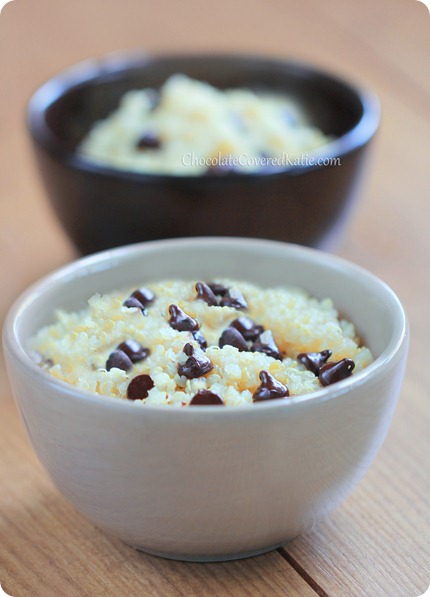 Ingredients
1 cup raw quinoa
1 tsp salt
2 1/2 cups water
4 cups milk of choice
1 tsp pure vanilla extract
1/8 tsp pure stevia extract, or 1/4 cup sweetener of choice
2/3 cup raisins or chocolate chips, optional
1 tsp cinnamon, optional
Instructions
Rinse quinoa well in a fine mesh strainer. Drain. Combine the raw quinoa with the salt and water, and bring to a boil uncovered. When it starts to boil, cover and cook on low for 20 minutes or until the water is absorbed and quinoa is light and fluffy. Uncover, add the milk of choice and optional raisins and cinnamon (if using), and bring back to a boil. Turn heat to low-medium. Cook for 25-30 minutes, stirring very occasionally, until the breakfast quinoa texture is thick like oatmeal. (Some stoves are not as powerful – in these cases, simply heat at a higher power or for a longer amount of time.) Turn off the heat, and stir in the vanilla and sweetener of choice. Makes 4 servings. NOTE: When found in nature, quinoa has a natural coating of bitter-tasting saponins. These occur naturally in the quinoa to prevent insects from eating the plant. Most packaged quinoa will be pre-washed; however it is always a good idea to wash it again, just in case.
Question of the Day: Would you ever try breakfast quinoa?
Or have you already tried breakfast quinoa? Oftentimes we don't think outside of the box of oatmeal when it comes to breakfast, but quinoa, barley, wheatberries, cornmeal, rice, spelt, or even kamut flakes can make a great breakfast porridge base as well.
Link Of The Day: