These patriotic little Fourth Of July cupcakes are hiding a surprise inside…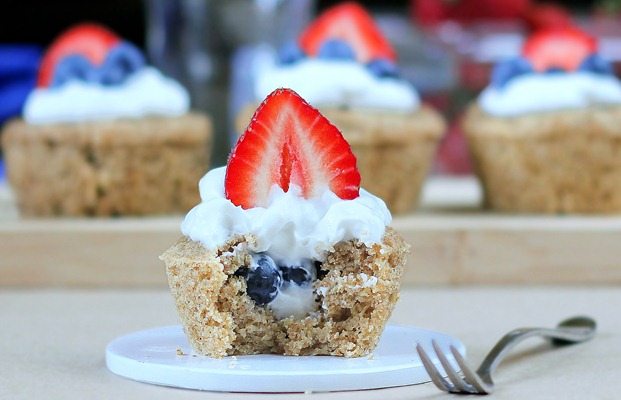 They're secretly stuffed with blueberries and Healthy Whipped Cream!
One morning last week, my roommate came downstairs, gave me a funny look, and said, "Katie, why are you making patriotic cupcakes in June?"
Sometimes, in order to get holiday recipe posts written and published in time, I do odd things—like make Santa cookies in September or pumpkin bread in July. No one (except maybe me) wants to see a recipe for chocolate bunnies the day after Easter.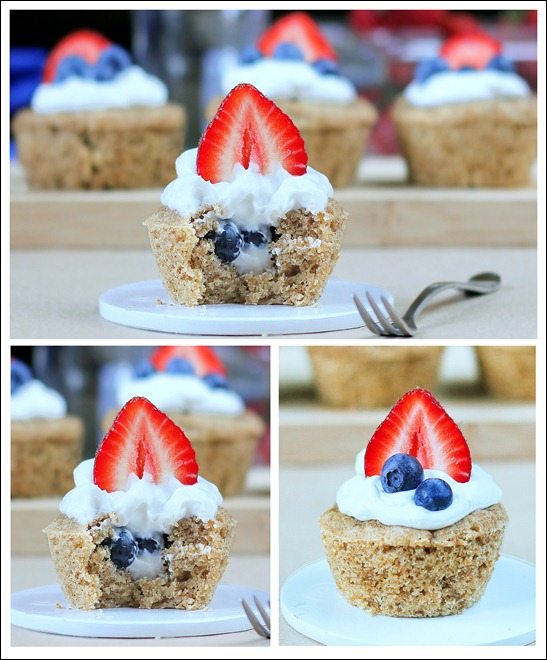 The Fourth Of July cupcakes may look ordinary from the outside…
But just one bite, and you're surprised with even more fresh berries hiding inside.
One can never have too many fresh blueberries!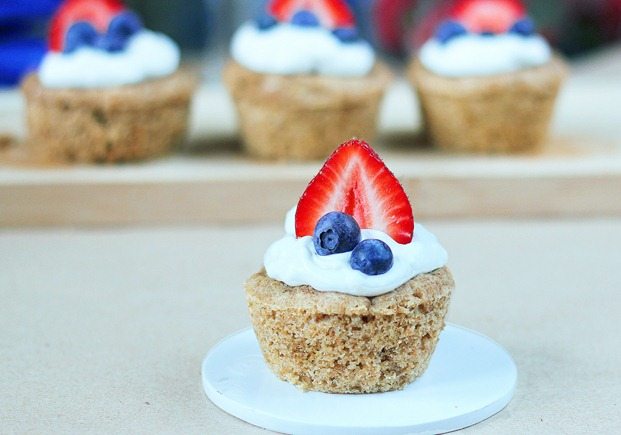 These breakfast cupcakes are based on my go-to vanilla recipe. I love variation recipes, as you're already certain, before starting out, that the recipe won't fail. If you have a tried-and-true recipe, why completely reinvent the wheel, right?
Sometimes it's just fun to see a new twist: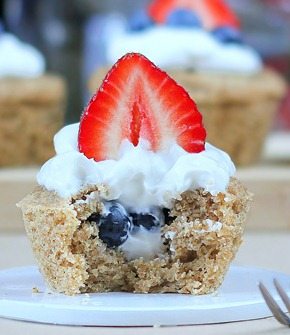 Happy Fourth Of July Cupcakes
(makes 9-10 cupcakes)
1 cup spelt flour, or white flour, or Arrowhead Mills gf (140g)
1 tsp baking powder
1/2 tsp salt
1/2 tsp baking soda
2 tbsp ground flax OR 2 tsp ener g powder
4 tbsp sugar of choice or xylitol (54g)
pinch stevia OR 2 additional tbsp sugar
1 tbsp pure vanilla extract
1 cup plain or vanilla yogurt of choice (Silk or SoDelicious both work) (230g)
1/4 cup milk of choice (60g)
3 tbsp oil (can omit, but the cupcakes will be gummy) (36g)
fresh blueberries and sliced strawberries or jam
cream of choice, such as Soyatoo or the homemade whip cream recipe linked under the first photo of this post
Preheat oven to 350 F, and grease muffin tins. Combine all dry ingredients (except berries) in a bowl, and mix very well. In a separate bowl, combine all wet ingredients (except cream) and stir. Pour wet into dry, and mix until just combined (don't overmix). Cook 18-20 minutes, then let sit at least 10 before removing from muffin tins. Cut out holes with a knife, and stuff fresh berries (or jam) into the holes. Then you can either squish the tops back on or discard them (by way of your mouth!). Just before serving, top with the cream and more fresh berries.
View July Fourth Cupcakes Nutrition Facts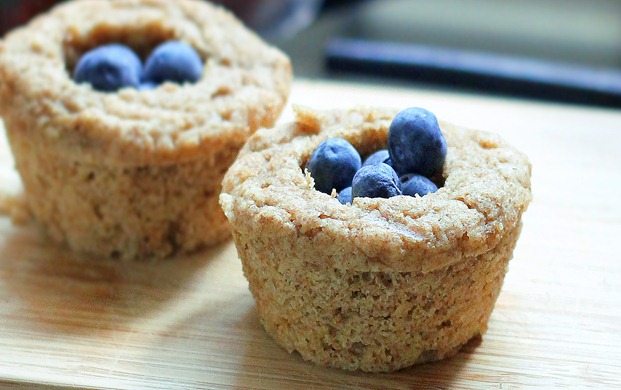 Did you like playing hide-and-seek as a kid?
I was really good at hiding. But the game can be terribly boring (not to mention painful!) when you're a good hider. You're stuck waiting for someone to rescue you out of whatever kitchen cabinet or tiny closet space you've squished into. So I always preferred being the seeker, which made everyone happy because no one else ever seemed to want that job.
Link Of The Day: